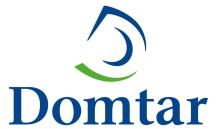 About Domtar
Domtar Corporation (NYSE: UFS) (TSX: UFS) designs, manufactures, markets, and distributes a wide variety of fiber-based products including communication papers, specialty and packaging papers, and absorbent hygiene products. The foundation of its business is a network of world-class wood fiber converting assets that produce papergrade, fluff, and specialty pulps. The majority of its pulp production is consumed internally to manufacture paper and consumer products. Domtar is the largest integrated marketer of uncoated freesheet paper in North America with recognized brands such as Cougar®, Lynx® Opaque Ultra, Husky® Opaque Offset, First Choice®, and EarthChoice® Office Paper. Domtar is also a leading marketer and producer of a broad line of incontinence care products marketed primarily under the Attends®, IncoPack, and Indasec® brand names as well as baby diapers. In 2013, Domtar had sales of US$5.4 billion from some 50 countries. The Company employs approximately 10,000 people. 
About EarthChoice
EarthChoice is Domtar's sustainability communications platform, focused on full circle responsibility.
The mission of EarthChoice is to make positive connections between the ecosystems upon which we depend, our economic interests, and the communities in which we operate.
As part of the EarthChoice commitment to sustainable business, our efforts benefit the long-term health of the world's forests, helping ensure they thrive for generations to come.
In fact, our customers have come to expect Domtar to incorporate this sustainable approach, and EarthChoice is how we respond to those expectations throughout the fiber lifecycle with innovative solutions, advisory services, and the highest-quality products.
Videos