"Military Makeover" Series From Lifetime TV Visits Kingsport Mill
"Military Makeover" Series From Lifetime TV Visits Kingsport Mill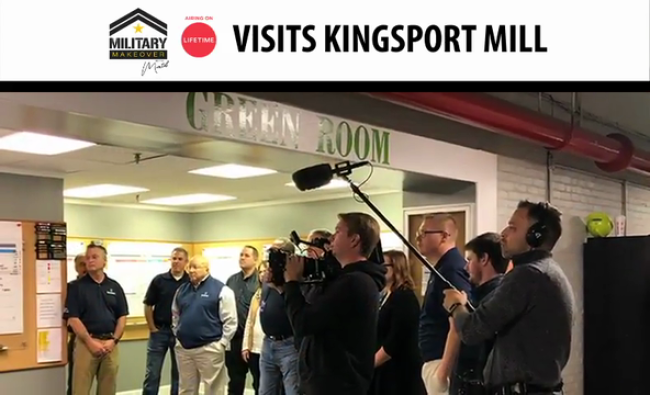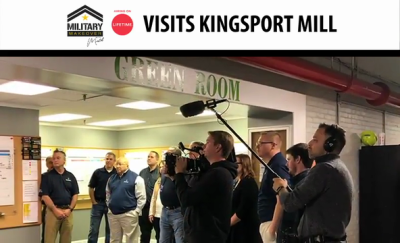 Friday, December 13, 2019 - 10:20am
Domtar's support for and appreciation of military veterans extends from corporate headquarters to our pulp and paper mills. Now we have an opportunity to highlight some of our veteran colleagues on television. The "Military Makeover" series, which airs on the Lifetime television network, recently visited our Kingsport, Tennessee, mill to film interviews for an upcoming episode.
Hosted by Montel Williams, the "Military Makeover" series features veterans who are making the transition from the military back to civilian life. Williams, who served in the U.S. Marine Corps and graduated from the U.S. Naval Academy, appreciates the skills military veterans bring to the workforce.
So does Domtar Pulp and Paper President Mike Garcia, a U.S. Army veteran. He emphasizes the advantages of hiring veterans at Domtar.
"They make great frontline supervisors," he said in an interview with the Charlotte Business Journal. "Veterans have leadership and people skills, [as well as] a high level of maturity." He also explained that those and other qualities, acquired from years in service to our country, help veterans focus on goals and fit well into the paper company's logistics, finance, sales and manufacturing operations.
"Military Makeover" Series Visits Kingsport
Kingsport Mill hosted a veterans' luncheon in November. A six-person film crew from the "Military Makeover" series attended the event and interviewed veteran employees about their time in military service and how they shifted to civilian life.
Dale Hudson, an electrical and instrumentation superintendent at the mill, spoke with interviewers about his time in the Marines and how he used the GI Bill to continue his education following his military service. He has since worked at Domtar for seven years, advancing from an entry-level engineering position to a leadership role.
Todd Rust, a shift maintenance mechanic, served in the U.S. Air Force for four years before returning to civilian life. He says finding the right job was more challenging than he had anticipated. Rust says Domtar was the only company that asked about his military service and offered him a chance to show how his skills would relate to a new role.
Another veteran, Dennis Bowman, has been with Domtar for 40 years. He served in the Army in the 1970s and now works in utilities at the Kingsport Mill.
Domtar's hiring and recruiting practices accept military service in lieu of a degree for some job candidates. This approach pays off; about 10 percent of Domtar's workforce are veterans.
Kingsport Mill Manager Marty Barfield says he is pleased to see some of the veterans at the mill recognized by the television show.
"I think it is important to recognize the service and sacrifices that our veterans have given," says Barfield. "The things that typically enable a veteran to succeed and find enjoyment in the military are the same traits Domtar values in our employees, such as setting clear expectations, learning how to operate as a valued team member, the ability to lead a group and discipline in all that one does."
Look for this episode in the "Military Makeover" series airing on Lifetime TV in early 2020.
Get a sneak peek behind the scenes of the shoot in the included video!