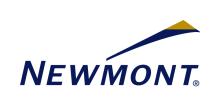 Founded in 1921 and publicly traded since 1925, Newmont Mining Corporation (www.newmont.com) is a leading gold and copper producer. The Company employs approximately 27,000 employees and contractors, with the majority working at managed operations in the United States, Australia, Ghana, Peru, Indonesia and Suriname. Newmont is the only gold producer listed in the S&P 500 index and was named the mining industry leader by the Dow Jones Sustainability World Index in 2015. The Company is an industry leader in value creation, supported by its leading technical, environmental, social and safety performance.
Sustainability at Newmont
Our purpose is to create value and improve lives through sustainable and responsible mining. Sustainability is one of our core values, and managing our economic, social and environmental risks, obligations and opportunities is central to our business strategy. To find out more about Newmont's Social and Environmental Performance, go Beyond the Mine.