Bringing Medical Care to Communities in Suriname
Newmont Suriname helps bring vital medical services to local villages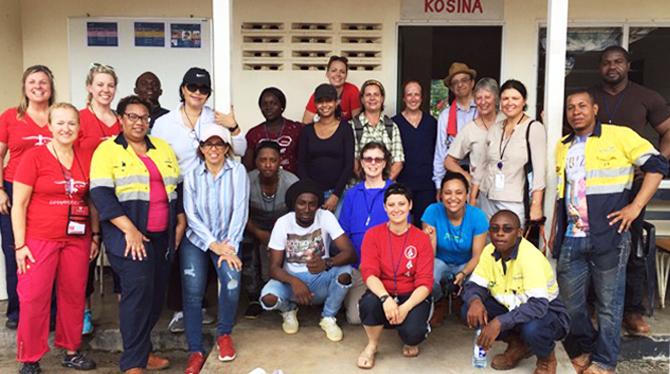 In close cooperation with Suriname's Ministry of Health and Project C.U.R.E., Newmont Suriname helped bring vital medical services to residents of villages near the Merian mine last month.
A team of nine medical professionals and volunteers treated more than 300 patients during the four-day clinic.
Project C.U.R.E. participants were joined by volunteers from Newmont Suriname, who supported the medical team with translation and administrative assistance. The clinic traveled to the villages of Ovia Olo, Ampoma, Nason and Langa Tabiki, providing patients with free examinations and medications where necessary.
Nurses reviewed blood pressure, oxygen levels and glucose levels. Depending on the needs of the patient, additional physical screenings, evaluation and treatments were available from physicians. Cherylyn Oss, volunteer trip leader, looks back on the medical campaign as a success thanks to the support of local nurses and volunteers from Newmont Suriname:
"We had everything we needed to run the clinic, including medicines for the elderly and children, glasses with different strengths and medical equipment that allowed us to do our work inland."
One local resident brought her seven children for free treatment and described the limitations in medical care in the region. "There is medical assistance inland, but often there is not enough medicine available and there is also no specialist in the area where patients can go regularly." After their screenings, each child was given a care package that included vitamins and treatment against worms.
Newmont is proud to continue its partnership with Project C.U.R.E. as part of our commitment to effectively assess and manage health risks and promote and support the well-being of the people who live near our operations. Find out more about our ongoing work in Beyond the Mine, our 2016 sustainability report.