Case Study: Engaging Tribal Members on Remediation of Former Uranium Mine
Case Study: Engaging Tribal Members on Remediation of Former Uranium Mine
Newmont Works with Spokane Tribe throughout Reclamation Process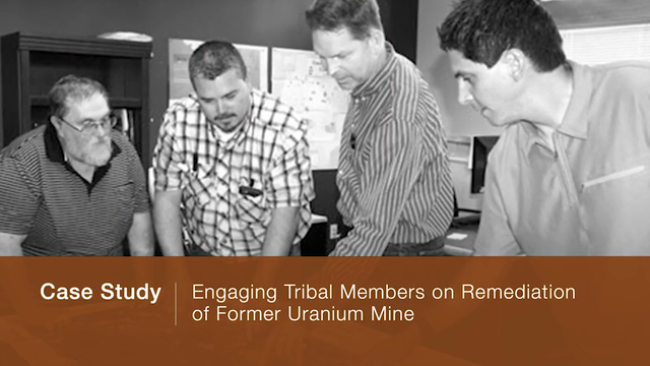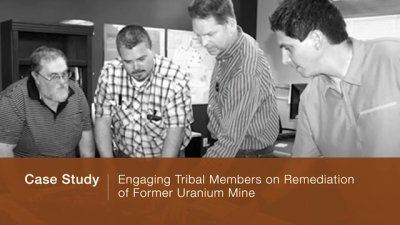 Wednesday, September 6, 2017 - 4:10pm
In 1954, two brothers, who were members of the Spokane Tribe of Indians (STOI), discovered uranium on the Spokane Indian Reservation in the state of Washington. After the discovery, the brothers and other members of the tribe created Midnite Mines, Inc., which joined with Newmont to operate the Midnite uranium mine from 1954 to 1981. The mine's closure was followed by decades of regulatory and legal actions regarding cleanup of the closed mine. However, in 2015, the U.S. Environmental Protection Agency (EPA) approved the site's remedial plan, which cleared the way for site remediation to begin.
Newmont engaged the STOI to reach agreement and alignment on implementation of the remedial actions in several key areas including access, water use and community engagement.
To ensure the STOI is fully informed during each phase of the remediation process, Newmont and the STOI developed a formal memorandum of agreement (MOA). A key commitment identified in the MOA is a full-time tribal community liaison officer, who is employed by the STOI with funding for the position provided by Newmont for a minimum of 10 years. The officer's role is to develop and implement a comprehensive community engagement plan that includes:
Providing information to fully inform the community on the remediation project;
Managing a complaint and grievance mechanism that solicits, documents and provides feedback to community members' issues and concerns;
Organizing and facilitating community meetings and workshops;
Interacting with community members on a one-on-one basis; and
Maintaining a working relationship with the STOI government, EPA and Newmont.
In 2016, the newly hired tribal community liaison officer initiated informal engagement efforts, attended weekly remediation project construction meetings, and began the development of the community engagement plan that will be implemented in 2017. In addition, community engagement professionals associated with the STOI are providing input and helping build capacity to ensure the officer serves as a valued resource for the STOI community and tribal government throughout the entire Midnite mine remediation process.