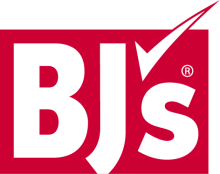 About BJ's Wholesale Club
Headquartered in Westborough, Massachusetts, BJ's is a leading operator of membership warehouse clubs in the Eastern United States. The company currently operates 207 clubs in 15 states.  
BJ's provides a one-stop shopping destination filled with more top-quality, leading brands including its exclusive Wellsley Farms and Berkley Jensen brands, which are all backed by BJ's 100% money-back guarantee; more fresh foods from USDA Choice meats to premium produce to delicious organics in many supermarket sizes; and more great value and amazing savings every day. BJ's is also the only membership club to accept all manufacturers' coupons and for greater convenience offers the most payment options.
Giving back has always been at the very core of BJ's culture, too. Through local clubs, volunteerism, BJ's Feeding Communities and BJ's Charitable Foundation, the company supports and enhances programs that provide vital services within each community it serves.  Additionally, BJ's is focused on preserving the Earth for future generations through a wide array of responsible sourcing and sustainability efforts. For more information, visit www.bjs.com/community.  
To check out all the MORE BJ's has to offer, visit www.BJs.com and for exclusive content find us on Facebook, Twitter and Pinterest.
About BJ's Charitable Foundation
BJ's Charitable Foundation was established with the mission to enrich every community BJ's Wholesale Clubs serve. The Foundation supports nonprofit organizations that primarily benefit the underprivileged in the areas of hunger prevention and education. To learn more, visit www.bjs.com/charity. 
Videos