The Players Trust Treats 50 Individuals From Big Brothers Big Sisters of the Twin Cities to A Unique Day of Baseball
The Players Trust Treats 50 Individuals From Big Brothers Big Sisters of the Twin Cities to A Unique Day of Baseball
Players Trust ambassador Judy Pace Flood hosts visit to the Minnesota History Center in St. Paul for a presentation on Untold Stories of Black Baseball in Minnesota prior to meeting up with Twins players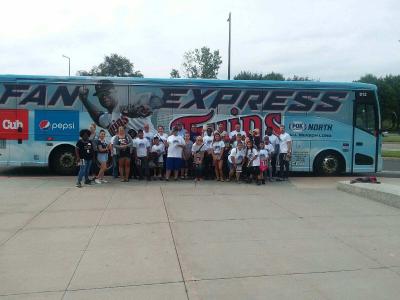 Thursday, August 17, 2017 - 6:30pm
Thanks to the Players Trust's popular Buses for Baseball program, fifty children and chaperones from Big Brothers Big Sisters of the Twin Cities enjoyed a unique day of baseball on Wednesday, August, 16. The day began when Players Trust ambassador Judy Pace Flood escorted the group to the Minnesota History Center for an exclusive tour.
While at the Minnesota History Center, Flood, the widow of former Major Leaguer Curt Flood, who heroically challenged the sports reserve clause in the 1970's, and the group from Big Brothers Big Sisters, enjoyed a presentation on Untold Stories of Black Baseball in Minnesota, which is taken from the book, "They Played for the Love of the Game, Untold Stories of Black Baseball in Minnesota."  Each member of the group received a free copy of the book and heard directly from its author, Frank White.
From the museum in St. Paul, the group traveled to Target Field in style as Fox Sports North graciously provided free transportation aboard its luxury Fan Express bus.  Unfortunately, the game was postponed by rain, but, despite the inclement weather, Twins Players, including Matt Belisle, Trevor Hildenberger, Ryan O'Rourke and Ryan Pressly welcomed their guests with open arms by providing warm greetings and signing autographs.
The day's activities were coordinated through the Players Trust's Buses for Baseball program, which provides transportation, game tickets and personal greetings from Major Leaguers to children across the country. This baseball season, the program will make 10 Major League ballpark visits and provide over 500 children with an unforgettable experience.  At each game, players sign autographs, pose for photos and answer questions.  The children also receive free souvenirs, food and beverages.
Through the Players Trust, Major Leaguers contribute their time, money and celebrity to call attention to important issues affecting those in need and to help encourage others to get involved in their own communities.  For additional information, please visit PlayersTrust.org.