Next Generation of Major Leaguers Prepare for the Future
Baseball's stars of tomorrow treated to seminars designed exclusively for emerging professional athletes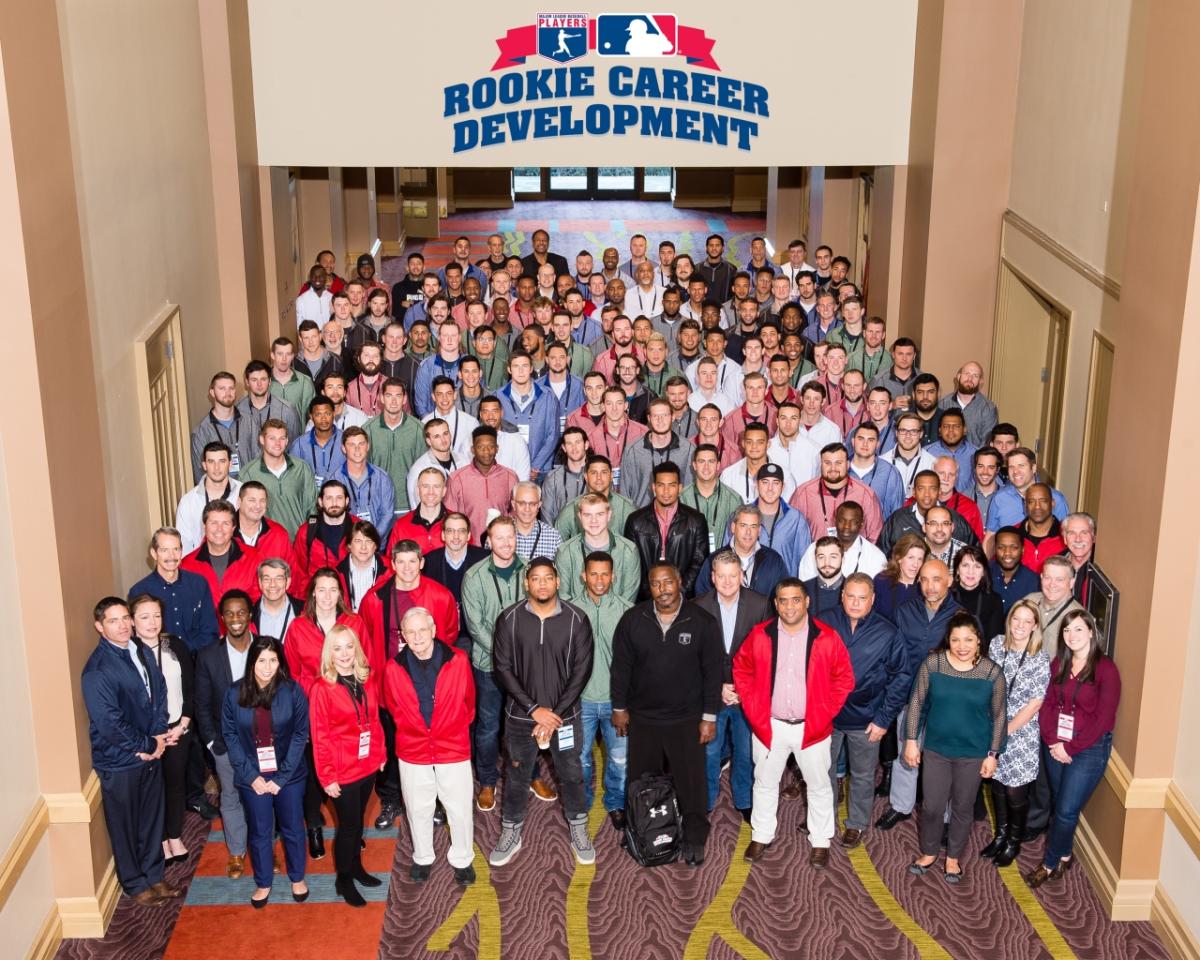 Attendees of the MLBPA/MLB 2018 Rookie Career Development Program, featuring 120 potential future Major Leaguers, gather for the annual group photo. Several current big league stars have attended this yearly gathering designed to help young pros transition to life as a Major Leaguer.
Baseball's worldwide appeal was on full display from January 4-7 when the Major League Baseball Players Association and Major League Baseball hosted their annual Rookie Career Development Program (RCDP) at the Landsdowne Conference Center in Leesburg, Va.
The popularity of the game continues to grow in large part because of a number of initiatives jointly administered by the MLBPA and MLB, including ever-increasing interest in the World Baseball Classic.  Because of the sport's commitment to share the game with kids around the world, future generations of Major Leaguers are being cultivated on fields in every corner of the globe. 
With each Major League team inviting up to four of its top young players to attend the 2018 version of the RCDP, the next generation of Major Leaguers on site hailed from 11 different countries, including Brazil, Canada, Honduras, Panama, Taiwan, Venezuela, as well as baseball hotbeds Cuba, Dominican Republic, Mexico, Puerto Rico and, of course, the United States.  It's clear that baseball remains our nation's favorite pastime as nearly half of all states were represented at this year's RCDP!
During the four-day program, baseball's stars of tomorrow were treated to a number of seminars designed exclusively for emerging, young, professional athletes.  Topics covered areas such as Working with the Media, Protecting Your Career, Financial Responsibility, Healthy Relationships and Respect and Inclusion in the Workplace.  The young Players were also treated to a session hosted by MLBPA Executive Director and 14-year MLB veteran, Tony Clark – the first former Player to head the Players' union.
During Clark's session, the Players learned about the union's history and how the union works to support, protect and advance the careers of all Players.  The Players were treated to a brief video that in some ways helps introduce them to the exclusive fraternity they're about to join.  As Clark shared, in the 120-plus year history of Major League Baseball, only slightly more than 19,000 men have had the chance to wear a big league uniform for even one day!
The next generation of Players was also fortunate to hear from a number of former Players spanning several generations, including Hall of Famer Dave Winfield and current big leaguer Eric Young, Jr..  Other former Players serving as "resource players" included Jose Cruz, Jr., Jeffrey Hammonds, Rick Helling, Vance Law, Jim Poole, Jeff Reboulet, Steve Rogers, Kevin Slowey,  Bob Tewksbury, Dave Valle and Jose Veras.
The improv comedy group, Second City, was on hand once again to provide some important role-playing opportunities for the Players, which, in many cases, helped bring to life some of the lessons being shared by the assembled experts.
One of the attendees, Mauricio Dubón, has an opportunity to become just the second Major Leaguer from Honduras (According to BaseballAlmanac.com, Gerald Young was the first).  Dubón, 23 and currently an infielder with the Milwaukee Brewers organization, has followed a very unique path on his quest to become a Major Leaguer.  In 2010, when just 15 years old and living in Honduras, Dubón  was "discovered" by the Capital Christian High School baseball program during a missionary trip to the Central American country.  The Sacramento, Calif. high school personnel on the trip recognized Dubón's passion and skills and invited him back to the states for an opportunity to further his education.  Something the young boy found "nerve racking" because up to that point in his young life his mother had never allowed him to sleep away from home.  It was a brave move that has changed his life forever.