Bringing Transparency to Climate Change Actions
by Nate Hurst, Chief Sustainability and Social Impact Officer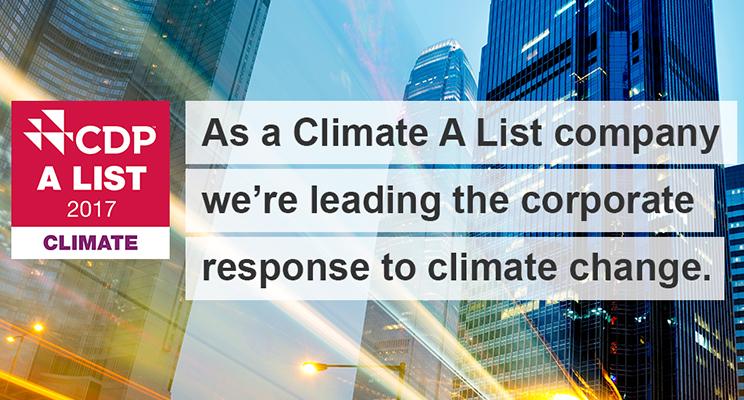 Originally published on LinkedIn
For many companies around the world, the debate about climate change is over. Today, businesses large and small are taking decisive action to address the root causes of climate change. I'm pleased to see this strategy shift finally happening across all industries and sectors.
For decades, sustainability has been a business imperative at HP—helping us ensure our long-term economic and financial stability. While we don't do this for accolades, it is gratifying when our efforts are noticed by others. We're honored that HP has been recognized recently for our leadership in key sustainability assessment rankings: CDP's Climate and Water "A" Lists and the 2017 Dow Jones Sustainability Indices (DJSI), as well as by the Environmental Protection Agency.
Building in greater accountability
HP's ongoing transition to a low-carbon economy is based on our company's long-standing commitment to reducing environmental impact across our entire value chain. From the products we design and make, to the way we run our operations, to how we work with suppliers to improve their operational efficiencies and our supply chain's resiliency.
But taking action to address climate change is only part of the equation. HP also strongly believes these efforts require greater accountability—to ourselves, our customers, our stakeholders, and our investors.
This means being transparent in how we analyze our carbon footprint, set public goals to reduce GHG emissions, and track and report out on the progress we've made to meet those goals and improve our overall environmental performance.
Taking a leadership role
Each year, thousands of major corporations submit annual environmental disclosures for independent assessment by CDP, an international non-profit that drives companies and governments to reduce their greenhouse gas emissions, safeguard water resources, and protect forests. This year, more than 3,000 corporations were scored from "A-D" on their efforts related to climate, water, and forestry on CDP's "A" List ranking, which is produced at the request of 827 investors with assets of over US$100 trillion. HP was one of only 25 companies to score an "A" for both climate and water. This is the fourth year in a row that we have received an "A" score for our climate activities. 
For the sixth year in a row, HP was named to the DJSI World Index. Launched in 1999, the DJSI rankings are the longest-running global sustainability benchmarks worldwide—scoring companies across economic, environmental, and social components. These rankings have become a key reference point for investors and companies.
HP recognized for supply chain practices
In another nod to HP's environmental initiatives, this week, we received a SmartWay® Excellence Award for outstanding environmental performance and leadership by the EPA. This year marks HP's fourth consecutive win and sixth overall. No other high-tech peer company comes close in the "shippers" category.
With more than 1.5 million products shipped each day between our manufacturing sites, distribution centers, and customers, decreasing the carbon footprint of our product transport plays an important part in reducing the GHG emissions of our overall supply chain.
SmartWay Excellence Awardees lead their industries in addressing climate change by reducing air pollution emissions from their surface freight supply chains. Awardees have superior environmental performance and are chosen from more than 3,000 organizations participating in SmartWay.
I'm proud of HP's accomplishments and recognize we have more work to do. That's why we'll continue to partner with nongovernmental organizations, governments, customers, and other companies to create a more sustainable future for everyone across the planet.