HP's HBCU Tech Conference Returns With a Focus on Career Success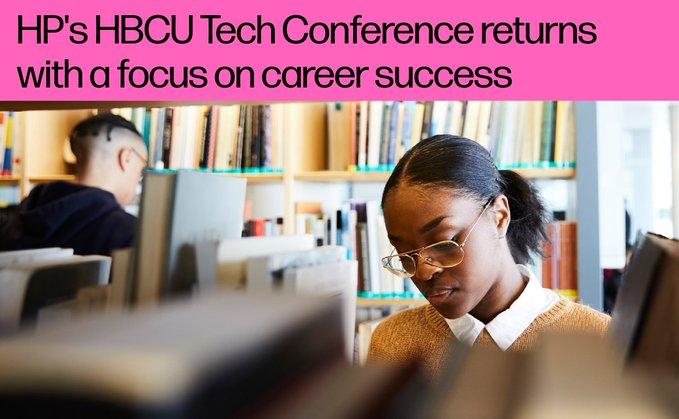 When the second HBCU Tech Conference gets underway this week, the leadership, staff, and students of 102 Historically Black Colleges and Universities across the nation will have the opportunity to experience what's next in higher education. And what's next includes such tech trends as automation, enhancing hybrid learning capabilities, and teaching XR (extended reality) in classrooms.
This free virtual conference, presented by HP, is designed to offer a vision of what digital transformation looks like on HBCU campuses, while simultaneously expanding students' career horizons.
The four-day event will feature keynotes by HP executives including Chief Diversity Officer Lesley Slaton Brown and Global Chief Information Officer Ron Guerrier; as well as workshops, product exhibitions from partners Intel and Microsoft, and interactive symposiums. There are tracks offering professional development opportunities for IT staffers and faculty members, and sessions to help college executives prepare their schools for the future.
The conference — created and spearheaded by HP account manager Boz Bell as an inaugural event last year — is a continuation of HP's investment in HBCUs. HP joined the National HBCU Business Deans Roundtable as a founding member in 2017 and has since contributed to the organization's mission to provide essential tools and resources for student success. And since 2017, HP has held its yearly HBCU Business Challenge to engage Black students considering careers in business and technology. These efforts reflect the values of the HP Racial Equality and Social Justice Task Force, which aims to double Black and African American technical representation by 2025.
"As an African American female and a graduate of an HBCU, Howard University, with limited access to technology growing up, I want the students to know they have opportunities to be leaders in a technology giant like HP," says LaTasha Gary, director of the Sustainable Impact program management office at HP. "The tech industry is evolving at a rapid pace, and we need smart people who know how to solve problems and adapt to a dynamic environment."
Learn about past winners of the HBCU Business Challenge and register for the 6th annual challenge through September 27.
Focus on student success
The biggest development to unfold at this year's event is the expansion of its student programming. More than 700 HBCU students are expected to take part in the Future of Work Academy (FOWA), a new program that will help them develop professional readiness skills and gain insight into such career paths as animation, digital finance, and web publishing. Registered students can listen to experts speak about topics like generational wealth, social impact and sustainability, and have face-time with industry leaders who are searching for new talent. There will also be jobs and internships at HP made available exclusively to conference attendees.
According to HP Global Education Impact Manager Tunde Agboke, last year's event — attended by 372 students — set out to "bring in all the HP heavy-hitters so students can know the lay of the land and see what the industry looks like." By contrast, this year's student track will take a more hands-on technical approach, with demos highlighting specific skills needed to navigate in-demand fields like automation and art and design. Students will then be given resources to help them hone their abilities with those skills.
"Our goal is for students to walk away from their experience with FOWA saying, 'I gained some type of skill that I can activate to help broaden the possibilities I have in front of me,'" Agboke says. "We want to make sure they are ready for what the future holds."
Collaborative competition to spur innovation
The Bot-a-Thon — an innovation incubator challenge in which students create a bot to solve an assigned real-world problem — is making a comeback this year, alongside new competitions focused on esports, health IT, and marketing.
Chukudumebi Uzor, a second-year graduate student at Texas Southern University's Jesse H. Jones School of Business, was one of last year's Bot-a-Thon winners. Her four-person team developed a processor that automatically uploads course lists and syllabi into students' digital calendars. She is set to reunite with her teammates at this year's conference to present their winning processor and discuss their design process, setbacks, and breakthroughs.
Their prize packages included HP laptops and printers, as well as Xbox gaming consoles. But for Uzor, the connections she made with her fellow attendees was the best takeaway.
"What I learned from the conference was not only working from your headspace, but also your heart space — cultivating relationships, building bonds and learning to be adaptable," she says.
Agboke said this year's challenge-winners will receive another invaluable prize — closed-door virtual meetings with HP leaders, including president of Personal Systems Alex Cho, global head and VP of marketing planning Tara Agen and LaTasha Gary, who will discuss all things tech and engage with the students on a personal level about what it's like to be in the minority while working in the tech space.
"Sharing my career journey from an individual contributor to an executive will hopefully motivate and inspire students to dream big," Gary says.
Expanding Future of Work Academy
Looking forward, Agboke said he aims to introduce the FOWA framework to students at community colleges, Hispanic-serving institutions, Indigenous American-serving institutions, as well as schools that primarily serve students with disabilities.
"My vision of what FOWA is and can be for HP," says Agboke, "is this ecosystem that allows us to directly impact the life trajectories of the individuals that we're engaging with. If we continue to create a future where not just HP — but all of our partners — have access to exceptional talent, then we're creating a more diverse tech industry."