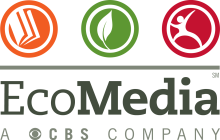 At CBS EcoMedia Inc., we have a vision: To harness the power of advertising and channel it into tangible social change.
Since the founding of the company in 2002, our team has worked tirelessly to develop and hone an advertising model that would transform this ideal into reality.
It was with great pride that in 2011 and 2012, we launched our EcoAd, WellnessAd, and EducationAd programs. These unique product offerings are based on our patent-pending ad model through which our clients, in collaboration with our wide network of non-profit partners, provide financial support for critical, yet underfunded, environmental, health, and education projects in communities nationwide.
Through their brand loyalty, viewers are turned into volunteers with the power to help create real, meaningful improvements in their own neighborhoods – a transformation which profoundly alters the conversation between consumer and advertiser, and makes our EcoAd, WellnessAd, and EducationAd programs advertising industry game-changers.
With the company's 2010 acquisition by CBS, we exponentially scaled our reach. EcoMedia is now proud to offer our clients the opportunity to communicate their messages across all CBS platforms – national television, local television, radio, outdoor, and interactive.
We're honored and gratified to have been recognized for our work in social enterprise. In 2009, we received the United States Conference of Mayors' Excellence in Public/Private Partnerships Award. In 2012, we were an Edison Award winner for social innovation.
But the greatest reward of all? The ability to make a significant, positive impact in the communities we serve.
Videos