UNIDO, HP Inc. and the HP Foundation Extend Partnership to Promote Entrepreneurship and Job Creation in Developing Countries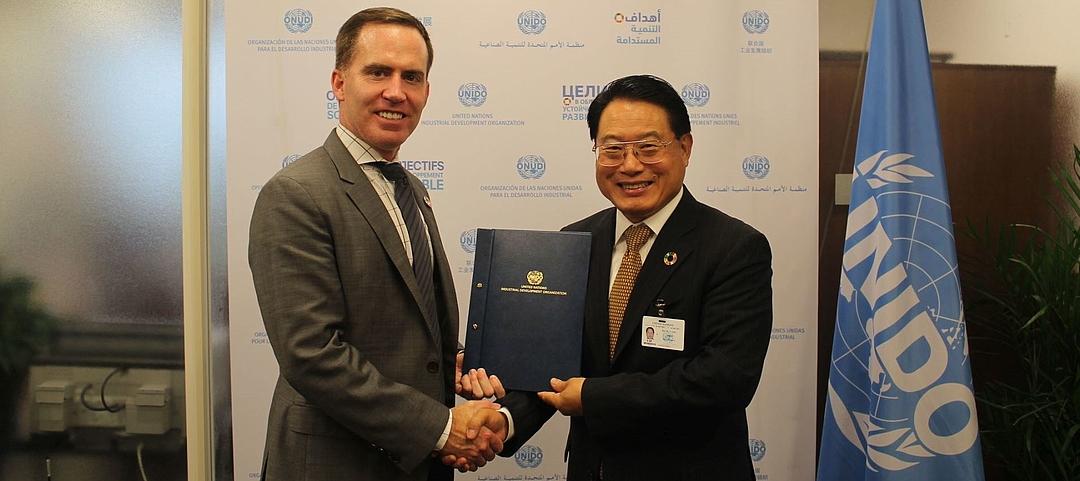 HP's Nate Hurst (left) and UNIDO DG LI Yong following signing of memorandum of understanding
Originally published on United Nations Industrial Development Organization (UNI…
The United Nations Industrial Development Organization (UNIDO), HP and the HP Foundation have renewed their partnership to further foster entrepreneurship and employment opportunities for young men and women in developing countries through technology-related learning.
A memorandum of understanding to this effect was signed in New York today by LI Yong, Director General of UNIDO, and Nate Hurst, Chief Sustainability and Social Impact Officer for HP. The signing took place on the margins of the UN General Assembly's United Nations Private Sector Forum.
The partnership leverages the HP Foundation's Learning Initiative for Entrepreneurs (HP LIFE) programme, which provides people all over the world with access to 27 free online courses in seven languages to build key business competencies. Through HP LIFE workshops and business coaching provided by UNIDO, young entrepreneurs develop the knowledge and skills they need to start, grow and run successful businesses. HP LIFE is also used by educators to enrich curricula and deepen the student learning experience.
"Unemployment among today's youth remains a major challenge. Through such public-private partnerships we can pool and leverage our expertise and resources, and support inclusive and sustainable industrial development," said Director General LI Yong. "By working together, we can ensure the implementation of the 2030 Agenda for Sustainable Development."
"There is an urgent need for innovative solutions that provide access to quality education and enable economic opportunity for everyone everywhere," said HP's Nate Hurst. "Today's signing signals the continuation of our successful partnership that has already demonstrated its effectiveness in empowering young people to start their own businesses."
"The HP Foundation is committed to raising people up and assisting those around the world who need it most," said Debby McIsaac, Executive Director, HP Foundation. "Having access to relevant learning and skill-building tools is vital to ensure young people everywhere can create a successful future. We are delighted to be continuing our partnership which is supporting and inspiring the entrepreneurs of tomorrow."
Currently, joint projects are being implemented in Tunisia and Nigeria, with expansion to other countries planned. In Nigeria, a network of trainers has been created to empower youth with practical entrepreneurship and IT skills through HP LIFE.
In Tunisia, the partnership between UNIDO, the US Agency for International Development (USAID), the Italian Development Cooperation and HP, branded "Mashrou3i" ("My project" in Arabic) has already created more than 1,250 jobs, and has supported more than 160 start-up businesses since its launch in 2013. Within the next five years, the programme expects to reach more than 25,000 aspiring and existing entrepreneurs and create at least 6,000 additional jobs in Tunisia.
For more information on the partnership and project, please contact:
Petra Wenitzky
Industrial Development Expert
 
More information on the HP Foundation
More information on the Mashrou3i Programme