Third-Party Diamond Certification First to Use Advanced Laser Testing to Trace Diamonds from Mine to Market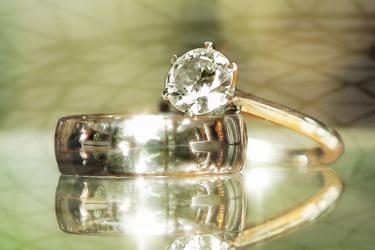 Third-Party Diamond Certification First to Use Advanced Laser Testing to Trace …
EMERYVILLE, Calif., February 15, 2018 /3BL Media/ – Diamond traceability back to the mine of origin – vital to the international due diligence movement for precious gems and minerals – just took a giant step forward. SCS Global Services, an internationally recognized certification body and standards developer, is pleased to announce that its diamond provenance certification program now incorporates advanced laser testing that can identify the source of any rough, cut, or polished diamond, anywhere in the chain of custody.  Use of this disruptive technology, combined with comprehensive certification assessment protocols, provides unmatched assurance to diamond retailers and consumers alike that the diamonds they purchase or sell are not coming from conflict-affected and high-risk sources.
Concerns about "blood diamonds" used to finance conflicts or associated with human-rights abuses have dogged the global diamond industry for the past few decades, leading many consumers to look for alternatives to diamond jewelry altogether.  The loss of confidence among Millennials has been particularly pronounced. A series of initiatives, including the industry-led Responsible Jewellery Council (RJC) certification standards, the multi-stakeholder Kimberley Process certification scheme, and the OECD Due Diligence Guidance, have all fallen short of providing the level of certainty needed, according to a detailed Human Rights Watch report issued earlier this month.  This report is the latest in a series of setbacks for the industry, including last month's withdrawal of IMPACT, a Nobel prize nominated NGO, from the Kimberley Process.
"In order to satisfy markets that diamonds are indeed coming from responsible mining operations, we have needed a testing technology capable of fingerprinting each diamond on a molecular basis," said Stanley Rhodes, SCS founder and chief executive officer.  "The technology we are now using makes it possible to trace diamonds, whether in rough or cut and polished form, all the way back to the mine itself."  No other testing technology currently being promoted for diamond due diligence has this capacity, he added.
For instance, one such technology, X-ray fluorescence, has inherently low sensitivity, and can detect only a limited number of elements at very high impurity levels.  Block chain, another technology proposed for this purpose, is a digitized form of the paperwork currently used to trace diamonds, which is rife with problems. Because there is no physical link between a block chain record and a diamond, fraudulent claims about a diamond's origin can be fed into the system, corrupting the entire block chain.  Nor can block chain physically trace a cut diamond back to its rough form and therefore its origin. Moreover, block chain is subject to potential hacking.
According to Tobias Schultz, SCS' head of research and development, the laser testing technique uses a powerful, focused laser beam to create a laser inscription in a diamond. "In the process, a sample of atoms and molecules from the surface of the diamond is removed and transformed into a plasma. The cooling plasma then emits light on different parts of the spectrum, allowing one to analyze and determine the structure and composition of the diamond," he explained. 
This represents the first time that this laser technology has been integrated into a certification process, offering a 98% confidence level that is expected to increase even further as more diamonds enter the system.  Moreover, the technology can be used on lab-grown diamonds as well as mined diamonds.  SCS is planning an informational webinar this spring to provide industry and stakeholders with more details on the process and technology.
About SCS.  SCS Global Services has been providing global leadership in third-party environmental and sustainability certification, auditing, testing, and standards development for more than 30 years. Its programs span a wide cross-section of industries, recognizing achievements in green building, product manufacturing, food and agriculture, forestry, retail, and more, addressing a broad range of Sustainable Development Goals.  The SCS Kingfisher certification mark is found on an increasing number of products around the world, including products certified for their indoor air quality, recycled content, and sustainable production attributes. SCS is a chartered benefit corporation, reflecting its commitment to socially and environmentally responsible business practices.
For more information, contact Tobias Schultz, Director of Research & Development, SCS Global Services at tschultz@scsglobalservices.com; 1-510-452-6389.