Mohawk Sustainability VP Bandy Opens Greenbuild Plenary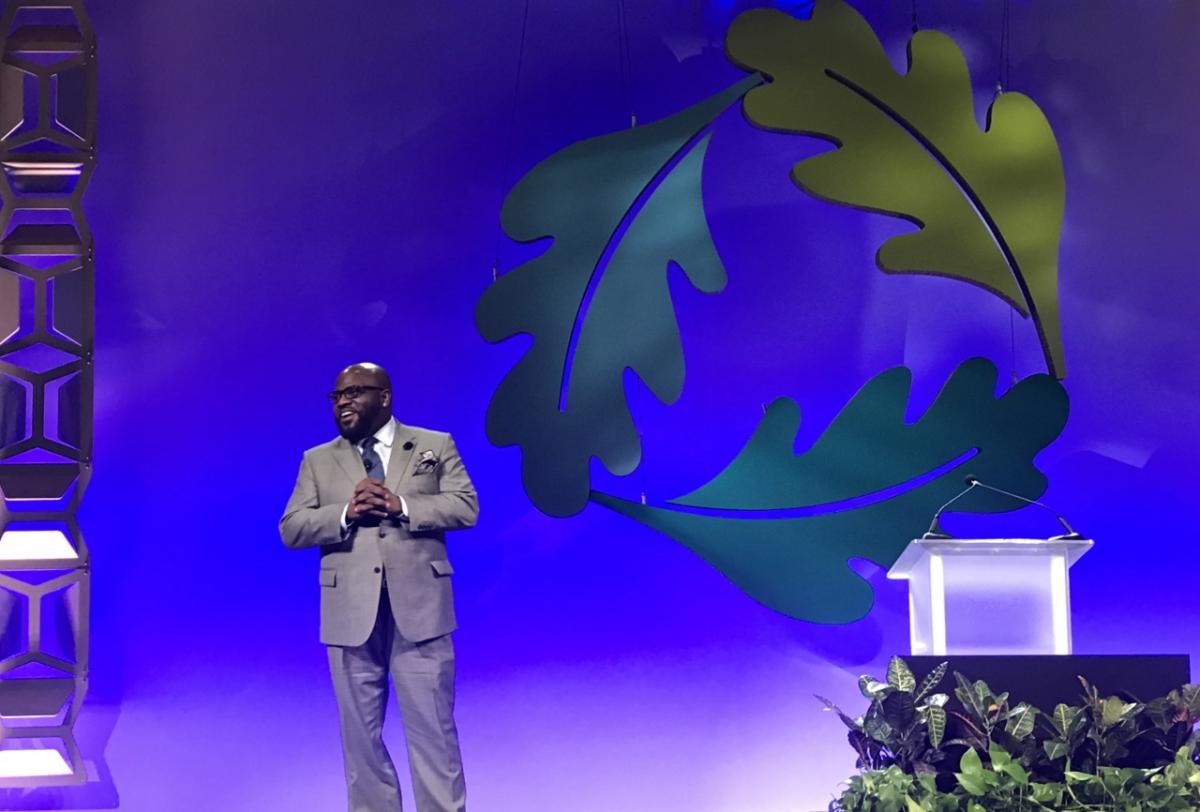 CALHOUN, Ga., November 14, 2017 /3BL Media/ —  George Bandy, vice president of sustainability for Mohawk Industries, heralded in the Greenbuild Plenary last week as the special session's opening speaker. Bandy brought energy and inspiration to the main stage of the Boston Convention & Exposition Center, as he offered words on the compelling and unifying nature of the green building movement and talked about Mohawk's own strides in sustainability.
"When we are here we are 'all in.' We celebrate together, learn together, commiserate over common challenges and congratulate each other on individual victories," Bandy said in his speech. "We are a family and bound by a common interest in using the built environment to shape a more sustainable future for everyone."
Bandy joined a lineup of who's who in green building which included Mahesh Ramanujam, president and CEO of the U.S. Green Building Council (USGBC); Rick Fedrizzi, chairman and CEO of the International WELL Building Institute (IWBI) and former CEO and founding chair of the USGBC; and the evening's keynote, former President Bill Clinton.
In talking about the speakers that would follow, Bandy shared insight into their common thread: "[They know] the value of welcoming new perspectives into the fold. They understand the importance of innovation and the power of personal connection."
Presented by USGBC, Greenbuild is the world's largest conference and expo dedicated to green building. The conference attracts more than 20,000 attendees and 600 exhibitors annually from across the green building sector, spanning commercial and residential professionals, architects, building owners and operators, students, advocates and educators. This year's theme was "All In."
"We know that sustainability is a multi-dimensional pursuit," continued Bandy. "There is no one, right way to approach creating a more prosperous, healthy and sustainable tomorrow. Every perspective matters and every voice is important in this worldwide conversation. We are 'all in' this together – one race – the human race."
This year at Greenbuild was a first for Mohawk Industries at the event, where both residential and commercial divisions shared the spotlight to demonstrate how Mohawk is "All In" when it comes to sustainable flooring. During the three-day expo, Mohawk showcased Air.o, a new residential soft floorcovering with unified backing, engineered with just one material making it the only 100% recyclable flooring available to the marketplace. Mohawk's commercial division, Mohawk Group, highlighted the Lichen carpet plank collection, designed by Living Product Challenge founder Jason F. McLennan as the first floorcovering to achieve Living Product Challenge Petal Certification.
"[At Mohawk] we know from experience that in order to last in an ever-changing business environment, innovation is the key," said Bandy. "Being inventive and re-inventive is crucially important for the long-term viability of any company and, on a grander scale, for any movement. Mohawk is pleased and proud to be among the voices sharing in the leadership of this movement – because believing in better is good for everyone."
Bandy concluded his speech with a heartfelt thank you to fellow Greenbuild attendees, leaders, colleagues, groundbreakers and innovators in 12 different languages.
"It's an amazing thing that happens when powerful, committed people begin to come 'all in,' and make commitments to do what's right for our future," he said. "I believe in better, I believe in you, and I believe in being 'all in.'" 
For more information on Greenbuild and the green building movement, visit GreenbuildExpo.com. To learn more about Mohawk's commitment to sustainability in the built environment, visit MohawkSustainability.com.
About Mohawk
Mohawk Industries is a leading global flooring manufacturer that creates products to enhance residential and commercial spaces around the world. Mohawk's vertically integrated manufacturing and distribution processes provide competitive advantages in the production of carpet, rugs, ceramic tile, laminate, hardwood, stone and vinyl flooring. Our industry-leading innovation has yielded products and technologies that differentiate our brands in the marketplace and satisfy all remodeling and new construction requirements. Our brands are among the most recognized in the industry and include Mohawk, American Olean, Daltile, Durkan, Karastan, Marazzi, Pergo, Unilin and Quick-Step. During the past decade, Mohawk has transformed its business from an American carpet manufacturer into the world's largest flooring company with operations in Australia, Brazil, Canada, Europe, India, Malaysia, Mexico, Russia and the United States. 
Contact:
Luke Chaffin
762.204.5607
luke_chaffin@mohawkind.com