Mohawk Raises $90,000 for Calhoun, GA Habitat for Humanity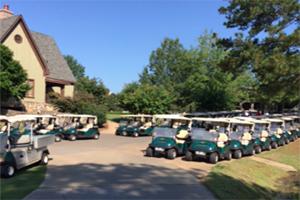 Mohawk Industries is committed to bringing comfort, fashion and durability to homes across the world. Thanks to the generosity and dedication of many Mohawk volunteers, a deserving Gordon County family will soon enjoy a new home all their own.
On September 18, Mohawk's finance and logistics teams hosted the company's annual Habitat for Humanity charity golf tournament, which, combined with a generous Mohawk donation, will help a Calhoun, Ga., family obtain a home through Habitat for Humanity of Gordon County.
Habitat for Humanity provides affordable, structurally sound housing for deserving, low-income families in communities around the world. Partner families are selected based on need and their ability to repay a no-interest loan. The families invest hundreds of hours of labor into building their own homes and the homes of others.
"This year's tournament was a great success because of the generosity and dedication of many company volunteers and corporate sponsors," tournament chairperson Renée Lockhart said. "A total of 30 teams played in the event, and we also generated additional funds through an on-site raffle. I appreciate all of the people who made this event a success, including our volunteers, players and sponsors."
Through entry fees, sponsorships, donations and the Mohawk corporate gift, the 2017 golf tournament raised more than $90,000, an all-time tournament record. The event's title sponsor was Wells Fargo, gold sponsor was SunTrust and silver sponsors were US Bank and Xpress Global Systems. Bronze sponsors included C2F0, FifthThird Bank, MUFG, XPO Logistics, Mizuho, PNC Bank, Alston & Bird, Liberty Mutual, Navigant and Bank of America/Merrill Lynch.
After a number of years organizing the event to assist a variety of local non-profit organizations, this was Mohawk's fourth year partnering with Habitat for Humanity of Gordon County to raise funds for local builds.
"Mohawk Industries was the prime sponsor of our last home build," Habitat for Humanity of Gordon County Executive Director Lana Young said. "They gave us the proceeds from last year's golf tournament to help fund construction, and many of their employees rolled up their sleeves and helped with that house. We appreciate their leadership in making home ownership a reality for deserving local families. We're continually inspired by the dedication and generosity of Mohawk, and we're grateful for the company's continued support."
Mohawk provides financial assistance to dozens of non-profit organizations in the northwest Georgia region, but the golf tournament has taken on special significance due to the connection with the company's position as a global leader in flooring.
"At Mohawk, we are pleased to support the Calhoun/Gordon County community in many ways, but this event is special to us because working with Habitat for Humanity reflects our commitment to safe, stable housing," Mohawk Industries Treasurer Shaila Bettadapur said.
"We appreciate the importance of having a place to call home, and, as the world's largest flooring manufacturer, we take great pride in making those homes more beautiful and comfortable. Thanks to the sponsors and participants in this year's tournament, we will be able to help make home ownership a reality for a local family, and we look forward to adding Mohawk flooring products throughout the house."
Young expressed excitement about the family that will benefit from this year's golf tournament.
"We began working with our current partner family several months ago, and they have patiently waited to find a home that will accommodate their family," Young said. "The parents and their oldest daughter work in Calhoun, and they have two other children—a son and a daughter—that attend Calhoun Middle and High School, so we've been exploring properties within the city limits."
 
Most Habitat homes are built from the ground up, but Habitat for Humanity of Gordon County is making this home a "green" project.
"For this particular family, we feel that modifying and upgrading an existing home would be the fastest and most cost-effective solution," Young said. "We plan to purchase a property, renovate the house, then sell the property to our partner family at a no-profit selling price with a zero percent loan." 
 
Given Mohawk's commitment to sustainable products and practices, the Habitat solution of renovating a home was a welcome announcement.
"Part of what makes Mohawk special is our connection to our communities, particularly Calhoun, our corporate hometown," Mohawk Group President Michel Vermette said. "We challenge ourselves and others to believe in better, and partnering with Habitat for Humanity to provide a wonderful new home to a deserving family is one example of how we translate that philosophy into results that make a difference. As the industry leader in sustainability, we're particularly pleased that this project focus on renovating a current residence, which reinforces the value of revitalizing a community's existing homes."
For more information about Habitat for Humanity of Gordon County, visit gordonhabitat.org or support the organization through a donation by visiting gordonhabitat.org/Donate.html.