HP Named Finalist in The Circulars Award Program
HP Named Finalist in The Circulars Award Program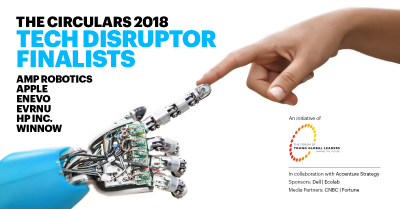 Friday, December 1, 2017 - 9:15am
HP has been selected as a Finalist in The Ecolab Award for Circular Economy Tech Disruptor.
The Circulars, an initiative of the World Economic Forum and the Forum of Young Global Leaders, is the world's premier circular economy award program. The awards are open to individuals and organizations from commerce and civil society in seven distinct categories and are designed to recognize and celebrate, on a prestigious global stage, all facets of the circular economy movement. Now in its fourth year, The Circulars event will be held at the World Economic Forum Annual Meeting in Davos on 22ndJanuary 2018. See all the finalists here.
HP is driving toward a circular economy by using fewer materials in its products, and making those products more recyclable, developing service-based solutions that reduce product footprints, and inventing technologies like 3D printing that enable the circular economy to scale into other industries. Learn more about HP's approach to  the circular economy.