First Cartridges, Now Printers: HP Raises the Bar for Recycling
HP is creating a closed loop recycling program for hardware gadgets.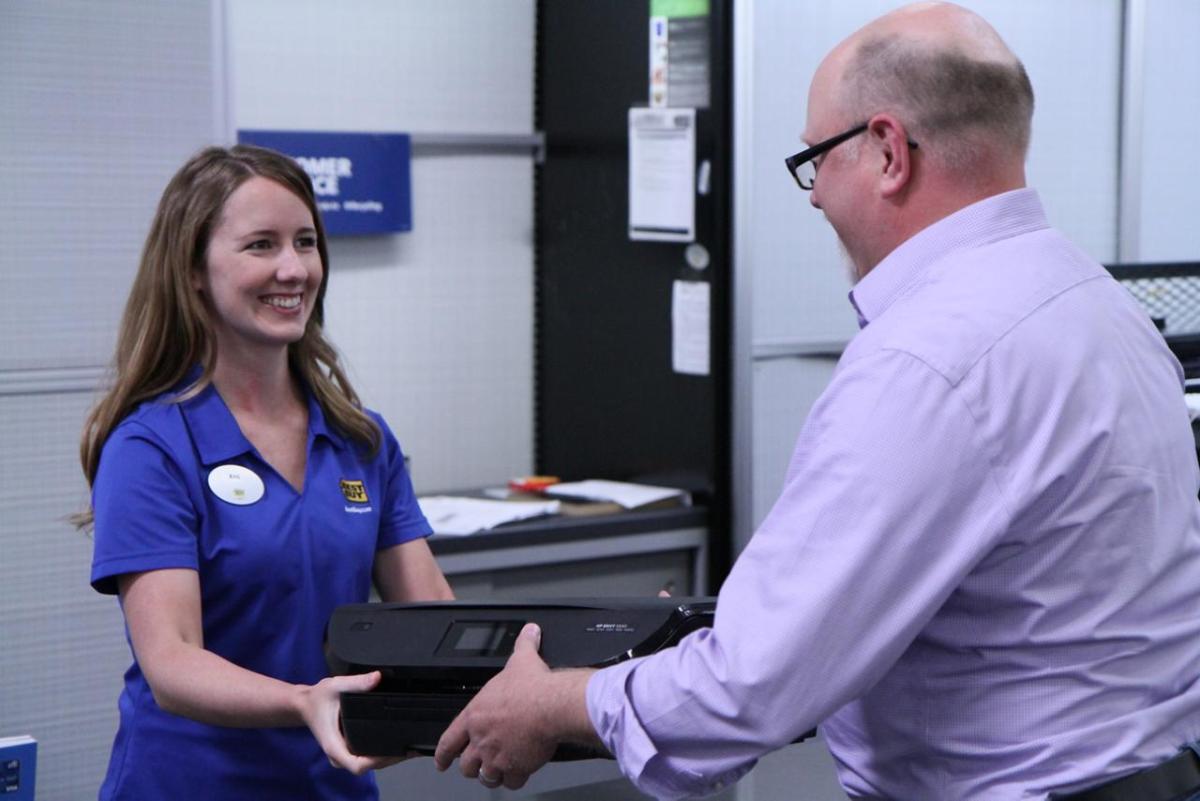 PHOTO COURTESY OF BEST BUY. Best Buy's electronics recycling program, the largest in the U.S., was key to helping HP expand its pioneering closed loop recycling program to hardware, starting with printers.
Not much can beat the thrill of opening the latest new gadget during the holidays. But that excitement often comes along with a pang of guilt. What to do with your old hardware, and how do you recycle it responsibly?
It was a similar concern that got HP's sustainability gurus, Jean Gingras and Dean Miller talking with a few Best Buy leaders at a dinner in 2016.
For years, they had noodled over how to expand the company's groundbreaking closed loop plastic-recycling program for its printer cartridges to its PCs and printers. This hugely successful effort has helped customers return more than 735 million HP cartridges to HP Planet Partners for recycling into plastic that can be used as raw material in new HP cartridges, instead of just tossing them in landfills — or having them end up as a piece of the vast garbage patches suffocating our oceans. 
Then, at the dinner, Gingras and Miller realized their chance had come. Sitting next to them was Dan Johnson, head of Best Buy's recycling program. Gingras and Miller dove right in, asking Johnson: "Would you consider a hardware recycling pilot with HP?" For Johnson, "a light bulb went off about how we could create another way to bring additional value to our customers," he recalls, "and it just snowballed from there." 
Now, that conversation is raising the bar for tech industry sustainability.
In August, HP followed up its pioneering closed loop system with another world's first — a new version of its HP Envy home photo printer, currently made with 10% closed loop recycled plastic.1
Other HP printers — and PCs — are next. And as the company did with its printer cartridges, HP will increase the percentage of recycled plastic used in its hardware products over time. Today, over 80 percent of HP ink cartridges and 100 percent of HP LaserJet toner cartridges contain recycled plastics.
Raising the bar on recycling
This is much more than your run-of the mill recycling program. Absolutely, HP could simply have chosen to use any old recycled plastics to produce hardware products. But it wanted to build on its pioneering recycling program for HP ink and toner cartridges and create an entirely circular material stream for PCs and printers. 
This notion of using the same material again and again to manufacture products is a radical shift, a recognition that taking, making and wasting aren't sustainable long term. More people on earth and an expanding middle class increases the demand for more stuff. But at some point, raw materials become a finite resource. By creating a circle of production and use, the goal is to get to zero waste. Since technology is the fastest-growing waste stream in the world, according to the UN, this effort is more crucial than ever.
Expanding HP's closed loop recycling stream to include hardware required a team effort. And Best Buy was a key piece of the puzzle.
It takes two to make a thing go right
Since launching its in-store recycling program in 2009 for consumers, Best Buy quickly became the largest electronics recycler in the U.S. Every minute during store hours, Best Buy collects more than 400 pounds of plastic-laden products, from printers to smartphones. Those used gadgets are shipped to recyclers who, in the case of printers, break them down into materials like plastics and metals that are sent along to other processors to turn into materials, like plastic resins, for new products.
All that plastic was exactly what HP needed to experiment with and have as a steady source to ramp up its bid to incorporate more closed loop recycled plastic into new hardware products.
Working closely with companies throughout the supply chain, including the electronics recyclers, recycled-plastics processors and even different divisions within HP — the "clients" for the recycled plastic — HP's team tested different approaches and hammered out solutions to challenges as they cropped up. "We did a lot of learning by doing," says Miller.
For instance, HP initially thought the financial model that would pay off would be to disassemble the used products into their various components. So the recyclers and plastics-compounder researchers worked on the factory floor, taking apart printers to understand the mix of materials used and what taking them apart would entail.
After just a few days, it became clear that this approach wasn't going to pay off — the value of the materials didn't cover the cost of the labor to disassemble them. But HP used the insights it gleaned from the exercise to separate out products that had high amounts of good plastics from the ones with problematic or contaminated materials. Then it employed the traditional shredding and separating process for recycling.
Every partner in the effort benefited, creating a more sustainable process as a whole. "It really was a win-win-win situation," says Miller. 
Previously, electronics recyclers had been largely working in silos, receiving material from collection programs like Best Buy or from state take-back programs and then finding markets for the commodities they could recover. But these markets are highly volatile, with big swings in demand and prices often booting recyclers out of business. So for recyclers, HP's innovation creates a more stable market. "That incentivizes them to make investments that improve their outputs," says Miller. "Before, they'd been very nervous about making those kinds of capital investments."
With those investments, better-quality material is being sent to the processors, so they can reliably provide HP with the top-notch resins it needs to make its printers. "The quality of the material we're creating is very high-end, which is making our initial implementations much easier, bringing us back to the start of the circle," says Miller.  
Making smart choices even easier
Meanwhile, through trial and error at Best Buy stores during the pilot, HP figured out the kinds of marketing offers that would boost customer recycling while spurring sales of HP's products. 
The winner: a 15-percent-off coupon on a new HP printer for customers who bring in their used one for recycling. "Many people don't know what to do with their printer when the product has reached the end of its useful life," says Gingras. "So when they saw the 15-percent-off deals on the shelves as they were looking at printers, they'd go home and get their old printer and bring it back."
As consumers increasingly pay attention to the environmental impact of their purchases, HP is furthering its lead with sustainability programs and energy-efficient products with sustainability advantages. That will help HP stand out in the marketplace, driving increased sales over time and strengthening channel relationships, notes Gingras.
Gingras says HP's recycling project demonstrates how important it is to be on the lookout for reinvention opportunities. "A conversation over dinner led to a program that will now result in millions of pounds of plastic going into HP products instead of the waste stream," she marvels. That program has also created a new market opportunity for the company — and the industry.
Find out more about HP's closed loop recycling program.
1. Compared to of majority in-class color desktop inkjet all-in-ones <$199 USD. HP internal research survey of printer manufacturers' published specifications, sustainability reports and press releases as of 8/1/2017 and Buyers Laboratory Inc. 2017 study commissioned by HP; keypointintelligence.com/products/samples/hp-envy/. Market share as reported by IDC CYQ1 2017 Hardcopy Peripherals Tracker. The HP ENVY 6200, 7100 and 7800 all-in-one printers contain more than 10% closed loop plastic from recycled printers and other electronics plastic by weight of the plastic.