BNY Mellon's CSR Report Wins 2017 Inspire Award
Corporate publishing competition honors excellence in professional communications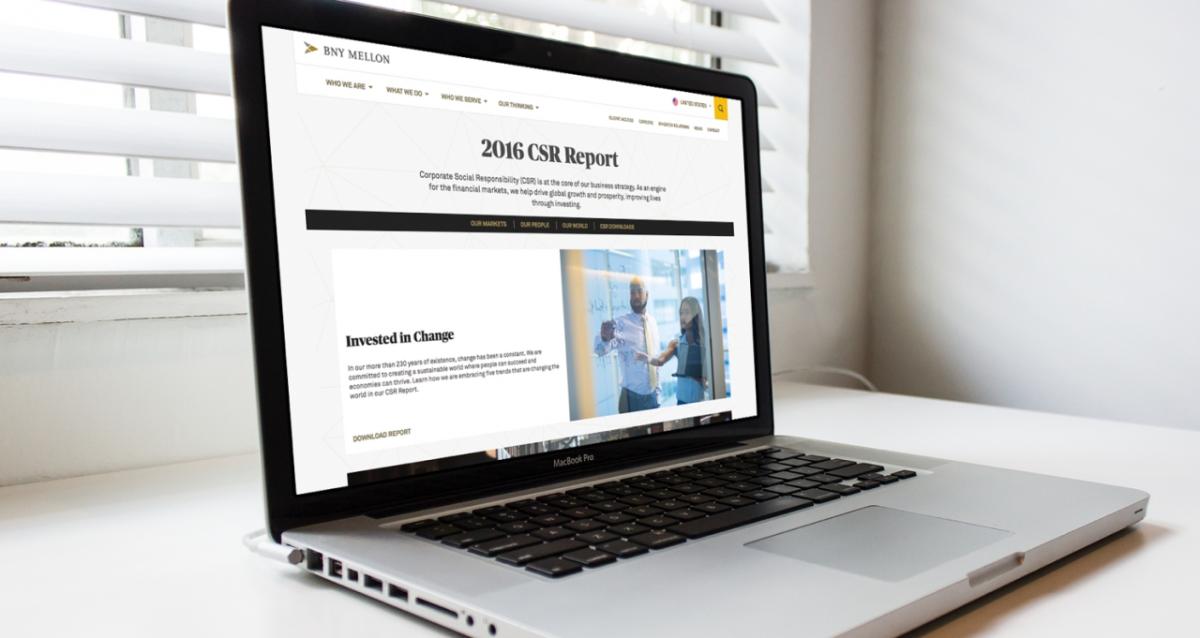 BNY Mellon's CSR Report Wins 2017 Inspire Award
BNY Mellon's most recent report detailing its corporate social responsibility (CSR) efforts, "Invested in Change," has been named one of the Top 100 Corporate Publications and received a Silver Award from the League of American Communications Professionals (LACP) in its 2017 Inspire Awards Corporate Publishing Competition.
The CSR Report experience, including dedicated web pages, print overview and a 100+ page comprehensive report, earned perfect scores for overall narrative, visual design, creativity and perceived relevance.
"Our 2016 CSR Report enables us to share the many ways BNY Mellon makes positive, lasting impacts on our markets, our people and our world," said Jyoti Chopra, BNY Mellon Head of Global Citizenship and Sustainability. "We are honored by this recognition for our efforts to meet the needs of all of our stakeholders."
This year, the report was expanded into a set of three pieces with each one designed to meet a particular need. The web pages provide a way to interactively explore the key storylines and highlights from the report, the print overview is a tangible document to share with clients and the comprehensive report is essential for investors, analysts and ratings agencies that score the company's CSR efforts.
"At BNY Mellon, every employee contributes to the company's positive impact through their daily work," said Heidi DuBois, BNY Mellon Global Head of Corporate Social Responsibility & Social Investing. "This report gathers those stories and helps us prove that our work has tangible, measurable outcomes; it's a delight to see the report itself win accolades."
"The 2017 Inspire Awards drew a nearly unprecedented number of submissions representing a broad range of industries and organizational sizes," said Tyson Heyn, Principal of LACP. "Approximately 1,500 entries were submitted, representing a dozen countries and 300 entities, so the competition was exceptionally tough. Winners demonstrated an outstanding focus on shareholders, their interests and their need to understand the strategic and tactical decisions their companies are making."
Explore the many ways BNY Mellon is Invested in Change – and how those investments pay off for our global markets, our people and our world – in the award-winning 2016 CSR Report.