BNY Mellon Earns Perfect Score in 2018 Corporate Equality Index
Company earns top marks for 11th consecutive year on Human Rights Campaign Foundation's scorecard on LGBTQ workplace equality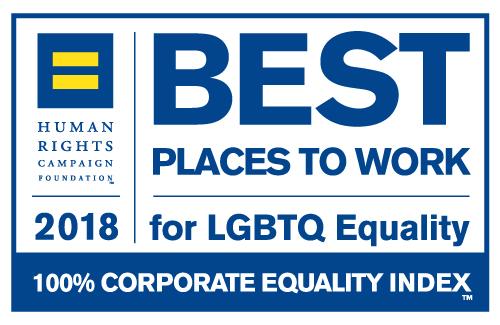 BNY Mellon Earns Perfect Score in 2018 Corporate Equality Index
BNY Mellon received a perfect 100 percent score on the 2018 Corporate Equality Index (CEI), a national benchmarking survey and report on corporate policies and practices related to lesbian, gay, bisexual, transgender and queer (LGBTQ) workplace equality, administered by the Human Rights Campaign Foundation. BNY Mellon joins the ranks of 609 major U.S. businesses which also earned top marks this year.
"Work is where we spend much of our most precious commodity—time—and there is no place in that environment for discrimination based on race, gender, sexual preference, or religion," said Mitchell E. Harris, CEO of BNY Mellon Investment Management. "We are honored and delighted to receive a perfect score on the Human Rights Campaign's Corporate Equality Index for an eleventh consecutive year —and take this moment to appreciate the diversity that makes BNY Mellon who it is. We also look forward to the day when respect and fairness for all is commonplace across every business and industry."
BNY Mellon advocates for diversity, inclusion and equality to help protect and advance human rights, recruit essential talent and drive business performance. For example, in recent years the company has:
Supported amicus briefs, open letters and public charters in favor of marriage equality in the U.S., Australia and Ireland
Signed an open letter supporting the addition of gender equality to U.S. civil rights law
Encouraged legal department pro bono projects, including the creation of an award-winning, comprehensive, free, online tax resource to help same-sex couples, and legal support for transgender people seeking to change their names to match their gender identity
The 2018 CEI rated 947 businesses in the report, which evaluates LGBTQ-related policies and practices including non-discrimination workplace protections, domestic partner benefits, transgender-inclusive health care benefits, competency programs and public engagement with the LGBTQ community. BNY Mellon's efforts in satisfying all of the CEI's criteria results in a 100 percent ranking and the designation as a Best Place to Work for LGBTQ Equality.
For more information on the 2018 Corporate Equality Index, or to download a free copy of the report, visit www.hrc.org/cei.
Explore the BNY Mellon website for more details on PRISM, the company's LGBTQ employee resource group, and its overall commitment to diversity and inclusion.