2018 UpPrize: BNY Mellon Social Innovation Challenge Launches March 1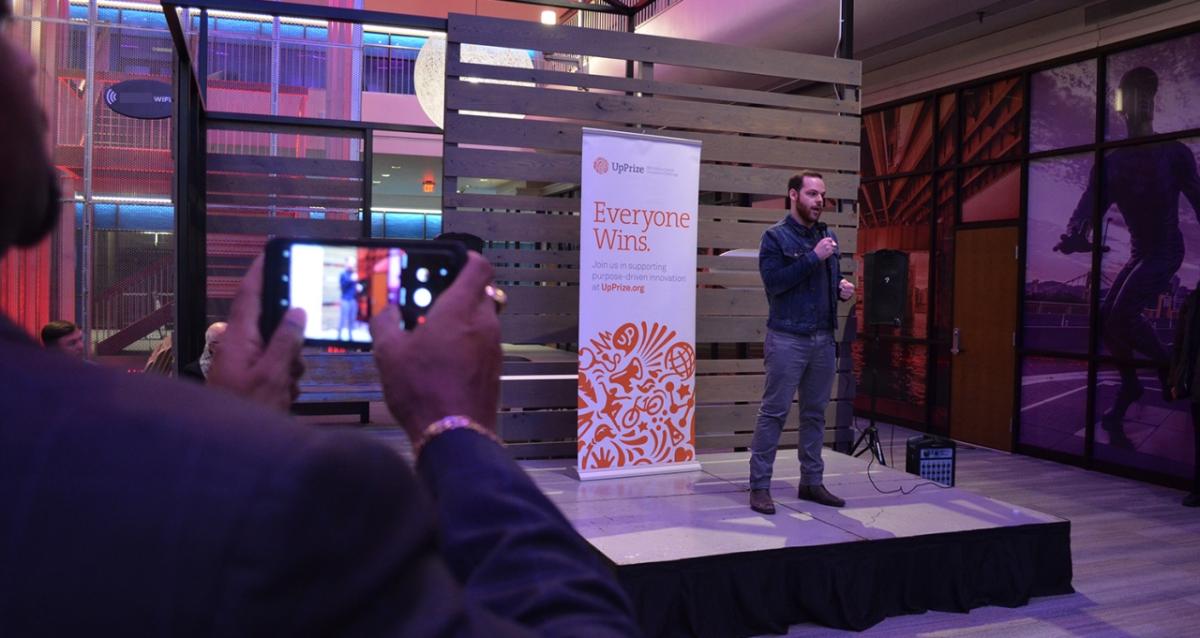 Tomer Borenstein, Co-Founder and Chief Technology Officer at BlastPoint, shares his company's UpPrize-aided success story during the launch event for this year's competition.
Southwestern Pennsylvania entrepreneurs have two opportunities this year to compete for grants and technical assistance through UpPrize, a social innovation challenge sponsored by the BNY Mellon Foundation of Southwestern Pennsylvania and The Forbes Funds. In its third year of operation, UpPrize connects local entrepreneurs and innovators with the region's nonprofit community and the people they serve.
"Pittsburgh has everything needed to lead the world in purpose-driven innovation. If you combine our start-up culture, universities, philanthropic organizations and corporate citizens such as BNY Mellon, our community can invest in and build a better future for everyone," said Kate Dewey, Senior Advisor to UpPrize. "Any one of these assets on its own can make an impressive impact, but their collective strength can create a signature market in this region that is focused on solving entrenched challenges at the heart of improving the quality of life in southwestern Pennsylvania for all its residents. UpPrize can help make this happen."
"We continue to be blown away by the innovation and solutions that have emerged through UpPrize," said Kenya Boswell, President of the BNY Mellon Foundation of Southwestern Pennsylvania. "After two successful cycles and more than 200 entries last year, we believe we've only scratched the surface on ideas that can truly transform nonprofits and our communities. We cannot wait to see what this third cycle will bring."
In the spirit of innovation, the 2018 UpPrize BNY Mellon Social Innovation Challenge will grow to include two competitions to encourage and support the creation of a robust pipeline of social innovation activity in the region:
Great Ideas launches on March 1 and is directed at encouraging individuals with ideas that can tackle pressing community challenges using technology. Three winners will be awarded a $5,000 grant and technical support to take their idea to the next step.
Great Solutions launches on May 15 and is directed toward entrepreneurs, innovators, makers, coders and researchers that have a proof of concept or prototype that can be scaled within 18 months. Five finalists will receive $10,000 grants and the opportunity to compete for grants ranging from $50,000 to $150,000. 
Anyone 18 years of age or older and residing in southwestern Pennsylvania is eligible to apply to either competitive round. Interested participants should construct a brief video submission which addresses at least one of the three core areas of opportunity. Applications will be judged by an independent panel of nationally recognized innovation experts. The competition is free to enter. Rules and restrictions apply. For more information and complete contest details, including terms and conditions, visit www.upprize.org.
###
ABOUT BNY MELLON
BNY Mellon is a global investments company dedicated to helping its clients manage and service their financial assets throughout the investment lifecycle. Whether providing financial services for institutions, corporations or individual investors, BNY Mellon delivers informed investment management and investment services in 35 countries and more than 100 markets. As of Dec. 31, 2017, BNY Mellon had $33.3 trillion in assets under custody and/or administration, and $1.9 trillion in assets under management. BNY Mellon can act as a single point of contact for clients looking to create, trade, hold, manage, service, distribute or restructure investments. BNY Mellon is the corporate brand of The Bank of New York Mellon Corporation (NYSE: BK). Additional information is available on www.bnymellon.com. Follow us on Twitter @BNYMellon or visit our newsroom at www.bnymellon.com/newsroom for the latest company news.
ABOUT THE FORBES FUNDS
The Forbes Funds builds the management capacity and impact of community-based nonprofits individually and collectively. A supporting organization of the Pittsburgh Foundation, The Forbes Funds has more than 30 years of experience in providing technical assistance, research, and leadership to advance a more effective and sustainable nonprofit sector. Additional information is available at www.theforbesfunds.org, or follow us on Twitter @theforbesfunds and @UpPrize.