Making HP as Green as it Can Be: What We Did in 2017
Making HP as Green as it Can Be: What We Did in 2017
From products to offices to manufacturing, HP's commitment to sustainability affects every aspect of our business. Here's what we achieved in just one year.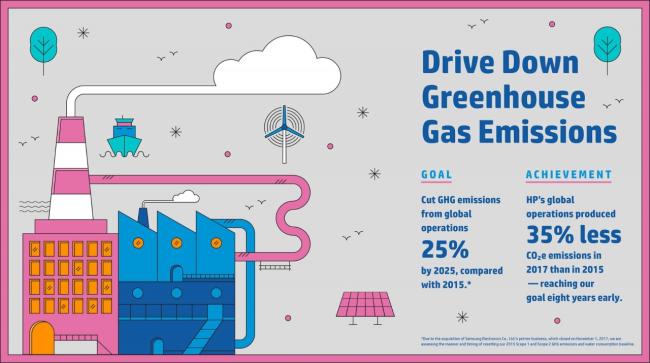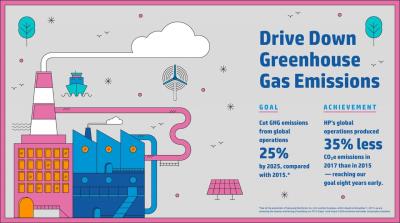 tweet me:
INFOGRPAHICS: Learn how HP is becoming as #green as it can be, more from the 2017 Sustainable Impact Report. @HPSustainable zero #deforestation, reducing #GHGemissions #recycle #CircularEconomy switching to #renewableenergy http://bit.ly/2ORKDY8
Thursday, August 23, 2018 - 9:05am
When most people hear the word "sustainability," they instantly think of recycling. And while creating new products out of reusable materials is one of our biggest goals, it is not by any means the only one. Strengthening the planet, its people and our communities isn't just our responsibility as an influential participant in the global market — it's vital to the longevity of our business. That's why we aim to create a business that has lasting sustainable impact on the world. Since 2001, we've reported on our progress annually, tracking our achievements against our goals so we can keep setting the bar higher.
Here's what HP's environmental efforts accomplished in 2017. 
1. Drive Down Greenhouse Gas Emissions
GOAL
Cut GHG emissions from global operations 25 percent by 2025, compared with 2015. 
ACHIEVEMENT
HP's global operations produced 35 percent less CO2e emissions in 2017 than in 2015 — reaching our 2025 goal eight years early.
DRIVING SUSTAINABLE IMPACT
The World Wildlife Fund helped us develop science-based targets not only for HP's direct and indirect emissions, but for our suppliers' emissions as well.
In HP offices and labs, we're switching to renewable energy and incorporating energy audits and energy-efficient design in new construction.
We're cutting the GHG emissions intensity of our product portfolio — the use of which makes up nearly half of HP's carbon footprint — by making our offerings energy-smart, using more recycled material and using less paper and ink in printing.
To attack the other half of HP's carbon footprint — our supply chain — we're helping tier-one suppliers become more energy-efficient and shift to using renewable energy.
We're consolidating shipments, identifying new routes and shipping directly to customers. Example: By switching from air to ocean freight between Asia and most global destinations, we cut 30,000 tonnes of CO2e emissions.
*Due to the acquisition of Samsung Electronics Co., Ltd.'s printer business, which closed on November 1, 2017, we are assessing the manner and timing of resetting our 2015 Scope 1 and Scope 2 GHG emissions and water consumption baseline.    
2. Switch to Renewable Energy
GOAL
Use 100 percent renewable energy in global operations, with an interim goal of 40 percent by 2020.
ACHIEVEMENT
We've already hit 50 percent — surpassing our 2020 goal three years early.  
DRIVING SUSTAINABLE IMPACT
In 2016, HP joined other leading companies in the Climate Group's RE100, committing to working toward a long-term goal of 100 percent renewable-energy use.
We bought renewable-energy credits, purchased green energy directly from utilities and started generating our own clean power.
3. Reuse & Recycle
GOAL
Recycle 1.2 million tonnes of hardware and supplies by 2025.
ACHIEVEMENT
We've recycled 271,400 tonnes since the beginning of 2016, already reaching 22.5 percent of our goal.
DRIVING SUSTAINABLE IMPACT
Through our ever-expanding HP Planet Partners program, formed in 1987, HP now offers take-back programs in 74 countries and territories worldwide.
A shift to service based models, such as Managed Print Services, better enables us to recapture value at end of life.               
We expanded our pioneering closed-loop production from ink cartridges to entire printers, with computers next in line for cradle-to-cradle manufacturing.  
In 2017, HP began buying recycled plastic from Homeboy Industries, which provides certified electronics recycling with a social mission. Homeboy offers opportunities to people who face severe barriers to work, including formerly gang-involved and previously incarcerated men and women.
We launched a new line of HP Elite displays made from approximately 85 percent post-consumer recycled plastic.
To help our commercial and enterprise customers cut their waste, HP Recycling Services now offers custom recycling programs. 
4. Zero Deforestation
GOAL
Achieve zero deforestation associated with HP brand paper and paper-based packaging by 2020.*
ACHIEVEMENT
We met our goal for brand paper four years early and developed a packaging supplier performance plan to drive progress.
DRIVING SUSTAINABLE IMPACT
* All HP brand paper and paper-based product packaging will be derived from certified and recycled sources by 2020, with a preference for virgin fiber from certified sources of the Forest Stewardship Council (FSC). Packaging is the box that comes with the product and all paper (including packaging and materials) inside the box.
5. Build a Circular Economy
STRATEGIC PRIORITIES
Decouple growth from consumption, disrupt industry business models and collaborate across industries and sectors.
ACHIEVEMENTS
HP ENVY Photo Printers are the world's first in-class printers made with closed-loop recycled plastic — more than 10 percent by weight. And our 3D-printing technology at production scale can transform how industries design, make and distribute products.  
DRIVING SUSTAINABLE IMPACT
Through our Managed Print Services and Devices as a Service businesses, HP offers the use of desktops, notebooks and printers as a service that companies sign up for rather than having to buy, manage and discard this hardware themselves.
In addition to offering customers clear guides to repairing their own HP products, we started designing products specifically with easy repair in mind.
Advanced, fully customizable 3D printing will transform the $12 trillion global manufacturing industry and its global supply chain. Since 3D printing uses only the amount of resources needed and can be done locally, its emergence will slash manufacturing waste and global shipping emissions.
Through action, partnerships and advanced technology, HP is proud to be building a better economy that supports people, profits and the planet. Read our full 2017 Sustainable Impact Report.  
More From HP, Inc.
Friday, January 24, 2020 - 8:35am
Tuesday, January 14, 2020 - 10:50am
Monday, January 13, 2020 - 12:15pm