WFXT Boston 25 Announces Robert Cuddi as Boston's 2017 Cox Conserves Hero
$20,000 being donated to environmental nonprofits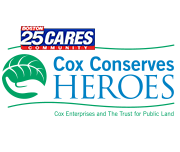 BOSTON, October 13, 2017 /3BL Media/ - WFXT Boston 25, in partnership with The Trust for Public Land today named Robert Cuddi as Boston's 2017 Cox Conserves Hero. New England Aquarium, Cuddi's nonprofit beneficiary, will receive $10,000. Cuddi was among the three finalists who were nominated by the public then chosen by local judging panels to compete in an online vote.
Cuddi joined the New England Aquarium's field-based volunteer program - the live blue™ Service Corps - in 2015 and has since been among the organization's most active stewardship volunteers. Cuddi has dedicated hundreds of hours toward conservation efforts in and around Boston. He's educated visitors at the Aquarium, assisted cold-stunned sea turtles at the Aquarium's Rescue and Rehab center, led volunteer cleanups at Revere Beach, worked with the Boston Water and Sewer Commission to label storm drains to protect them from dumping and much more. Cuddi's projects improve the local environment and build connections between people and their natural surroundings.
The two runners-up will each receive $5,000 for their nonprofits of choice. Neil Santos selected Pawtuckaway Lake Improvement Association (PLIA) as his nonprofit of choice; Caleb Blankenship chose Friends of the Blue Hills.
Cox Conserves Heroes was created through a partnership between The Trust for Public Land and Cox Enterprises, the parent company of WFXT Boston 25, to honor local conservation volunteers. 
The national Cox Conserves Heroes program has donated nearly $800,000 to environmental nonprofits, and nearly 200 volunteers have been honored. Cox Conserves Heroes also takes place in Arizona, California, Georgia, Florida, Louisiana, Virginia and Washington and is part of the company's national Cox Conserves sustainability program that is celebrating its 10th anniversary.
For more information, visit CoxConservesHeroes.com or Facebook.
Social Media: #CoxConservesHeroes and #CoxConservesHero
###
About WFXT Boston 25
WFXT Boston 25 provides local news, weather, sports and entertainment programming to more than 2.4 million households in the Boston television market and covers breaking news from around the area on-air and across all digital platforms including Boston25News.com. 
About Cox Media Group
Cox Media Group is an integrated broadcasting, publishing, direct marketing and digital media company. The company's operations currently include 14 broadcast television stations and one local cable channel, more than 60 radio stations, seven daily newspapers and 11 non-daily publications; and more than 100 digital sites and services, like Rare.us, Clark.com, Dawg Nation, SEC Country, Hookem.com, Mundo Hispanico, Southern Kitchen and All22. Additionally, CMG operates the National Advertising Platform businesses of CoxReps - the country's biggest television rep firm - Gamut, and Videa. CMG currently operates in more than 20 media markets and reaches approximately 52 million Americans weekly, including more than 31 million TV viewers, more than 3.5 million newspaper readers, and nearly 15 million radio listeners.  For more information about Cox Media Group, please check us out online at www.coxmediagroup.com.
About The Trust for Public Land:
The Trust for Public Land creates parks and protects land for people, ensuring healthy, livable communities for generations to come.  Millions of people live within a one-half mile walk of a Trust for Public Land park, garden, or natural area, and millions more visit these sites every year.  To support The Trust for Public Land and share why nature matters to you, visit www.tpl.org.
About Cox Conserves:
Launched in 2007 by Chairman Jim Kennedy, Cox Conserves is Cox Enterprises' national sustainability program. Cox Conserves focuses on reducing waste and energy consumption, as well as conserving water. The program engages each of the company's major subsidiaries (Cox Communications, Cox Automotive and Cox Media Group) and encourages Cox Enterprises' 60,000 employees and their families to engage in eco-friendly practices.
Media Contacts