UNICEF Stops Traffic to Campaign for Children in Conflict Zones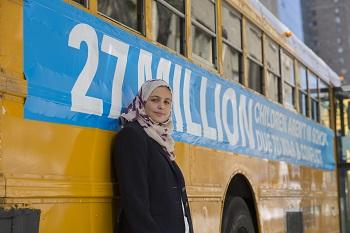 UNICEF Stops Traffic to Campaign for Children in Conflict Zones
Stunts have long been in marketers' playbooks as a way to grab consumers' attention and highlight a specific product or service.  Recently however, we've seen an influx of cause-related stunts– from 2 Chainz's pink Trap House to KIND's giant pile of sugar in downtown New York City. This week, New Yorkers witnessed a stunt, which took advantage of the large city stage and a particular moment in time, bringing an underrepresented issue to light and sparking conversation with a broad audience.
As hundreds of global political leaders gathered at the United Nations this week for its General Assembly, UNICEF took the opportunity to target this high-profile audience - while also inviting onlookers to join the conversation. The nonprofit paraded 27 empty yellow school buses through the streets of New York City to represent the 27 million children currently out of school due to war and conflict. The buses with banners hanging from the sides caravanned from Brooklyn across the Manhattan Bridge, through Times Square and past the UN's headquarters. Each bus featured hanging banners with "Books, not bombs" phrases and shocking stats that caught the attention of onlookers and illustrated the immensity of the issue.
To continue reading, please click here.