Porter Novelli's Mark Durney Named Among PR Week's 40 Under 40 for 2023
Digital SVP Crafts Data-led Campaigns that Deliver Societal Impact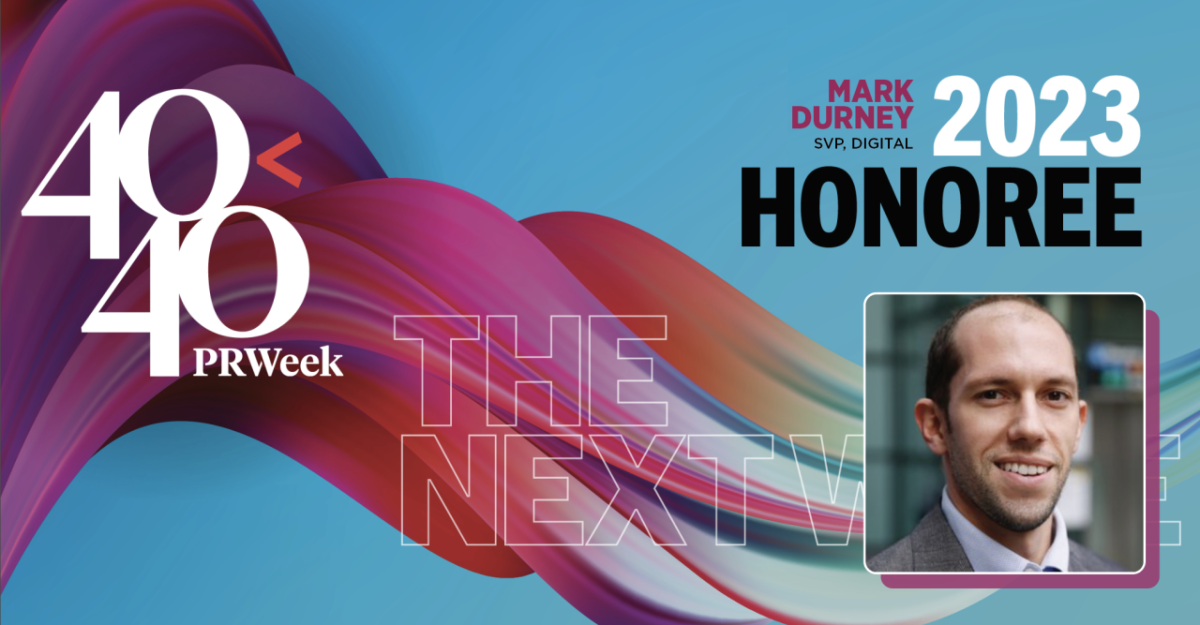 NEW YORK, August 21, 2023 /3BL/ - Mark Durney, Senior Vice President, Digital at Porter Novelli, has been named among this year's distinguished recipients of the PR Week 40 Under 40 award. The prestigious honor celebrates Durney's diverse interests and recognizes his outstanding achievements in social and digital strategy, data and innovation, and leadership, as well as his wide-ranging philanthropic interests.
Durney has an impressive track record of creating data-led communications campaigns that extend beyond commercial success to deliver societal impact. Working across Porter Novelli's clients ranging from global nonprofits, pharmaceuticals, federal agencies, and consumer brands among others, he leads the integration of new data-led products and services, including AI and automation. One of his standout accomplishments at the strategic communications company was transforming a pharmaceutical executive into an industry influencer as their company developed life-saving vaccines during the COVID-19 pandemic.
"We are so proud of Mark," said Porter Novelli President Conroy Boxhill. "His recognition as one of PR Week's 40 Under 40 is a testament to his strategic excellence and his dedication to fostering positive change. His unique ability to blend art, technology, purpose and social responsibility serves as an inspiration to both his colleagues and his clients."
Durney added: "I'm honored to be named among this notable group of communications professionals. It's gratifying to be recognized for work that delivers on Porter Novelli's promise to help our clients do business better and make a positive impact in the world."
Durney began his career at the nonprofit Isabella Stewart Gardner Museum in Boston, where his passion for cultural heritage preservation flourished. During that time, he helped launch The Association for Research into Crimes Against Art (ARCA), a non-profit that pioneered post-graduate education programs centered around cultural heritage preservation, exploring such subjects as art theft and forgery, conservation and museum management, and art law. He then went on to Capgemini, building innovation-focused, social and digital teams followed by career progression at Havas, Ketchum, and Burson-Marsteller (now BCW Global).
This 40 Under 40 distinction also recognizes Mark's commitment to Diversity and Inclusion. His collaboration with Sustainable Brands resulted in the creation of the Social Media for Good Playbook, a forward-looking framework empowering marketing and communications professionals to embed sustainable thinkinginto all aspects of their work from addressing the climate crisis to fostering resilient societies. He also collaborates across agency teams to analyze the impact of cultural issues across the D&I spectrum, ensuring authentic and credible engagement strategies.
Durney's passion for education endures with his role as a guest lecturer at such esteemed academic institutions as NYU, St. John's University, Iona University, and St. Thomas Aquinas College. He is an active mentor of graduates from his alma mater, Trinity College. His industry influence is highlighted by his participation as a judge in distinguished awards programs, as well as his membership in the Real Time Academy for the Shorty Awards.