Three BNY Mellon Leaders Named OUTstanding Role Models
Executives featured on 2017 OUTstanding LGBT+ and Ally Lists, presented by the FT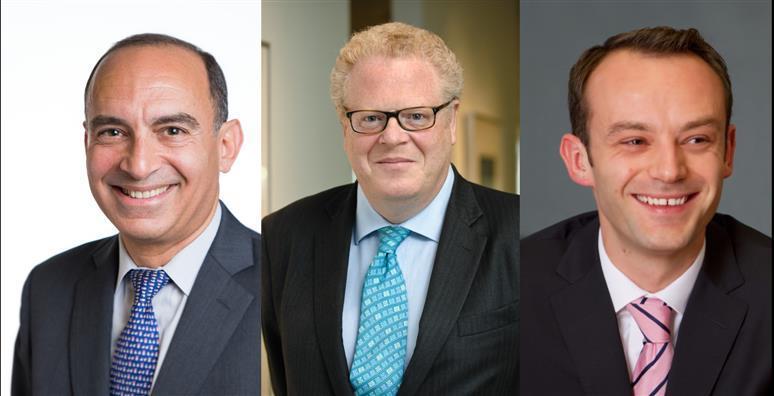 Three BNY Mellon Leaders Named OUTstanding Role Models
BNY Mellon's Mitchell E. Harris, Michael Cole-Fontayn and Dario Parente are being honored for their impact on LGBT+ inclusion inside and outside the workplace.
Mitchell Harris, CEO of Investment Management, and Michael Cole-Fontayn, EMEA Chairman, are both named on the OUTstanding Leading Ally Executives List, presented by the FT. This list includes the top 50 ally executives dedicated to promoting LGBT+ inclusion through their work and in their communities.
Harris has served as the lead executive for PRISM, the company's LGBT+ employee resource group, since 2014, providing guidance as the group grew its numbers by 25% and expanded to 27 international chapters. His efforts span the globe, including working with a major Japanese insurance company client to improve its LGBT+ initiatives, issuing a public statement on anti-inclusion legislation in North Carolina and Tennessee, and leading the charge as BNY Mellon became the only non-Australian bank to sign an open letter expressing support for marriage equality. Most recently, this month Harris brought a groundbreaking "Uncovering Talent" staff and client workshop on diversity and LBGT+ issues to Japan and led an LGBT+ ally event at BNY Mellon's Tokyo offices.
Cole-Fontayn is a longstanding advocate for diversity and inclusion and oversees BNY Mellon's EMEA Diversity and Inclusion Council. He leads by example to inspire senior leaders throughout the company to show their support for LGBT+ empowerment. Externally, Cole-Fontayn leverages his influence to advance workplace inclusion at global events from the World Economic Forum to the Out Leadership Europe Summit. He has encouraged leaders across sectors to bring an LGBT+ lens to strategy discussions, including helping to launch a study co-sponsored by BNY Mellon called Out in the World: Securing LGBT Rights in the Global Marketplace.
Dario Parente, Managing Director of EMEA Strategic Programs in the Corporate Program Management Office, appears on the OUTstanding Leading LGBT+ Executives List, presented by the FT. The list recognizes 100 LGBT+ leaders who are actively working to create an environment where LGBT+ people can comfortably bring their best professional selves to work.
As an openly gay man at BNY Mellon, Parente leads employee development in PRISM EMEA, overseeing talent development and mentoring programs for LGBT+ employees. Parente leads with an LGBT+ agenda in mind, integrating his passionate support for diversity and inclusion into his day-to-day responsibilities. Outside of work, Parente is a vocal advocate for adoption rights, serving on the board of an organization supporting LGBT+ adoptive and foster families.
"These lists exist to challenge the assumption you cannot be out and successful in business, and to highlight the importance of role models in inspiring the next generation of business leaders," says Suki Sandhu, Founder & CEO, OUTstanding. "By recognizing and celebrating those who are leading the charge, the lists demonstrate how far the quest for workplace equality has come. But there is always more to be done. Big business and the public sector have the power and influence to promote LGBT+ inclusion more widely, paving the way for real societal change around the world."
OUTstanding is an LGBT+ membership organization for global businesses. It provides professional, peer‐to-peer connections for its members and helps businesses create diverse and inclusive work environments. Find them on Twitter and join the discussion using #OUTleaders17.