The Tech Tools Helping Tribal Nations Preserve and Share Their Heritage
Tribal nations across North America are using social media and technology to connect with each other, promote their language, and protect their culture.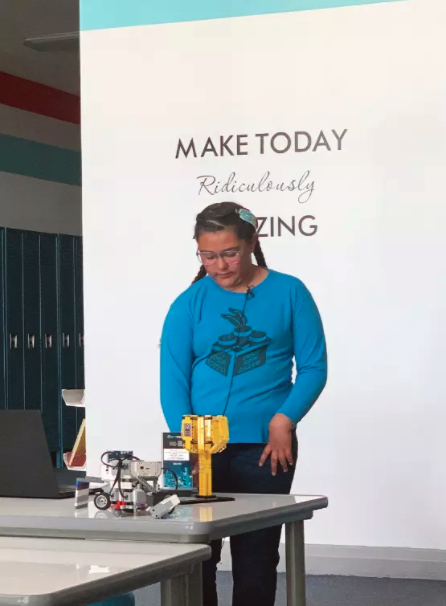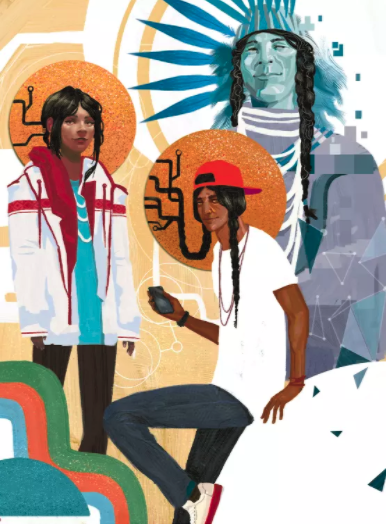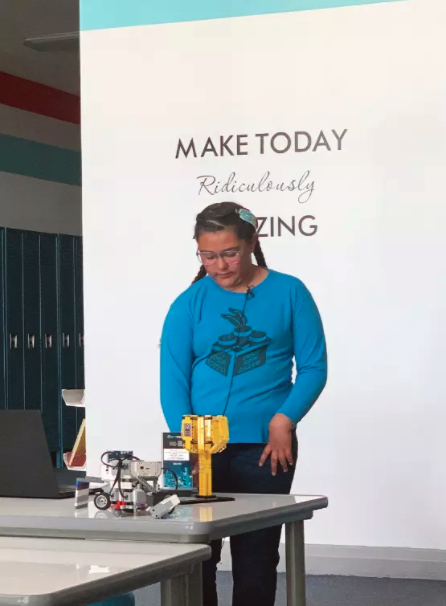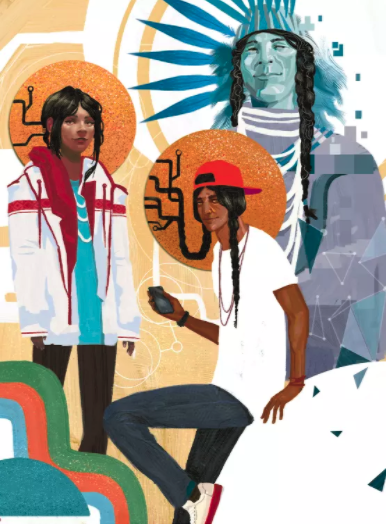 By Charlotte West
When the Covid-19 pandemic hit in 2020, Tracy Kelley, a member of the Mashpee Wampanoag Tribe in Massachusetts, saw an unexpected opportunity for her website, Kun8seeh, which means "talk to me" in Wampanoag. 
She had been encouraging her tribe to launch a website dedicated to the teaching, learning, and reclamation of their language and oral traditions. But while tribal members acknowledged the increasing role of technology, they felt protective of their language and didn't want it exploited or used as a commodity. "The language circle was broken for some time in our community," Kelley says.
Kun8seeh (run through the Wôpanâak Language Reclamation Project, where Kelley is now interim director) was part of Kelley's master's project in linguistics at the Massachusetts Institute of Technology's Indigenous Languages Initiative, a special program for members of communities whose languages are threatened. When in-person classes became impossible, the community realized the need to offer online language instruction.
In September 2020, Kelley taught her first Kun8seeh class in Wampanoag via Zoom. "I had students from all over — New Mexico, Virginia, New York," she says. "One student told me, 'I'm so happy to have this experience.' It was her first time having access to her birthright." Now classes are open to any households that have a tribal member.
Kelley is just one of many Indigenous people in the United States and Canada who are using social media and digital technology to connect Native peoples and as a vehicle to help share their cultures, preserve language, document history, and correct misperceptions.
"Tribes are creating digital repositories of language and online cultural learning tools," says Dr. Traci Morris, director of the American Indian Policy Institute at Arizona State University and member of the Chickasaw Nation of Oklahoma. "There's starting to be some seriously amazing, innovative examples."
For example, Murkutu is an open-source digital access platform built with and for Indigenous communities that allows them to curate materials from digital repositories, which include recorded oral histories that allow for language revitalization and preserving and sharing cultural heritage. Kimberly Christen, director of the Center for Digital Scholarship and Curation at Washington State University, who helped build Murkutu, says, "Native languages have been threatened by colonial projects and ongoing Western systems for a very long time. With UNESCO's upcoming Decade of Indigenous Languages, there's really been a focus on ... the technologies that can help support Indigenous efforts."
Social media bridging the digital divide
Tribes were often early adopters of communication technology like radio, says Morris, and today Indigenous communities embrace mobile technology and social media as a means to share cultural heritage and language. At the same time, tribal communities are among the least connected in the United States. According to a 2018 survey, only 67% of Native Americans had a broadband subscription, compared with 82% of non-Native individuals. Just more than half of Native Americans living on reservations—which is around 22% of the American Indian and Alaska Native population—had broadband.
Social media plays an important role in keeping tribal members connected, with Facebook a popular platform because it's low bandwidth and easy to use. During the pandemic, some tribes have used Facebook Live to connect language learners with one another. Other groups, such as StarLife, used Clubhouse to connect members of the Navajo Nation with the business community. 
Some Native people are also using social media to connect tribal communities to vital services. Austin Serio, a member of the Chicoran Shakori Tribe of South Carolina and an MIT Indigenous Communities Fellow, launched the app ShockTalk with cofounder Sutton King of Wisconsin's Menominee and Oneida Nation. "We noticed Facebook and social media was this hugely important conduit for Indigenous communities," Serio says. "It's the primary way my tribe has been able to share important cultural information."
ShockTalk allows users to interact with the app through Facebook Messenger to communicate with a Native therapist or other healthcare provider who can offer culturally responsive mental health services.
Reclaiming language
Nearly 99% of Native American and Indigenous languages spoken today are in danger of disappearing, and only 20 have more than 2,000 speakers who use the language at home. The threat of many of them going extinct is very real, taking priceless insight into the tribes' culture with them, as the two are inextricably linked. For example, the Chickasaw Nation currently has fewer than 65 speakers who use Chickasaw as their first language, and the youngest was born in 1940. In her 2015 research on the tribe's language revitalization efforts, Morris wrote that Chickasaw as a spoken language will likely disappear within her lifetime.
"Tribes are creating digital repositories of language and online cultural learning tools. There's starting to be some seriously amazing innovative examples."

— Traci Morris, director, American Indian Policy Institute and member of Chickasaw Nation of Oklahoma
To help preserve the language, the Chickasaw Nation has partnered with the software company Rosetta Stone to develop free language courses for tribal members. Users can download an app, study online, or use CDs if they don't have Internet access. The tribe also developed a free app that allows users to learn basic Chickasaw words and phrases on their desktop or mobile phone. Organizations such as the Language Conservancy have developed online dictionaries, language learning apps, and vocabulary builders in Indigenous languages such as Apache, Crow, and Lakota.
Other groups are also offering online language classes via Zoom or other interactive platforms. Last year, Outer Coast College in Sitka, Alaska, offered a Tlingit language massive open online course (MOOC) conducted via Zoom, and Facebook groups like Speak Gwich'in To Me (a Dene-Athabaskan language spoken by people originally from Alaska, the Yukon, and Northwest Territories) connect users with language-learning resources. This access to language learning and culture sharing is crucial for people who can't attend in-person events or classes, especially tribal members who don't live on reservations.
Also crucial are technology tools that aid writing in Native languages, such as the FirstVoices keyboard app that includes the alphabets of more than 100 Indigenous languages and can be used in emails and social media and on other mobile apps. Meanwhile, a member of the Yakama Nation created a specific app that allows users to type in Ichishkíin, his dialect of the Sahaptin language.
Image reflection
Native Americans are also increasingly using digital technology to raise awareness of their communities and culture. HP diversity, equity & inclusion program manager Trina Finley Ponce, a member of the Confederated Salish and Kootenai Tribes in Montana, received a $10,000 HP Foundation grant in 2021 to support Native Voices in Idaho, a video series featuring the stories of Native youth that launched on the Kessler-Keener Foundation website in November.
The goal is to combat stereotypes and give more visibility to Native people and their culture. "We wanted to center [youth] voices to highlight their achievements and their community," Ponce says. "We also wanted to give non-Natives an opportunity to see our Native youth in a contemporary way—to see we are still here, and our youth are doing the same things that other kids do."
The project involves volunteer Native American teachers who are creating fourth- and eighth-grade curricula that tie in to the state educational standards related to the Indigenous communities of Idaho. The team will also produce videos featuring tribal representatives speaking about storytelling and the history of tribes in Idaho.
Preserving culture
Digital technology also became vital for culture sharing during the pandemic. When meeting in person was impossible due to social distancing requirements, many tribes turned to digital forums. Facebook groups such as Social Distance Powwow, which as of September had more than 264,000 members, showcase Indigenous art and culture and bring together tribal communities.
Sites like Indigikitchen, an online cooking show, are being used to share pre-contact recipes made from traditional ingredients such as corn, squash, and wild rice  that are healthier and connect Indigenous people to their culinary culture.
Other projects demonstrate how technology can bridge not only geographic distance but also the past and present. The Brothertown Indian Nation was relocated from New England and Long Island to central New York, and then to Wisconsin in the 1830s. In 1845, Thomas Commuck, a citizen of the Brothertown tribe, composed a book of hymns, Indian Melodies. More than 170 years later, members of the tribe traveled to Yale University in Connecticut to perform the hymns, which the Yale Blended Reality Laboratory and researcher Seth Wenger captured in a 360-degree video and sound recording. Wenger worked with the Tribal Council to identify the historic New England locations where the music would have been performed. Capturing the acoustic properties of those spaces in the tribe's ancestral home lets listeners hear how the hymns might have sounded at the time they were written.
Tribal Council vice chair Jessica Ryan says the digital sound imprints allow tribal members to be immersed in the experience and make the connection between culturally significant spaces and sound. "It's amazing to have not just the sound but the power and the energy coming at you from every direction," Ryan says. 
The recordings not only provide historical understanding about the role of Native Americans in early American music, but they also brought people together to help tell the story of what the music meant to the tribe. "That's a coming together, a ritual around the music and the history and a retelling of that history from a tribal perspective," Wenger says.
Brothertown tribal members have continued to maintain ties to New England, and Ryan says traveling to Yale and New Haven, which are located on Quinnipiac lands, to perform the music represented "going home" to her and other members.
But technology is just a tool for tribes, says Christen of Washington State University. "Technology is really the secondary part of language preservation and broader cultural heritage reclamation," she explains. "It's about those community members on the ground every day doing the work."