Sunweave Broadloom Carpet Weaves Textile Heritage with a Sustainable Future
Mohawk Group designers share the inspiration behind new Sunweave woven broadloom and the influence of residential spaces on commercial flooring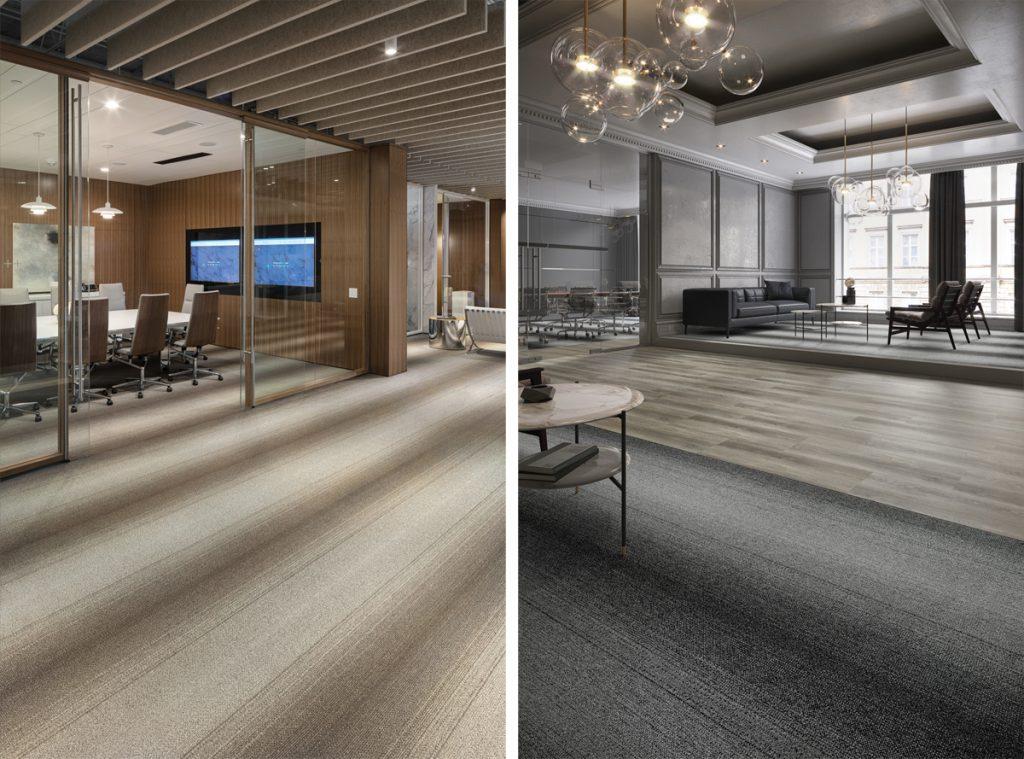 Sunweave Woven Broadloom Carpet by Mohawk Group
Mohawk boasts a long weaving tradition that dates back to the 1800s, when our founders brought looms over from England, bringing the time-honored craft of woven carpet construction to the United States. And this year we proudly celebrate the 90th anniversary of our Karastan luxury line, marking nearly a century of beauty and craftsmanship in luxury woven carpets and rugs.
This heritage of traditional weaving mixed with innovative technology is alive and well today in our Eden N.C. plant, which was home to our Karastan line for decades and remains at the heart of our business. The Eden facility is the largest plant for woven flooring in the U.S. and is where our Sunweave broadloom was born.
Commercial Carpet Collection Inspired by Women Weavers
Our new Sunweave collection of woven carpet really responds to current desires for artisanal materials in the built environment. Inspired by women weavers of indigenous cultures around the world, the broadloom evokes natural patterns found in baskets, blankets and textiles.
Although Sunweave is a broadloom collection, the carpet can also be cut and bound into custom area rugs for enhanced flexibility and coordinated interiors.
In a unique twist, the carpet is woven horizontally, creating linear patterns and little variation in height or texture. The result is a beautiful uniformity and minimal texture that designers and architects often seek for luxury design. This technique allows Sunweave to achieve a look that most closely resembles the appearance and feel of handlooming, providing the craftsmanship that people expect from woven carpet.
The Shadow Pass style features a grand linear ombre that mimics the sun's effect on color and value as it shifts across the floor. This versatile style can be used to create linear drama in large spaces or to evoke a soft textile look in more intimate spaces. The collection also features our new innovative yarn system, Heathered Hues, with a natural texture and blending that creates a variegated wool-like appearance suitable for biophilic designs.
A Residential Influence on Commercial Spaces
Our A&D design director Royce Epstein, says the Sunweave collection's natural texture and handwoven appearance helps designers soften commercial spaces. "We are living in a time now with the desire for resimercial spaces that make everyone feel comfortable," she explains.
"Texture of flooring and especially carpet makes a big difference, allowing for warm and cozy spaces. Wovens offer a sensory aesthetic that brings tactility and the creature comforts of home into commercial spaces without compromising the performances expected of a contract flooring."
Sunweave Meets Stringent Sustainability Requirements for Living Product Petal Certification
In addition to checking many design and performance boxes for designers, Sunweave also earns points toward green certifications. The collection is Red List free and designed to achieve the stringent requirements of the Living Product Challenge Petal Certification.
"The Sunweave collection is going to be the first petal certified living product in the broadloom and area rug category," says Jackie Dettmar, VP of design and product development for Mohawk Group.
One of the requirements for petal certification involves offsetting the energy used to weave the product, so here at Mohawk Group we are installing solar flowers around the country to provide free, green energy to several schools and community centers. In addition, Sunweave's yarn is dematerialized for a low environmental impact, and no water is used in its production.
How Sunweave Broadloom Contributes to Social Good
Sunweave also contributes to the sustainability of a community. "We were so excited to look at creating a living product out of the Eden, N.C. plant," Dettmar explains. "We really want to contribute to sustaining that wonderful mill where we've got people who have worked there for 40 and almost 50 years, crafting our beautiful Karastan products."
The collection was a fan favorite at NeoCon this year, garnering a great deal of attention during the show. Designers who visited our showroom were excited about Sunweave's soft hand and natural look, which can be used to support biophilic design, and also appreciated the luxury of the woven texture. Our Heathered Hues fiber even won a Best of NeoCon Gold award.
Sunweave combines the best of yesterday and today with an eye toward tomorrow. The collection is woven with 90 years of weaving heritage in one of our oldest mills using high tech, high-performance fiber while adhering to the most stringent sustainability standards.
"With Mohawk's commitment to keeping the heritage of weaving alive," Epstein says, "it's an honor and a privilege to be working with this medium."
See how our new Sunweave Woven Broadloom is bringing a sustainable twist to woven in this behind-the-scenes video.