Sodexo Announces Plastics Reduction Policy Balancing Inclusion and Environmental Impact
Companywide plan will reduce or eliminate plastic straws and stirrers, single use plastic bags, and polystyrene foam items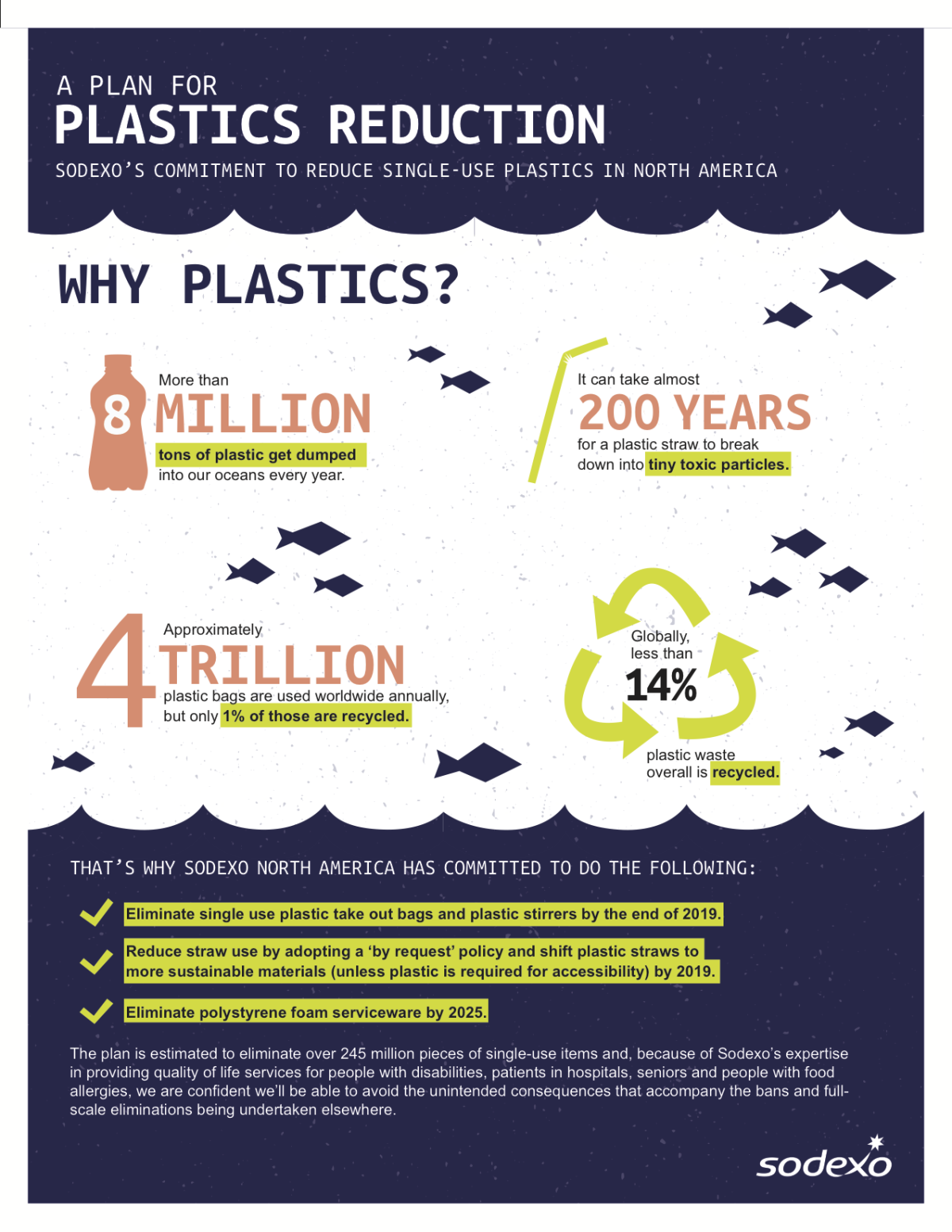 GAITHERSBURG, Md., October 17, 2018 /3BL Media/ – Sodexo, a food services and facilities management company committed to improving Quality of Life, announced today a North American Single Use Plastics Reduction Plan that will eliminate single use plastic bags and stirrers by 2019, polystyrene foam items such as cups, lids and food containers by 2025, and shift straws to a "by request" item that will still be available to customers who need them while moving toward more sustainable materials.
"As a company serving consumers in universities, workplaces, hospitals, schools, stadiums, and so many other venues, we understand both the potential impact we can make through a commitment to reduction and the real benefit that some of these products bring to people every day," said Ted Monk, Vice President for Corporate Responsibility at Sodexo. "We believe there's tremendous room for reducing waste without having a single person who uses our services feel like they are being excluded."
This Single Use Plastics Reduction Plan is merely one step in Sodexo's global effort to reduce environmental impact, as the company will continue to research and introduce new innovations such as re-usable materials, bioplastics, and organic materials in its effort to eliminate avoidable waste going to landfills.
 Sodexo has committed to:
Eliminate single use plastic take out bags and plastic stirrers by the end of 2019, with overall reductions of these single use items
Reduce straw use by adopting a 'by request' policy and shift plastic straws to more sustainable materials unless plastic is required for accessibility by 2019
Eliminate polystyrene foam service ware by 2025, starting with immediate reductions
Continue to seek innovative practices and products to reduce or eliminate other single use plastics
"We support efforts to prevent waste. However, it's important to remember that for many people, these aren't convenience products, they are necessities. We're happy to provide Sodexo with guidance that ensures their facilities are fully inclusive of people with disabilities and are fully accessible to everyone," said Jill Houghton, President & CEO of Disability:IN.
Sodexo's policy will eliminate over 245 million pieces of unnecessary single use items. For plastic straws and stirrers alone, the reduction plan will eliminate a volume of plastic straws and stirrers that, if laid end to end, would reach from North Pole to South Pole…twice.
"Single-use plastic waste often ends up in nature, and has a devastating effect on species," said Erin Simon, Director of Sustainability R&D at World Wildlife Fund, United States. "Sodexo's plan to phase out unnecessary single-use plastics is an important first step in their commitment in tackling the plastic waste crisis."
"Sodexo's comprehensive plan to reduce its reliance on single-use plastic will have major benefits for the environment and human health," said John Hocevar, a marine biologist with Greenpeace. "Eliminating styrofoam is a huge step forward. We also applaud Sodexo for committing to invest in solutions that involve re-use and not just other throwaway items."
Sodexo acknowledges that waste is one of our planet's biggest collective challenges. Through its Better Tomorrow 2025 corporate responsibility roadmap, the company has committed to eliminating avoidable waste globally by 2025. But given its expertise in ensuring quality of life services for people with disabilities, patients in hospitals, seniors, and people with food allergies, Sodexo is applying a targeted approach that will avoid the unintended consequences that could accompany full-scale elimination. Perhaps most importantly, Sodexo is continuing to collaborate with clients, supply partners and NGOs on innovative and more sustainable solutions.
For more details about Sodexo's Single Use Plastics Reduction Plan are available on SodexFoUSA.com.
# # #
 About Sodexo North America
Sodexo North America is part of a global, Fortune 500 company with a presence in 80 countries. Sodexo is a leading provider of integrated food, facilities management and other services that enhance organizational performance, contribute to local communities and improve quality of life for millions of customers in corporate, education, healthcare, senior living, sports and leisure, government and other environments daily. The company employs 150,000 people at 13,000 sites in all 50 U.S. states and Canada and indirectly supports tens of thousands of additional jobs through its annual purchases of $9.2 billion in goods and services from small to large American businesses. Sodexo is committed to supporting diversity and inclusion and safety, while upholding the highest standards of corporate responsibility and ethical business conduct. In support of local communities across the U.S., the Sodexo Stop Hunger Foundation has contributed close to $32 million over the past 20 years to help feed children in America impacted by hunger. To learn more about Sodexo, visit SodexoUSA.com, SodexoInsights.com and connect with us on Facebook, Instagram, LinkedIn, Twitter and YouTube.