Sodexo Donates 46,000 Snack Packages to the Greater Boston Food Bank With the Transportation Support of Sterling Corporation
Sodexo's Stop Hunger Foundation gifts an additional $45,000 donation to The Greater Boston Food Bank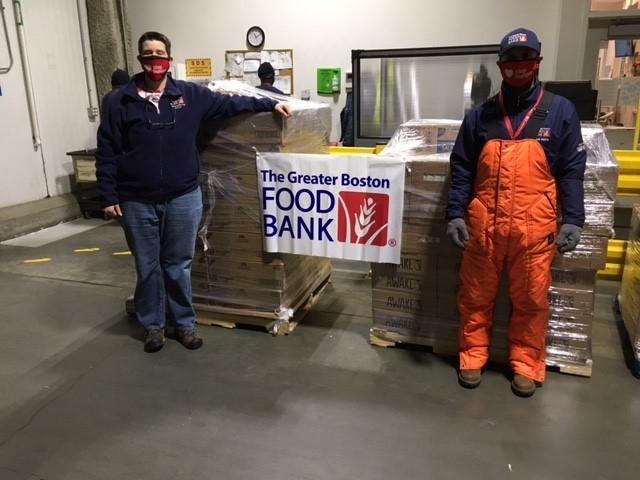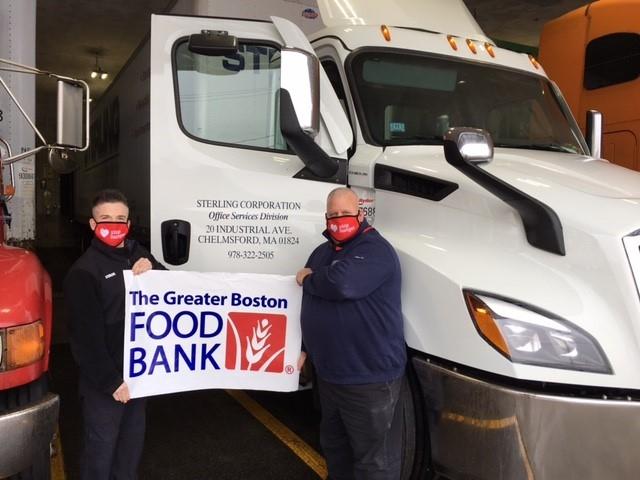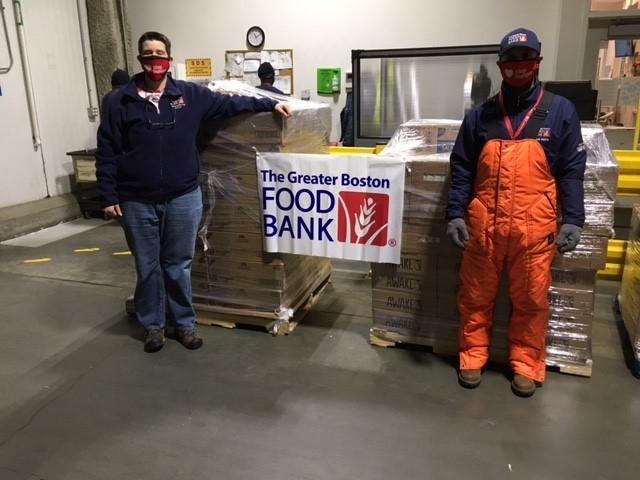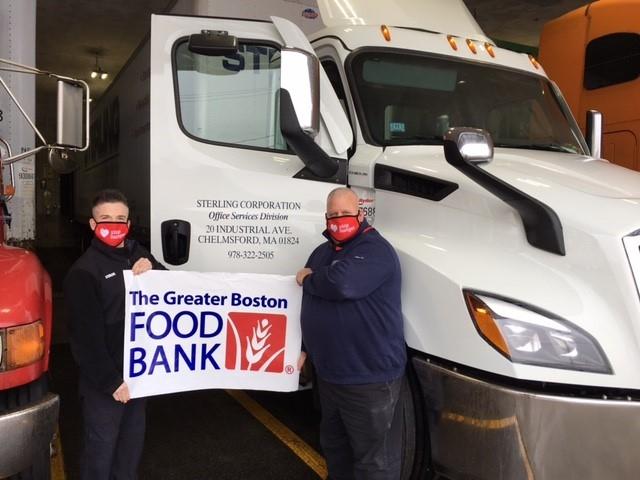 GAITHERSBURG, Md., December 22, 2020 /3BL Media/  – With the COVID-19 pandemic continuing to have an economic impact on families who have either seen reduced work or layoffs, Sodexo has been mobilizing its partners in Massachusetts to ensure a surplus of 17 pallets of snack foods, representing 46,000 snack packages, did not go to waste. In collaboration with Sterling Corporation, the 2020 largest Moving and Storage Company in Massachusetts, the pallets were successfully delivered to The Greater Boston Food Bank (GBFB) for future distribution to community members at risk of hunger.  
"The COVID-19 pandemic has demonstrated how rapidly one can be at risk of hunger which is why we are ensuring that no resources go to waste," explained Joan McGlockton, Sodexo Stop Hunger Foundation Board Chair. "The Sodexo Stop Hunger Foundation is proud to support The Greater Boston Food Bank and their programs aimed at ending hunger, particularly as more families are at risk due to the economic impacts of the COVID-19 pandemic in the communities they serve." 
GBFB opened its doors to store and distribute the 46,000 snack packages to supplement the meals provided to the 190 Eastern Massachusetts communities they serve. In addition, the Sodexo Stop Hunger Foundation donated $45,000 to GBFB. As families are navigating various challenges resulting from the COVID-19 pandemic, these funds will aid in their tireless work to meet the unprecedented need as they continue to serve families nutritious meals across Massachusetts. At GBFB, every dollar donated helps provide 3 nutritious meals, so the Sodexo Stop Hunger Foundation's generous $45,000 gift will provide 135,000 meals to families and individuals in need in Eastern Massachusetts.  
"GBFB's mission is to end hunger in Eastern Massachusetts by providing our neighbors in need the food and resources they need to thrive," said Catherine D'Amato, president and CEO of GBFB. "This generous food and fund donation from Sodexo provides us with both highly sought after snacks that our agency partners and their clients often request to help supplement the healthy meals they provide to their clients and the financial assistance needed to buy more food for the increasing number of people in need in our community."
With the help of transportation partner, the Sterling Corporation, the 17 pallets of food were pickup up from Fulfillment America in Billerica, MA and were transported about 30 miles to GBFB.  Sterling Corporation volunteers its services in collaboration with Move For Hunger a non-profit organization that mobilizes the relocation industry to fight hunger and reduce food waste.
"We are extremely honored to partner with Sodexo and Move For Hunger in their support of the GBFB," said Chris Hurley, Vice President of Corporate Relocation for Sterling Corporation. "It has been a difficult year for many people in our area and with the holidays upon us, this donation is very well timed."
###
About Sodexo North America 
At Sodexo Healthcare we build trusted partnerships with health systems to support their care delivery mission. Leveraging science, insights and imagination, we provide solutions and contribute essential non-clinical services wherever care is delivered, to enhance patients' and caregivers' experience while improving our clients' financial health. Sodexo Healthcare's 35,000 employees provide human-centered care with food and nutrition, environmental and clinical engineering services that support healthcare teams and overall operations at over 1,500 sites in the United States. 
Sodexo North America is part of a global, Fortune 500 company with a presence in 72 countries. Sodexo is a leading provider of integrated food, facilities management and other services that enhance organizational performance, contribute to local communities and improve quality of life for millions of customers in corporate, education, healthcare, senior living, sports and leisure, government and other environments daily. The company employs 160,000 people at 13,000 sites in all 50 U.S. states and Canada, and indirectly supports tens of thousands of additional jobs through its annual purchases of $19 billion in goods and services from small to large businesses. Sodexo is committed to supporting diversity and inclusion and safety, while upholding the highest standards of corporate responsibility and ethical business conduct. In support of local communities across the U.S., in 2019, Sodexo contributed over 151,500 in volunteer hours, and since 1996, the Stop Hunger Foundation has contributed nearly $34.5 million to help feed children in America impacted by hunger. To learn more about Sodexo, visit us.sodexo.com, and connect with us on Facebook, Instagram, LinkedIn, Twitter and YouTube. 
 About Sodexo Stop Hunger Foundation 
Sodexo Stop Hunger Foundation works to ensure that every child in the United States, especially those most at risk, grows up with dependable access to enough nutritious food to enable them to lead a healthy, productive life. Visit Sodexo Stop Hunger Foundation on Facebook and follow us on Twitter @StopHungerUSA, and Instagram @sodexostophunger. 
About The Greater Boston Food Bank
The Greater Boston Food Bank (GBFB) is the largest hunger-relief organization in New England and among the largest food banks in the country. In response to the economic impact of the COVID-19 pandemic, GBFB distributed the equivalent of nearly 82 million meals in 2020 through its network of 600 dedicated food distribution partners and programs in the 190 cities and towns across Eastern Massachusetts. A member of Feed America, the nation's food bank network, GBFB's mission is to end hunger here and it is committed to providing at least three healthy meals a day to everyone in need. For more information, visit us at GBFB.org, follow us on Facebook, Twitter (@gr8bosfoodbank) and Instagram, or call us at 617.427.5200.
About Sterling Corporation
Sterling Corporation is New England's premier moving organization.  With over sixty years of award-winning services, Sterling provides both commercial and residential moving options to companies and individuals throughout the Northeast and across the country.  In addition to moving, Sterling also offers high value transport, warehousing, furniture installation, and final mile delivery services.  Sterling is committed to supporting the greater Boston community through strategic partnerships with multiple charitable organizations. Visit our website at sterlingofficemoving.com, follow us on Facebook, and call us at 978-322-2518.
About Move For Hunger 
Move For Hunger is a non-profit organization that mobilizes the relocation industry to fight hunger and reduce food waste. In addition to collecting food from people who are moving to new homes, Move For Hunger helps companies and individuals across the United States and Canada organize successful food drives. To date, they have collected more than 20 million pounds of food providing more than 17 million meals to those in need. For more information, or to find out how you can host your own food drive, visit www.MoveForHunger.org.  
Contact:  
Enrico Dinges, Sodexo 
301-987-4393