The Power of Innovation
How original thinking is bringing greener, safer electricity to CLP's customers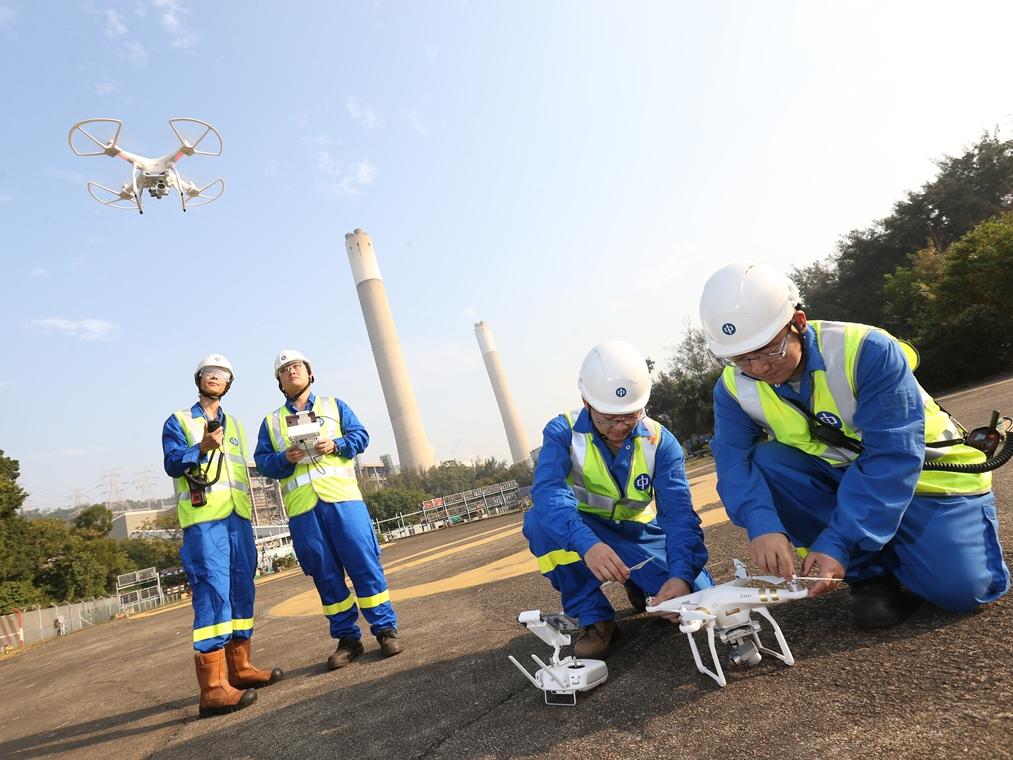 Unmanned drones are flown over power plants to carry out inspections that would otherwise take days to complete.
Imagine the scene: It's a hot and humid early summer evening and you are about to enjoy a family dinner at home. Then you receive a text message telling you that your air-conditioner has been adjusted by two degrees and you can earn a credit on your next energy bill if you keep it at that level for the next two hours. It is up to you to make the choice.
Welcome to the world of intelligent home technology. In a fast-paced world of rising customer expectations, utility companies are constantly looking for ways to do things better – and CLP is at the cutting edge of this trend to bring smarter technology into people's homes.
Putting customers in control
The key to a greener tomorrow is putting customers in control of their energy use. This is the aim of a three-year pilot demand response programme recently launched by EnergyAustralia (EA) to incentivise customers to change their consumption behaviour and reduce energy use at peak times.
In a groundbreaking project, customers can save energy by giving EA permission to remotely access their electrical appliances. While the monitoring system adjusts appliance settings based on analysis of consumption data, they can use energy wisely at peak hours by responding to mobile notifications and taking small steps such as doing laundry later in the day.
In another novel initiative, EA expects to harness surplus energy from individual users' storage to form a virtual power plant by coordinating stand-alone generators and batteries through a cloud connection. With 1.7 million customers in Victoria, Southern Australia, and New South Wales, EA can collect surplus energy from the numerous locations available on the cloud. As a result, a slight consumption reduction in each location can add up to a large reserve, a critical development in maintaining system reliability and security.
EA Managing Director Catherine Tanna says reducing stress on the power system at peak times is central to Australia's transition to an advanced energy system.
"It's an approach that puts customers in control and keeps costs down, because the cheapest generation is the generation you don't have to build," Catherine says.
Similar initiatives are being pioneered in energy-hungry Hong Kong, where demand response programmes have been offered to major business and industrial customers since 2013. Customers can get rebates by reducing their electricity consumption during peak times. And they can either do it themselves by shutting down, bringing forward or putting off the operation of certain equipment, or have it done remotely by CLP Power.
For households, the Smart Energy Programme was launched last year under which 26,000 residential customers are taking part in a one-year demand side management pilot study. Through participating in it, customers are incentivised to use less electricity at peak times, save money by using electricity at off-peak periods, and use smart phone apps to receive energy saving tips along with up-to-date information on their consumption. Through the pilot scheme, CLP Power expects to better evaluate the effectiveness of a demand response programme on a larger scale before a potential city-wide rollout.
Eyes in the sky
Technology can be deployed in many ways to improve efficiency. As well as introducing smart meters, CLP Power is using drones to help increase the reliability of energy production, enhance effectiveness, reduce costs, and improve our internal processes.
CLP Power engineer Joe Law has a unique bird's eye view of power stations through the unmanned drone he flies for the company. A typical flight might reach 300 feet. The camera captures bursts of videos and photos of the pipe hangers and other installations. Within minutes of take-off, the drone is back on the ground, giving Joe's team of engineers the rest of the day to analyse high-definition images of the structures to detect any signs of corrosion. "In a few short hours, drones can accomplish tasks that used to take days," explains Joe, one of four engineers certified to operate the drones. "Inspection times are significantly shortened compared to traditional methods of inspection and we can keep the plant operating throughout the process. It's much safer, and we never have to step off the ground ourselves."
The use of drones has proved so successful for CLP that they are about to be deployed more widely. The company is exploring how images and videos taken by these unmanned aircraft might enhance coal inventory processes and allow us to examine hard-to-reach locations.
Watching for winds of change
Innovation, however, is not just about technology. It is also about people, process and efficiency. In our Qian'an Wind Farm, CLP has recruited help from unexpected quarters in our efforts to expand the use of environmentally friendly wind power in the shape of herdsmen Wang Youngjun and Li He. The pair not only take care of their livestock in northeast China, but also keep watch over the giant rotating wind turbines for any visible abnormalities. This is the fruit of thinking outside the box.
"As a herdsman, I look after my cattle every day. I recognise any change of behaviour immediately and do what needs to be done," says Wang. "The wind turbines too are familiar to me and I would notice anything unusual about them."
Wang and Li volunteered to inform the wind farm if they spotted anything abnormal in the wind turbines and have helped keep them turning safely and efficiently. When the Qian'an Wind Farm held its first Open Day, Wang and Li shared their experiences of keeping an eye out for any issues and received tokens of appreciation for their service.
"We are grateful to CLP for contributing to the local socio-economic development through the Qian'an Wind Farm," says Yu Tianhang, Deputy Director of Qian'an Party Committee Office. "We hope CLP can further enhance its relations with local communities and achieve win-win results for the company and the communities of Qian'an."
Inspired by Wang and Li, the Qian'an Wind Farm now educates communities living near the farm about the wind power industry and safety and operational regulatory issues. This step by CLP China has not only improved local relations, but also engaged a community of volunteers to report safety issues, preventing incidents that may hamper the wind farm's operations.
To learn more about CLP's connection with society, please check out the latest issue of CLP.CONNECT.