Playing for a Sustainable Future
Recently, PANDORA joined an event supporting the Sustainable Development Goals from the United Nations. PANDORA participated in 'The Global Goals World Cup' in Bangkok with a female soccer team of employees competing against other supporting companies.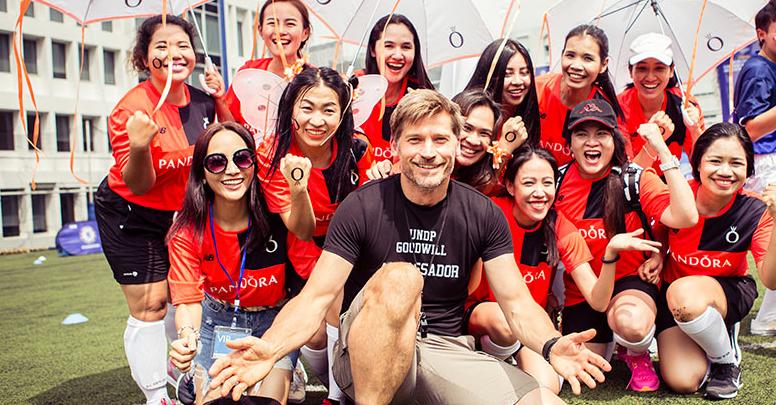 In 2015, World Leaders in the United Nations came together to face the future. A future where the 17 Sustainable Development Goals are reached; one where extreme poverty is ended, inequality and injustice are fought, and the planet is protected.
In support of this future, PANDORA has chosen to work with and commit to the 17 Sustainable Development Goals. These goals are seen as an action platform for PANDORA's support within the UN Global Compact – the world's largest corporate sustainability initiative.
The Global Goals World Cup
To generate awareness for the goals, the Danish NGO EIR Soccer has established the 'Global Goals World Cup' – a global female soccer match that travels the world. PANDORA employees in Thailand supported and participated in the latest World Cup in Bangkok.
The PANDORA team represented goal number 9, Sustainable Development: Industry, Innovation & Infrastructure. The goal focuses on building a resilient infrastructure, promoting inclusive and sustainable industrialization as well as fostering innovation. 
PANDORA chose this goal due to the company's proven track-record within the category -  including the recognition of PANDORA'S LEED certified crafting facility in Lamphun, PANDORA's work with waste reduction, and their recent JNA award for 'Sustainability Initiative of the Year'.
With a touch of Game of Thrones
Nikolaj Coster-Waldau, known as Game of Thrones character Jamie Lannister, and in his role as United Nations Development Programme (UNDP) Goodwill Ambassador, was the honorary referee and judge for various awards on the day.
PANDORA won the 'Best Crowd Award' thanks to their passionate cheerleaders who also attended. As a unique addition, the props that were used for encouragement were made of 100% recycled materials.
More than just any soccer match, this event showed the commitment that PANDORA holds for a more sustainable future.