Patagonia Takes on the President and Rallies Consumers in Support of Bears Ears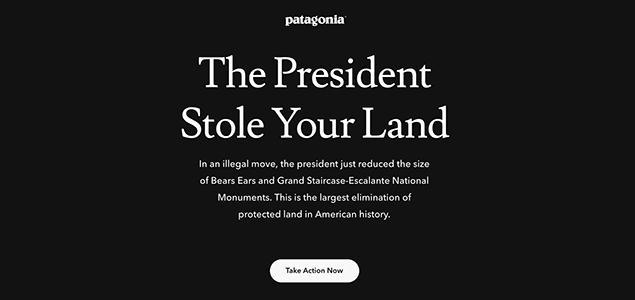 Patagonia Takes on the President and Rallies Consumers in Support of Bears Ears
Patagonia is no stranger to bold Purpose marketing campaigns. From "Don't Buy this Jacket" to "100% for the Planet," this is a brand that is not afraid to take a risk to stand up for what it believes in. This week, we saw the company take its boldest stance yet, not only directly calling out the President of the United States for "an illegal move" but also announcing it will sue the administration. Yet, for those who track the company, this endeavor should not come as a huge surprise – in fact, the latest announcement is just the next phase of a multi-year consumer engagement campaign, calling on its informed, loyal consumer base for support.
Following this week's White House announcement which would reduce the size of Bears Ears National Monument and Grand Staircase-Escalante National Monument, Patagonia amped up its on-going efforts aimed at protecting the status of the area. The brand's homepage transformed into a black background stating "The President Stole Your Land." The site then directed visitors to learn more about how the monuments will be effected, which groups are fighting to protect the land and prompted them to act by tweeting pre-drafted tweets using the hashtag #MonumentalMistake. And fans are making their voices heard. Since launching, the campaign has already inspired over 120,000 people to take action, sending more than 70,000 tweets to President Trump and Secretary Zinke.
To continue reading, please click here.