Mars' Support of the United Nations Sustainable Development Goals Recognized at Award Ceremony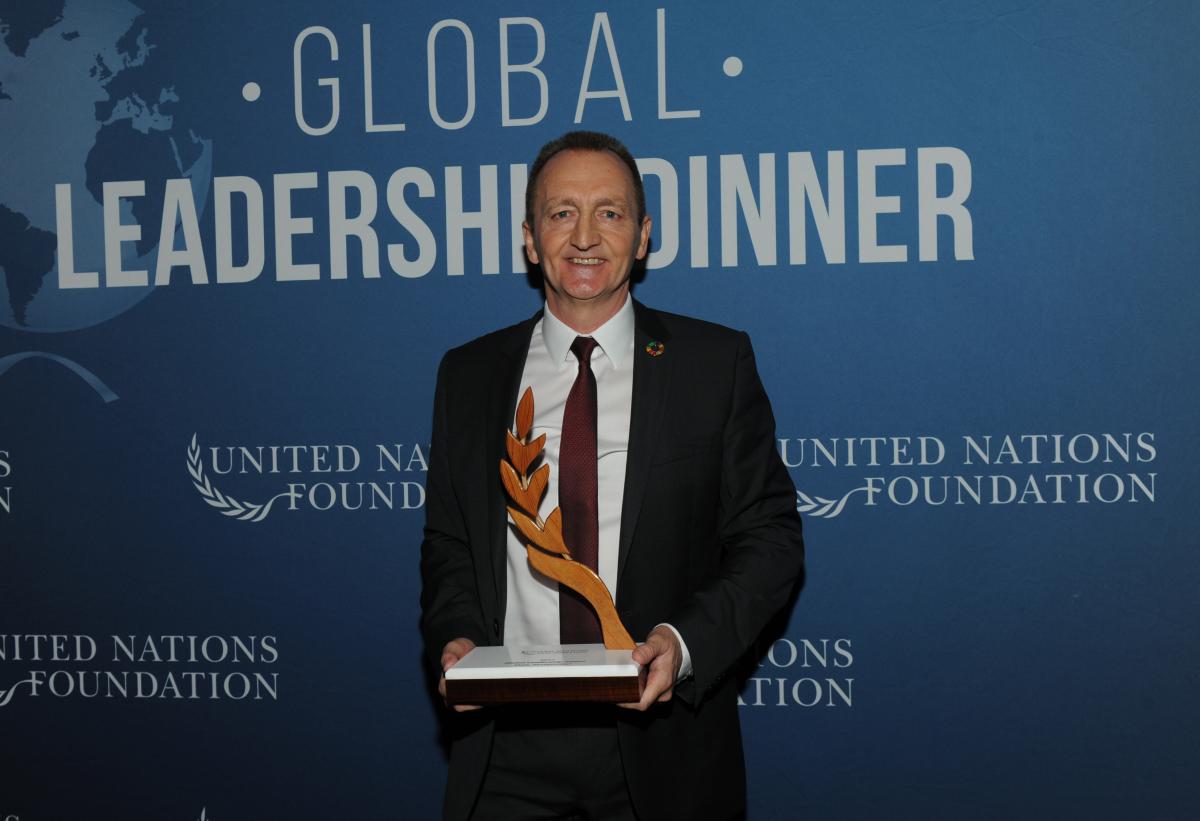 Mars CEO Grant F. Reid receives the prestigious Global Leadership Corporate Award at the 55th United Nations Association's Global Leadership Dinner
MCLEAN, Va., October 19, 2017 /3BL Media/ - Grant F. Reid, CEO and President, Mars, Incorporated received the United Nations Foundation's Global Leadership Corporate Award on behalf of Mars' work in supporting the United Nations Sustainable Development Goals at the organization's Global Leadership Dinner which took place in New York City last night. The award honors individuals and corporations for their global leadership in advancing UN causes.
Taking to the stage to receive the award on behalf of the business, Reid said:
"It's an honor to receive this award for our support of the UN's Sustainable Development Goals. We're grateful for our partnership with the United Nations and the UN Foundation and, as we strive to do our part to build a more sustainable world for generations to come, continued collaboration will be critical."
Mars' partnership with the United Nations dates back 20 years as the business has focused on addressing issues of global food safety and security; hunger and malnutrition; reshaping national food systems to enhance diverse diets of more nutrient dense foods; and pursuing initiatives which support the livelihoods and create economic opportunities for smallholder farmers.
The award follows Mars' recent launch of the "Sustainable in a Generation Plan", a nearly $1billion investment to accelerate progress against the UN Sustainable Development Goals. The Plan is centered around three pillars: healthy planet, thriving people, and nourishing wellbeing.
To find out more about the Mars Sustainable in a Generation plan, visit www.SustainableInAGeneration.com.
+++
About Mars, Incorporated
Mars is a family-owned business with more than a century of history making diverse products and offering services for people and the pets people love. With almost $35 billion in sales, the company is a global business that produces some of the world's best-loved brands: M&M's®, SNICKERS®, TWIX®, MILKY WAY®, DOVE®, PEDIGREE®, ROYAL CANIN®, WHISKAS®, EXTRA®, ORBIT®, 5™, SKITTLES®, UNCLE BEN'S®, MARS DRINKS and COCOAVIA®. Mars also provides veterinary health services that include BANFIELD® Pet Hospitals. Headquartered in McLean, VA, Mars operates in more than 80 countries. The Mars Five Principles – Quality, Responsibility, Mutuality, Efficiency and Freedom – inspire its more than 85,000 Associates to create value for all its partners and deliver growth they are proud of every day. 
For more information about Mars, please visit www.mars.com. Join us on Facebook, Twitter, LinkedIn, Instagram and YouTube.