How Companies Can Enable Individual Contribution to the Circular Economy
by Nate Hurst Chief Sustainability and Social Impact Officer, HP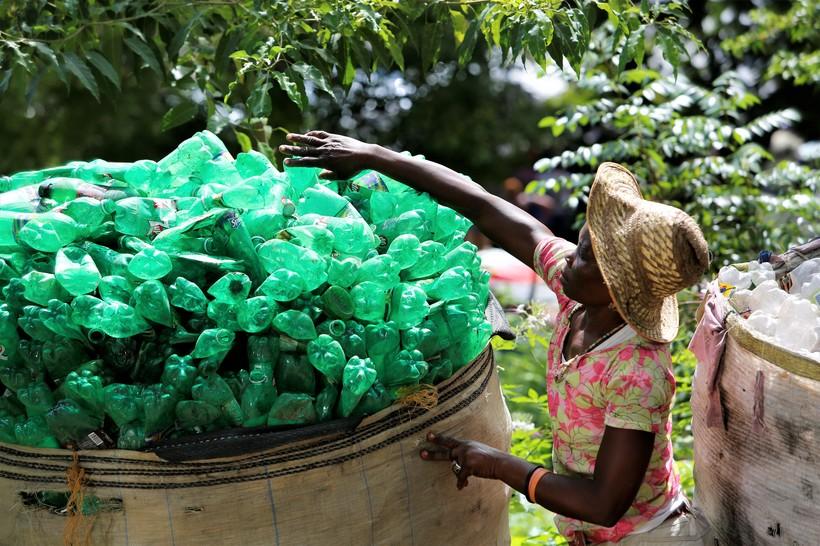 Originally published on HuffPost
As climate change continues to impact the planet – and governments and organizations worldwide set standards to reduce its harmful effects – it's important for companies to rethink how their products are created, used and maintained. The smartest, most sustainable products are not only crafted with care as part of a closed-loop supply chain; they're optimized to enable consumers to enter the circular economy with little effort.
At HP, sustainability underpins our focus to create technology that makes life better for everyone, everywhere. Ultimately, there is no better way to achieve this than by making technology that lessens environmental impact not only for our company, but for our customers as well. But how can this be achieved?
Designing for sustainability
In order to make a product with lower environmental impact and advance a circular, low carbon economy, companies must reduce the resources required to make and use products, keep materials in use at their highest state of value for the longest possible time, and ensure the materials used in their products are properly repurposed to start a new lifecycle. Take, for example, the HP ENVY Photo Printers.
The ENVY Photo 6200, 7100 and 7800 Printers help people digitally print their favorite memories with sustainability in mind. Made from more than 10 percent closed-loop recycled plastic from printers and other electronics, it enables people to print their photos with respect for the environment.
What, exactly, qualifies the plastic that we use as "closed-loop"? Let's break it down. HP customers can return printers to HP Planet Partners or Best Buy to be recycled. These devices are shredded and turned into post-consumer recycled plastic, which is refined by a plastics compounder for use in the manufacturing of new HP printers. Once those printers make it to store shelves, customers can purchase them and eventually recycle them again – propelling the closed-loop cycle.
Beyond the HP ENVY Photo Printer itself, HP also strives to incorporate sustainable design into the overall system needed to print a stunning snapshot. Our original HP cartridges are made with closed-loop recycled plastic which incorporates plastic from HP cartridges as well as bottles recycled in Haiti, and HP paper is made with 100 percent certified fiber or recycled content.
We've taken the lifecycle of our print cartridges into account, offering HP Instant Ink in conjunction with our HP Planet Partners Program. By enabling HP Instant Ink, HP ENVY Photo Printer will automatically order ink once it runs out – delivering new cartridges directly to the user. Along with fresh ink, the delivery includes a prepaid envelope to return used cartridges to HP, which are then recycled—and the recycled material is incorporated into new cartridges. Using Instant Ink can reduce the carbon and water footprint of printing by 84 percent, compared to purchasing ink in more traditional ways.
The HP ENVY Photo Printer, when combined with HP cartridges, paper, Instant Ink and HP Planet Partners, is a printing system backed by sustainable design.
Making recycling easy
Whether you're attempting to join the circular economy from a corporate or individual perspective, it's important to think creatively about waste. Just because something is used does not mean it's useless – in fact, when recycled correctly, waste can equal growth.
Conscious companies and mindful shoppers alike should look toward brands that bake sustainability into their DNA, with a goal to reduce the environmental impact of a product from the onset of its supply chain all the way to its use and end-of-use. The good news is that more and more companies spanning many industries are joining the circular economy, giving consumers options when it comes to sustainable purchasing.
For example, Levi Strauss accepts old clothes and shoes of any brand at their stores, recycling them and repurposing into insulation for buildings, cushioning material and new clothes. Beverage manufacturer Tang introduced a recycling solution for used drink pouches in Brazil in a campaign that ran from 2009 to 2014. Energizer batteries are the world's first AA batteries made with closed-loop recycled plastic. Through a partnership with Earth 911, Energizer provides consumers with ways to recycle their used batteries, which are eventually used to create fresh ones. By including customers in the recycling process, each of these companies exemplifies innovation in the circular economy.
Embracing the circular economy
According to the World Business Council for Sustainable Development, at the current rate of global population growth, we'll need the equivalent of 2.3 Earths to support us all by 2050—that's an obvious problem, since we only have one Earth. Don't wait to join the circular economy; simply embrace it by ditching the "take, make, dispose" mindset and turning "make, use, return" into your new mantra. And remember, to create real impact takes time, but it begins with your first step. Using products made with closed-loop recycled content and recycling is a simple entry point into the circular economy.