Hire and Onboard a Winning Team for Your Nonprofit
Join Taproot Foundation's free webinar on hiring and onboarding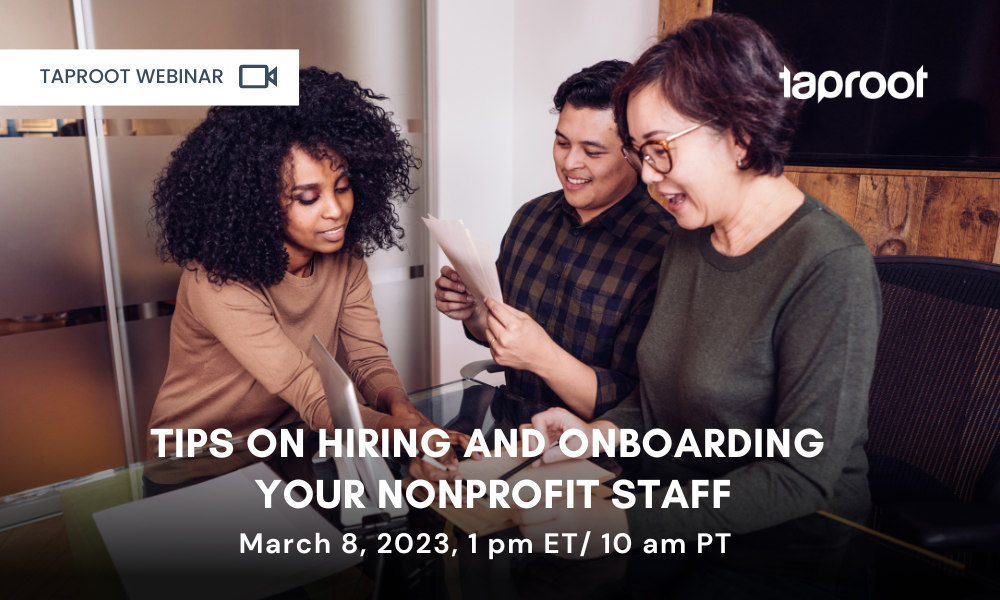 Wednesday, March 8th at 1 PM ET / 12 PM CT / 11 MT / 11 PT
March 1, 2023 /3BL Media/ - The pandemic has had a dramatic effect on people's expectations about work. Couple that with the multi-generational workforce – Gen Z, Millennials, Gen X, and Boomers – and hiring, engaging, and retaining staff has never been trickier. More people than ever are interested in working for organizations with purpose, which provides a unique competitive advantage for non-profits.
Attend our 30-minute webinar on Wednesday, March 8, at 1 pm ET / 10 am PT, to learn how to attract, hire and engage talent for your nonprofit in this new world of work.
Register now to join this free webinar—and bring a friend! We always appreciate your support in spreading the word about Taproot. 
After attending the webinar, you can apply what you learned to your own nonprofit's HR strategy with the help of a Taproot volunteer! Sign up on Taproot Plus.
Access this webinar and the Taproot Plus pro bono platform are completely free of cost for nonprofits, public schools, and fiscally social good organizations in the US, UK, EU, Canada, and India. Select Taproot Plus services are also accessible to US-based small businesses.