Build Your Resume While Making a Difference
Join Taproot's free webinar to learn how skilled volunteering can boost your career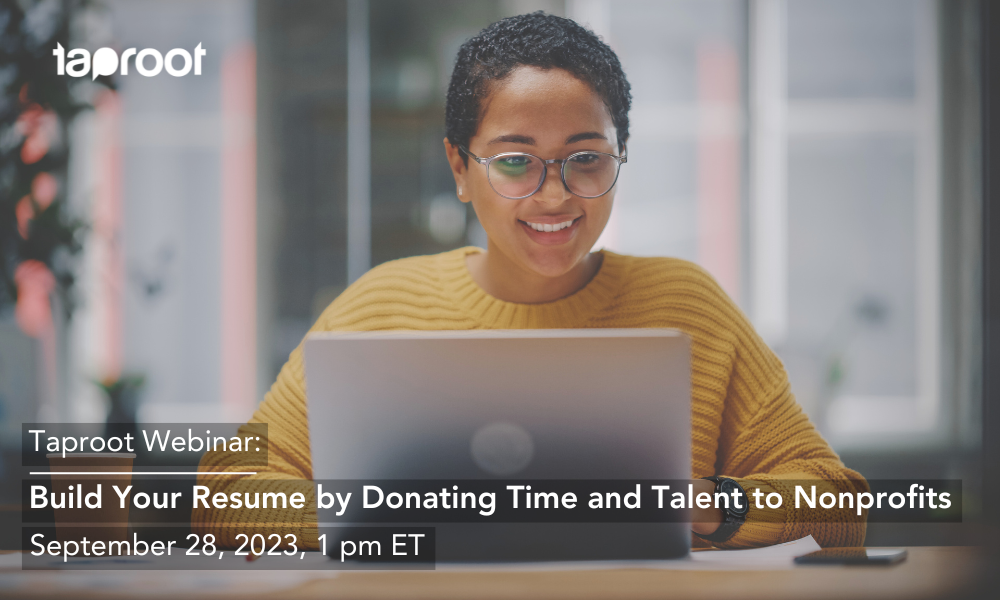 Thursday, September 28 at 1 PM ET / 12 PM CT / 11 MT / 10 PT
September 22, 2023 /3BL/ - On the job hunt? Looking to advance within your company? Want to make the leap into a new field? Whatever the motivation, if you're trying to strengthen your resume, skills-based volunteering is a great pathway to consider as you meld career development with making a difference alongside amazing social causes.
Attend our free webinar on Thursday, September 28 at 1 PM ET/10 AM to learn how volunteering your expertise can benefit your career. Webinar participants will leave with: 
Understanding the expertise nonprofits are looking for, and how your corporate experience will translate
Tips for leveraging skills-based volunteering for resume building or professional advancement
A walk-through of how to find Taproot volunteer opportunities that are the right fit for your professional talents and social impact interests
Register now for this free one-hour event! Bring your colleagues—the more, the merrier.   
This webinar will be recorded and shared with all registrants. Taproot Plus is free of cost and accessible to all business professionals, nonprofits, charitable organizations, fiscally sponsored social good organizations, and public schools located in the United States, United Kingdom, European Union, Canada, and India. We recommend creating your free account before this event.