Get Involved in the Pro Bono Movement
Join Taproot Foundation's Pro Bono Week webinar on volunteering your skills virtually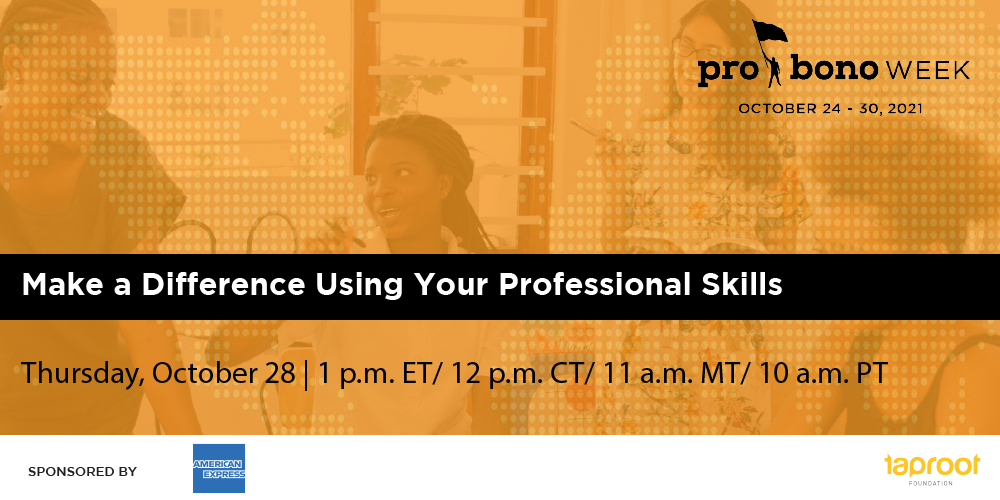 Pro Bono Week 2021
 [Webinar] Make a Difference Using Your Professional Skills
Thursday, October 28 at 1 PM ET / 12 PM CT / 11 AM MT / 10 AM PT 
This year, in celebration of Pro Bono Week 2021, Taproot Foundation is aiming to make 100+ pro bono connections. It's the perfect time to join the pro bono movement, making a lasting impact by volunteering your skills alongside social causes you're passionate about. And Taproot Plus is the perfect tool to help you get started.
On the free online platform, Taproot Plus, thousands of experienced professionals are connecting with nonprofits doing critical work to end hunger, provide healthcare, expand civil rights, and much more, to donate their marketing, IT, HR, strategy, or finance experience. During this Thursday, October 28 webinar, held in celebration of Pro Bono Week, Taproot staff will walk-through how to navigate their pro bono programs, as well as: 
Why it's crucial that we all step up to support nonprofits
How to find and apply for a virtual pro bono opportunity that matches your unique skill-set 
Strategies for managing pro bono projects once you're matched with a nonprofit 
Register Now to attend. Know other business professionals who are searching for ways to make a difference? Invite them—the more the merrier. 
This webinar has been made available free of cost thanks to support from Taproot's Pro Bono Week 2021 sponsor, American Express. The event will be recorded and all registrants will receive a copy of that recording. The Taproot Plus platform is also available free of cost to nonprofits, public schools, and fiscally sponsored social good organizations in the US, UK, EU, and India.