Finalists Named for Louisiana's 2017 Cox Conserves Heroes Program, Public Asked to Vote
Program to donate $20,000 to environmental nonprofits in Louisiana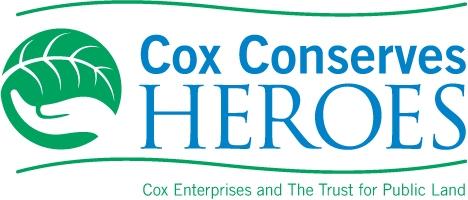 August 24, 2017 /3BL Media/ — Cox Communications and The Trust for Public Land are recognizing volunteers who are creating, preserving or enhancing shared outdoor spaces. Finalists for Louisiana's Cox Conserves Heroes program were announced today, and the public is being asked to vote for the winner now through Sept. 14. To vote, visit CoxConservesHeroes.com and select the Louisiana area. A total of $20,000 will be donated to local environmental nonprofits on behalf of the three finalists.
Finalists have already secured a $5,000 donation for their environmental nonprofits of choice and are now competing for an additional $5,000 – bringing the total award to $10,000 for the winner's nonprofit of choice.
Louisiana's 2017 Cox Conserves Heroes Finalists
John Walther is a long-time volunteer of Coastal Conservation Association of Louisiana (CCA Louisiana) and has been the guiding force behind 20 unique artificial reef deployments across Louisiana's coast. He pioneered the use of recycled concrete materials in artificial reef projects in Louisiana and has also been the driving force behind the annual Derelict Crap Trap Removal Program. Once of his most significant accomplishments is the installation of 20 reefs – with an additional two coming down the pipeline. He has the vision and determination to enhance the fishing experience in Louisiana. His nonprofit of choice is CCA Louisiana.
Kristy Hitchcock is an avid gardener who has selflessly loaned her green thumb and knowledge of plants and gardening for the benefit of others. Hitchcock serves the Urban Conservancy's paving removal incentive program – the Front Yard Initiative. She developed an extensive spreadsheet, highlighting native plants and detailing their flowering season and benefits to pollinators. Using her list as guidance, she volunteers on the committee to develop a Recommended Native Plant List for homeowners. With the Front Yard Initiative as a template, Kristy also helped the organization put together a Homeowner's Toolkit for yard design. Her nonprofit of choice is Urban Conservancy.
Scott Howard has worked tirelessly since Hurricane Katrina to improve the quality of New Orleans' parks, trails and gardens. He serves on the board of the New Orleans Recreation Department Foundation. Recently, he founded NOLA Parks for All, a group committed to advocating for the creation, maintenance, beautification, use and funding of public parks, playgrounds and green spaces as an essential public service in New Orleans. His nonprofit of choice is NOLA Parks for All.
Patrick Armstrong, Matt Thomas, Bart Everson, Jenga Mwendo and Rory McCracken are Louisiana's previous Cox Conserves Heroes.
As either a finalist or winner's nonprofit of choice, the following Louisiana organizations have received financial support from the Cox Conserves Heroes program: Friends of Lafitte Corridor; Jefferson Beautification, Inc.; Lafayette Square Conservancy; Louisiana Environmental Action Network (LEAN); New Orleans Food and Farm Network (NOFFN); Operation Sudden Impact; Parkway Partners; Quality Deer Management Association (QDMA) – Louisiana State Chapter; ReCover Acadiana; The Lake Pontchartrain Basin Foundation, The University Lakes Improvement and Preservation Association (TULIPA) and Reef Environmental Education Foundation (REEF).
Cox Conserves Heroes was created through a partnership between The Trust for Public Land and Cox Enterprises, the parent company of Cox Communications, to honor local conservation volunteers. 
The national Cox Conserves Heroes program has donated nearly $800,000 to environmental nonprofits, and nearly 200 volunteers have been honored. Cox Conserves Heroes also takes place in Arizona, California, Georgia, Florida, Massachusetts, Virginia and Washington and is part of the company's national Cox Conserves sustainability program that is celebrating its 10th anniversary.
For more information, visit CoxConservesHeroes.com or Facebook.
Social Media: #CoxConservesHeroes and #CoxConservesHero
About Cox Communications:
Cox Communications is a broadband communications and entertainment company, providing advanced digital video, Internet, telephone and home security and automation services over its own nationwide IP network. The third-largest U.S. cable company, Cox serves approximately 6 million residences and businesses. Cox Business is a facilities-based provider of voice, video and data solutions for commercial customers, and Cox Media is a full-service provider of national and local cable spot and digital media advertising. Cox is known for its pioneering efforts in broadband, voice and commercial services, industry-leading customer care and its outstanding workplaces. For nine years, Cox has been recognized as the top operator for women by Women in Cable Telecommunications; Cox has ranked among DiversityInc's Top 50 Companies for Diversity 12 times. More information about Cox Communications, a wholly owned subsidiary of Cox Enterprises, is available at www.cox.com and www.coxmedia.com.
About The Trust for Public Land:
The Trust for Public Land creates parks and protects land for people, ensuring healthy, livable communities for generations to come.  Millions of people live within a one-half mile walk of a Trust for Public Land park, garden, or natural area, and millions more visit these sites every year.  To support The Trust for Public Land and share why nature matters to you, visit www.tpl.org.
About Cox Conserves:
Launched in 2007 by Chairman Jim Kennedy, Cox Conserves is Cox Enterprises' national sustainability program. Cox Conserves focuses on reducing waste and energy consumption, as well as conserving water. The program engages each of the company's major subsidiaries (Cox Communications, Cox Automotive and Cox Media Group) and encourages Cox Enterprises' 60,000 employees and their families to engage in eco-friendly practices.
Media Contacts