Finalists Named for Atlanta's 2017 Cox Conserves Heroes Program, Public Asked to Vote
Program to donate $20,000 to environmental nonprofits in Atlanta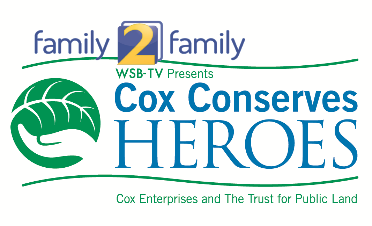 ATLANTA, October 9, 2017 /3BL Media/ - Channel 2 WSB-TV and The Trust for Public Land are recognizing volunteers who are creating, preserving or enhancing shared outdoor spaces. Finalists for Atlanta's 2017 Cox Conserves Heroes program were announced today, and the public is being asked to vote for the winner now through Oct. 30. To vote, visit wsbtv.com/coxconservesheroes. A total of $20,000 will be donated to local environmental nonprofits on behalf of the three finalists.
Atlanta's 2017 Cox Conserves Heroes Finalists
Dale Higdon retired from the Georgia Forestry Commission in 2008 and began devoting countless hours volunteering for environmental organizations. To name a couple, Higdon is a hands-on board member of the Georgia Urban Forest Council, an organization that seeks to help Georgia communities build strong community tree programs. He also volunteers for the Georgia Piedmont Land Trust, helping to preserve land and protect water quality, tree canopy and historic sites. Higdon also volunteers with the Georgia Chapter of the American Chestnut Foundation, as well as the Mill Creek Nature Preserve. His nonprofit of choice is Georgia Piedmont Land Trust.
Michelle Rice inspires the community to engage children in hands-on gardening and encourages people to have a love for the outdoors. For the past eight years, Rice has led the organic edible garden program at Atlanta Public School's Burgess-Peterson Academy, which is now recognized as one of the most successful school gardens in Georgia. Rice has volunteered 2,000 hours teaching more than 650 children how to grow and enjoy fresh foods and has helped teachers incorporate these concepts into standards-based math, science and reading lessons. Her nonprofit of choice is East Atlanta Community Association.
Stephen Causby led the grassroots transformation of an overgrown lot on English Ave. The lot is now boasting picnic areas, garden beds, a mural, a playground, newly sodded play fields and a brand-new community center. Causby led every phase of the development, managing cleanups, executing programming, grant writing and soliciting community support. Causby and his team have created a space for neighbors to gather, as well as a safe area for children to play. By engaging residents to participate in the park's improvement, he developed a team of neighborhood leaders who help with maintenance and programming. His nonprofit of choice is Park Pride.
Previous recipients of Atlanta's Cox Conserves Heroes award are Linda Cotten-Taylor, Tom Branch, Bob Scott, John Gordon, Donna Shearer, Na'Taki Osborne-Jelks, Angel Poventud and Don Wells.
In partnership with The Trust for Public Land, the national Cox Conserves Heroes program has donated nearly $800,000 to environmental nonprofits, and nearly 200 volunteers have been honored. Cox Conserves Heroes also takes place in Arizona, California, Florida, Louisiana, Massachusetts, Virginia and Washington and is part of the company's national Cox Conserves sustainability program that is celebrating its 10th anniversary.
About Cox Media Group:
Cox Media Group is an integrated broadcasting, publishing, direct marketing and digital media company. The company's operations currently include 14 broadcast television stations and one local cable channel, more than 60 radio stations, seven daily newspapers and 11 non-daily publications; and more than 100 digital sites and services, like Rare.us, Clark.com, Dawg Nation, SEC Country, Hookem.com, Mundo Hispanico, Southern Kitchen and All22. Additionally, CMG operates the National Advertising Platform businesses of CoxReps - the country's biggest television rep firm - Gamut, and Videa. CMG currently operates in more than 20 media markets and reaches approximately 52 million Americans weekly, including more than 31 million TV viewers, more than 3.5 million newspaper readers, and nearly 15 million radio listeners.  For more information about Cox Media Group, please check us out online at www.coxmediagroup.com.
About The Trust for Public Land:
The Trust for Public Land creates parks and protects land for people, ensuring healthy, livable communities for generations to come.  Millions of people live within a one-half mile walk of a Trust for Public Land park, garden, or natural area, and millions more visit these sites every year.  To support The Trust for Public Land and share why nature matters to you, visit www.tpl.org.
About Cox Conserves:
Launched in 2007 by Chairman Jim Kennedy, Cox Conserves is Cox Enterprises' national sustainability program. Cox Conserves focuses on reducing waste and energy consumption, as well as conserving water. The program engages each of the company's major subsidiaries (Cox Communications, Cox Automotive and Cox Media Group) and encourages Cox Enterprises' 60,000 employees and their families to engage in eco-friendly practices.
Media Contacts: