The Expanded Role of Sustainability in Healthcare Interiors
Mohawk Group's Cynthia Hubbell, VP of Healthcare & Senior Living, talks about sustainability in Healthcare Facilities today.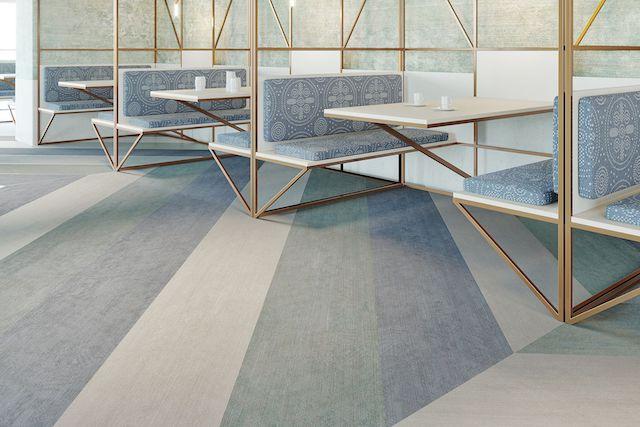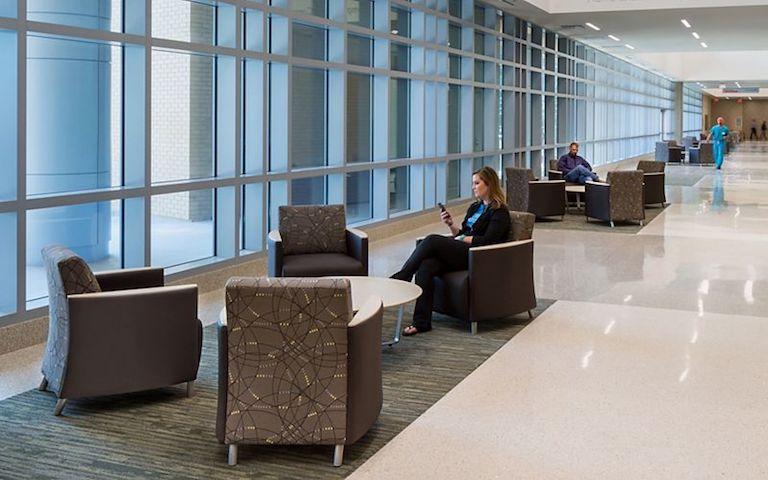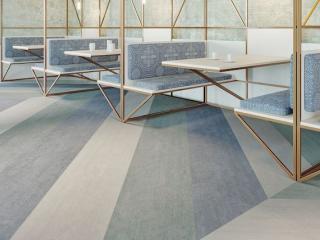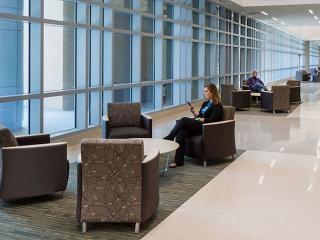 Mohawk Group | Off the Floor Blog
Serving all those who live, heal and work in healthcare facilities is the primary goal for the design of healthcare communities today, and sustainability plays an ever-increasing role in support of that goal.
In recent years, sustainability within the built environment has moved far beyond the basic preservation of natural resources, and flooring design is evolving rapidly to meet the new challenges. We're excited to be at the forefront of this advancement.
Shifts in Sustainability and Healthcare
As we're all aware, sustainability is a multifaceted topic, and nowhere is that more evident than in healthcare today.
In addition to sustaining the planet through the responsible use of natural resources, conversations surrounding sustainability have expanded to include responsibility for human health and wellbeing. This expanded view dovetails with the healthcare industry's new regulatory practices, which also place more value on patient and employee well-being and satisfaction.
Healthcare facilities are more concerned than ever about how the built environment affects the people who occupy its buildings. In efforts to satisfy the shifts in both healthcare regulation and sustainability, designers often turn to evidence-based design. Using results from scientific studies, designers can help facility owners and managers create interior spaces that improve the mental and physical well-being of patients and employees. We've learned, for example, that patients who have a view of a garden instead of a parking garage or rooftop heal more quickly.
Sustainability in Flooring Solution
Healthcare facility designers, owners, and end users are concerned with the sustainable practices regarding every facet of flooring—from responsible manufacturing and installation through consumer safety and end-of-use recycling. And the widespread use of LEAN and Six Sigma methods of operational management encourages facilities to consider sustainability not only with regard to material construction, but also in terms of the costs of daily maintenance, lifecycle, and replacement.
These changes have resulted in new challenges for the flooring industry, driving demand for enhanced products to help healthcare facilities better serve their patients and employees while conserving both natural and financial resources.
Flooring can help healthcare facilities meet these expanded goals in a variety of ways. Products that allow for reduced maintenance can help facilities consume less energy and water, for example, which is good for the environment and also conserves financial resources.
Biophilic design—the incorporation of natural elements in design—has been shown to reduce stress and anxiety, improve patient outcomes, and increase satisfaction levels of patients and staff. Flooring products that mimic nature through natural patterns, colors and textures can help healthcare facilities achieve these significant benefits.
Indoor air quality (IAQ) has become an important sustainability concern in recent years, and good IAQ is especially critical in healthcare environments. Thoughtful flooring specification can result in fewer airborne particles, lower VOC emissions, and fewer chemical fumes from harsh cleaning agents, greatly improving IAQ for an enhanced patient and staff wellbeing. Noise in healthcare settings is also considered a sustainability issue, and like poor IAQ, it has been proven to negatively affect patient and staff satisfaction and wellbeing. Flooring engineered to minimize both ambient and impact sounds can significantly decrease noise levels and improve the facility's environment for enhanced patient and staff experience.
Mohawk's Dedication to Sustainability
At Mohawk, we are committed to helping healthcare designers, facility owners and end users reach their sustainability goals. Our flooring systems balance the need for practical high-performance solutions for the healthcare environment with ecological responsibility, utilizing the latest technologies in material science.
We are dedicated to the research and development of cutting-edge technologies, construction and design to help healthcare facilities create high functioning interior environments that enable patients and employees to thrive. We're proud to empower the human mind, body, and spirit.
Many of our recent product launches reflect our passionate dedication to the planet and to the people who inhabit it. Our new flooring collections check all the boxes for current sustainability concerns. They incorporate biophilic design elements, provide enhanced acoustic performance, feature low VOC emissions to benefit IAQ, and come with extended warranties for less product waste and long-term financial savings.
In addition to innovative product design, Mohawk also leads our industry in product certifications, including Declare, Living Product Challenge, HPD, EPD, CRI Green Label Plus, Floor Score, GreenLabel Singapore and NSF.
Our mission is to pioneer innovative flooring solutions that promote optimum health and wellness, empowering the human mind, body, and spirit while preserving our planet's natural resources. We're well on our way.
Products featured: Glaze II Tile, Hit The Mark