Educating a Generation of Syrian Children
A powerful partnership with HP, the Clooney Foundation for Justice, UNICEF, and Google.org is finding ways to ignite learning and inspire kids who fled Lebanon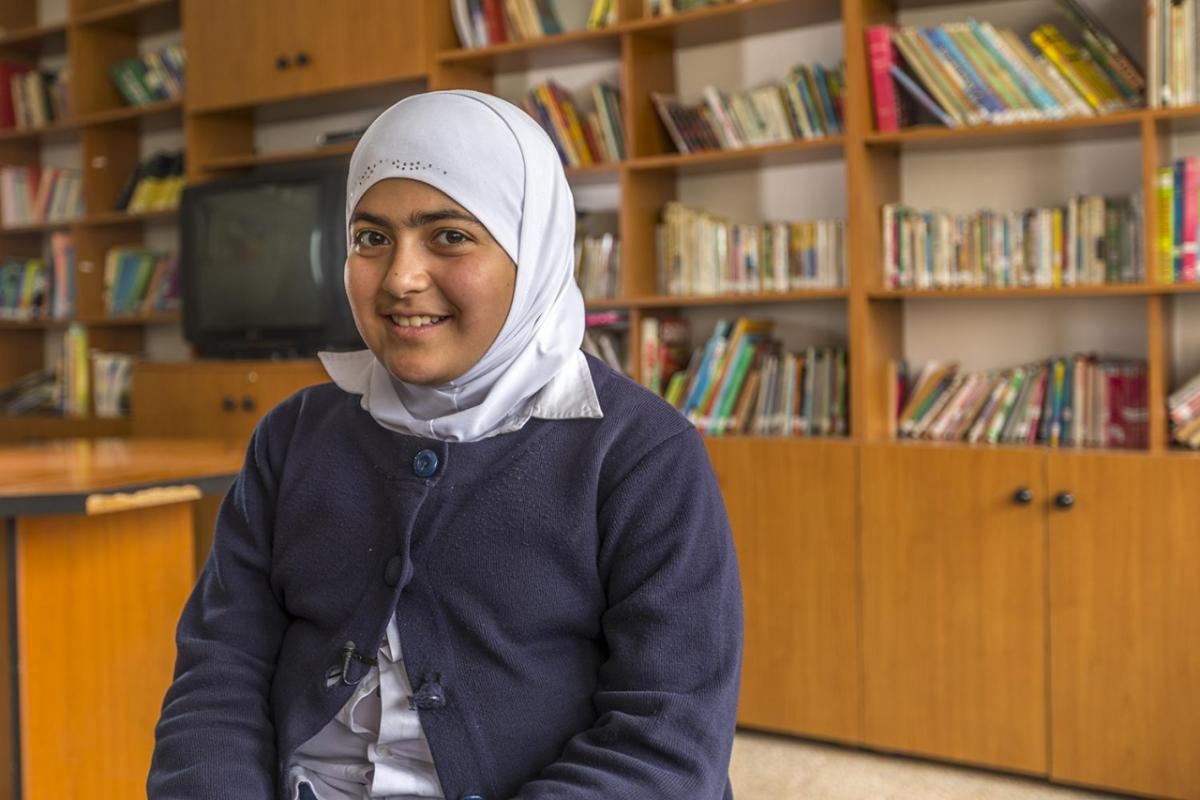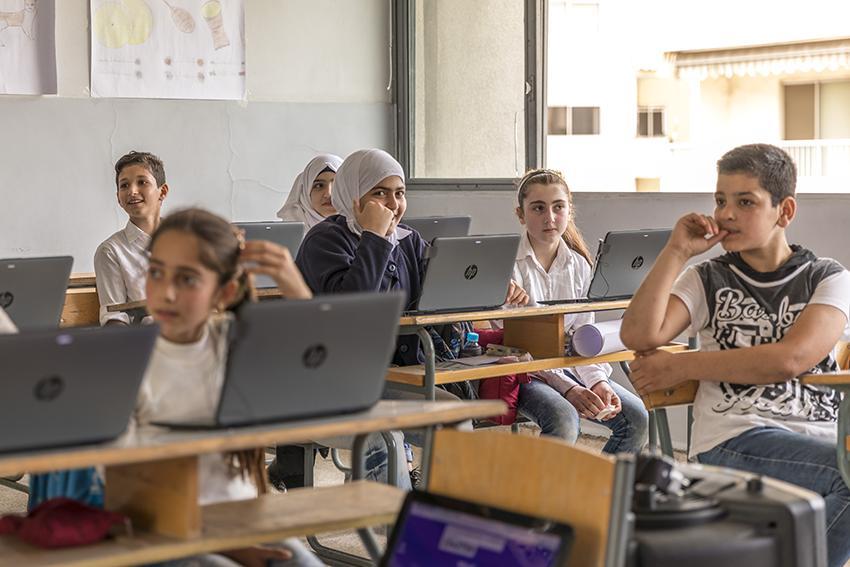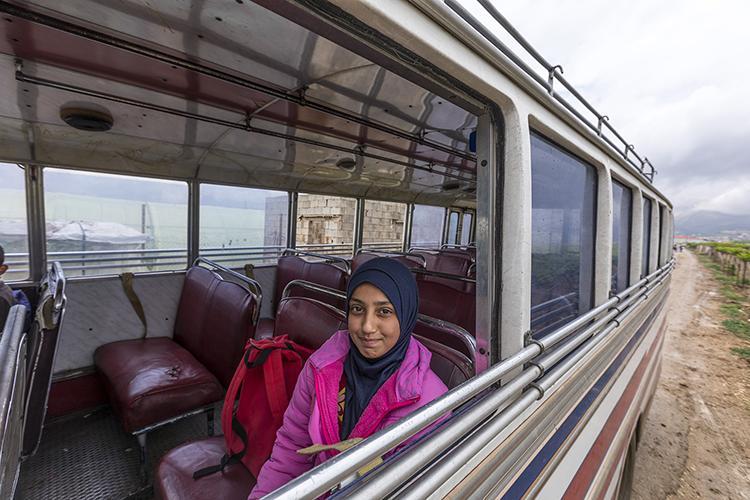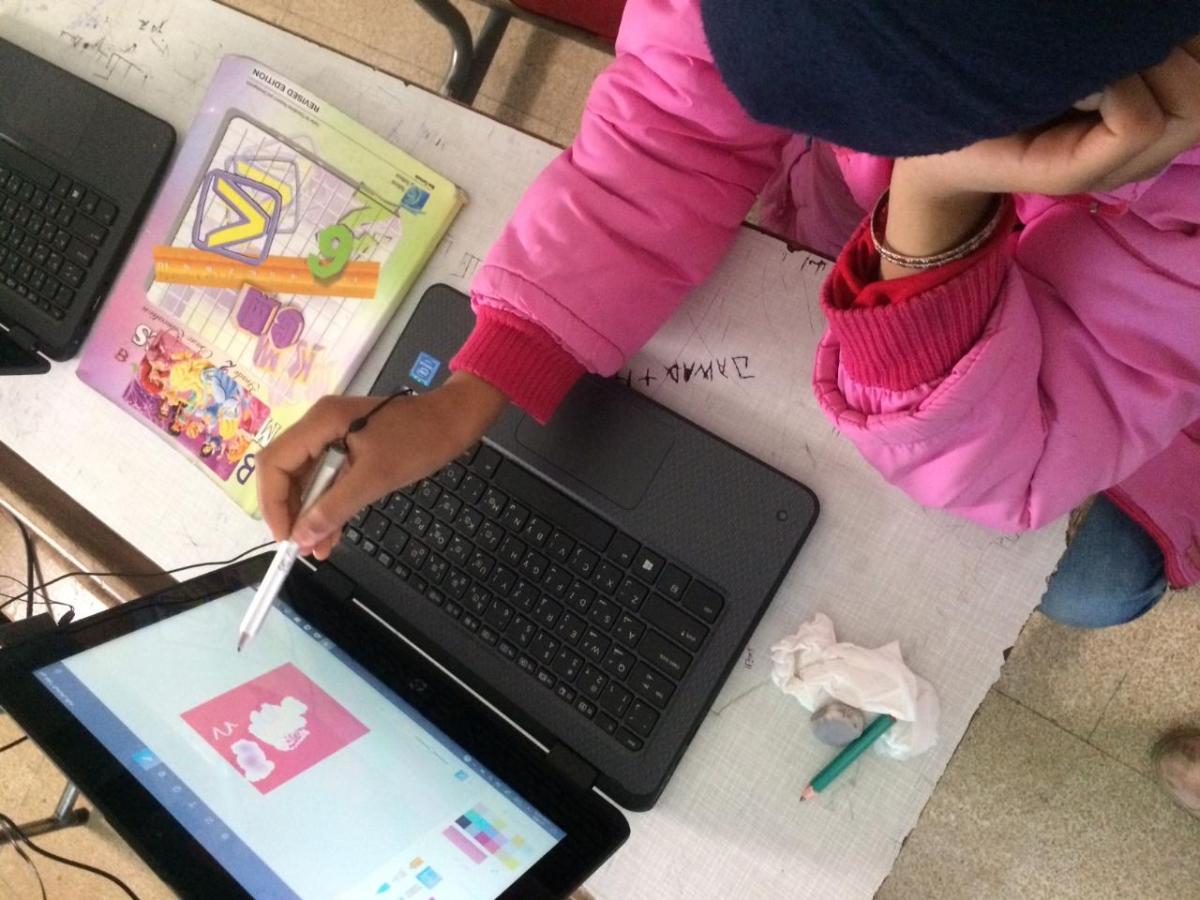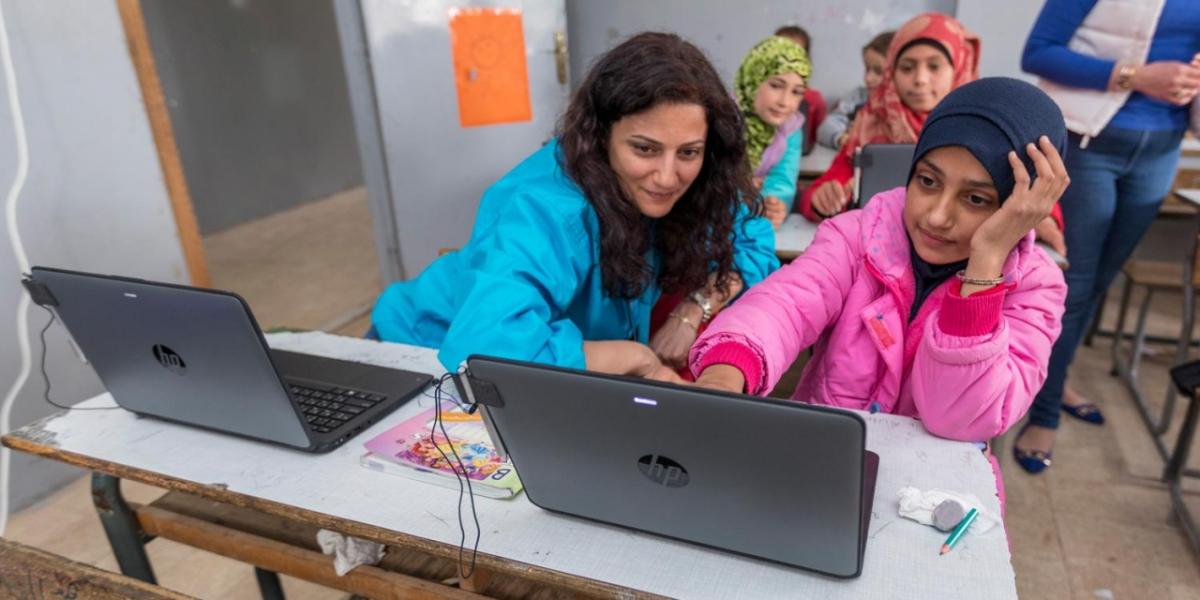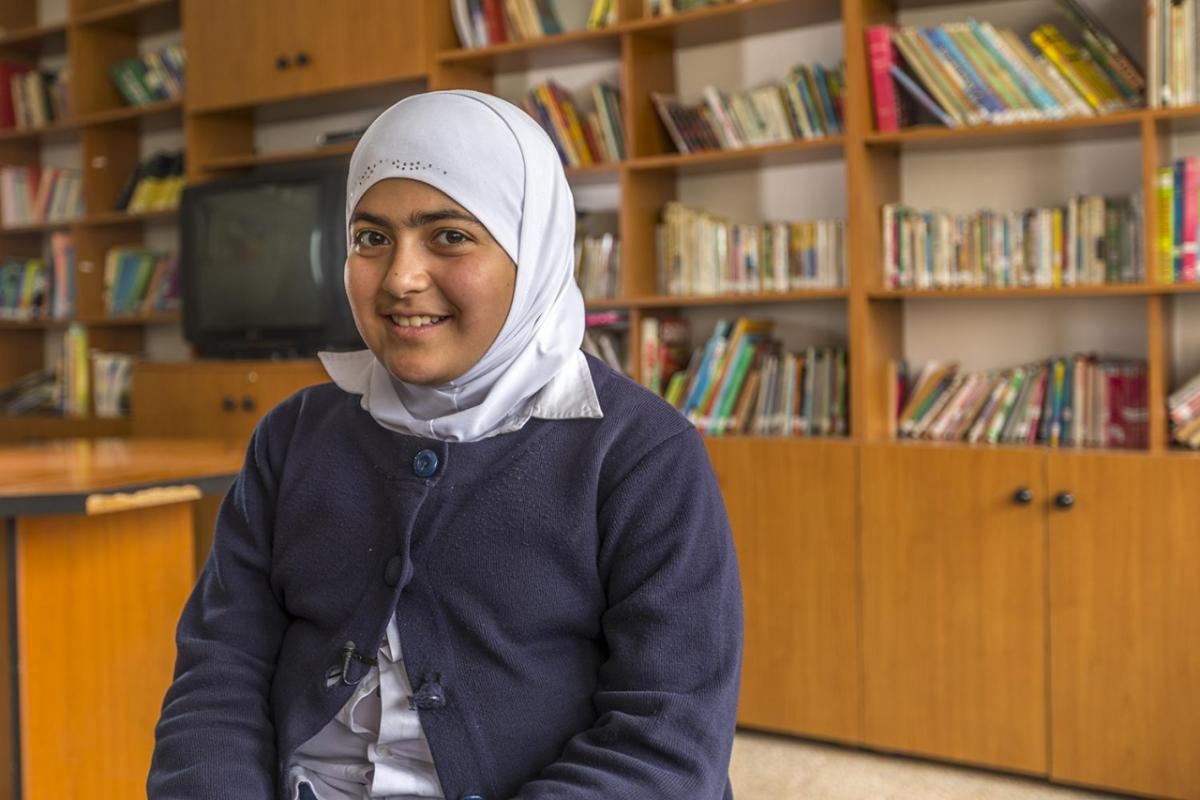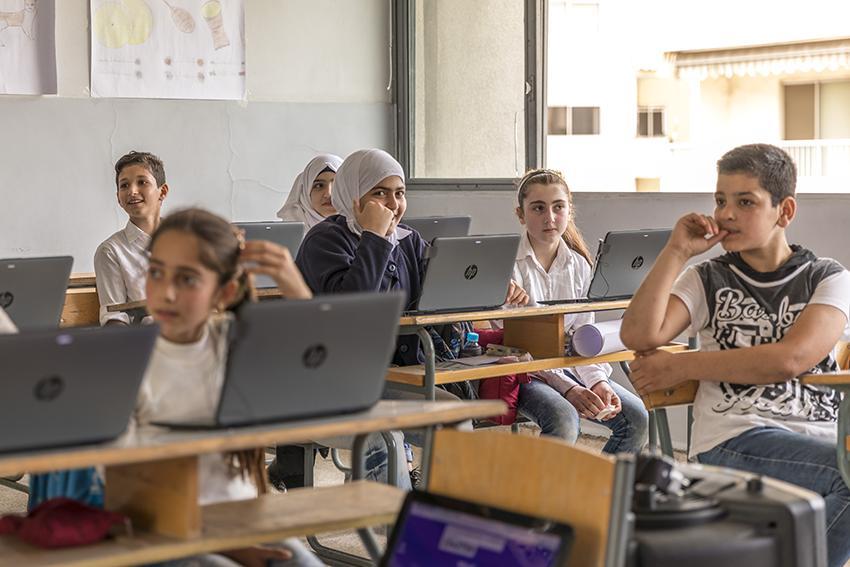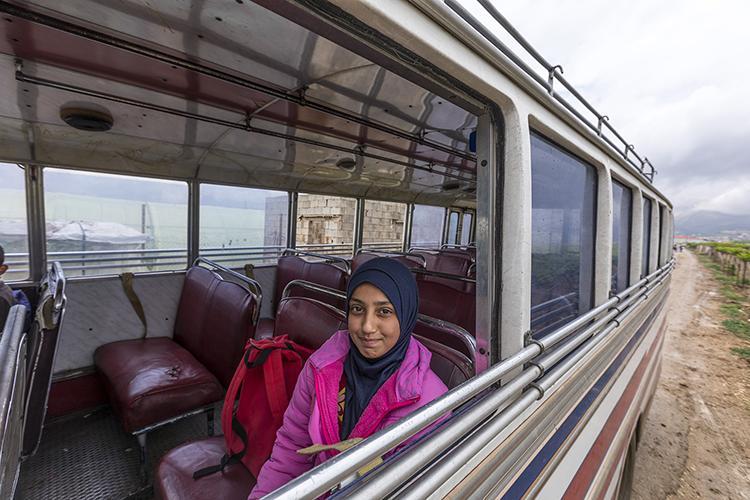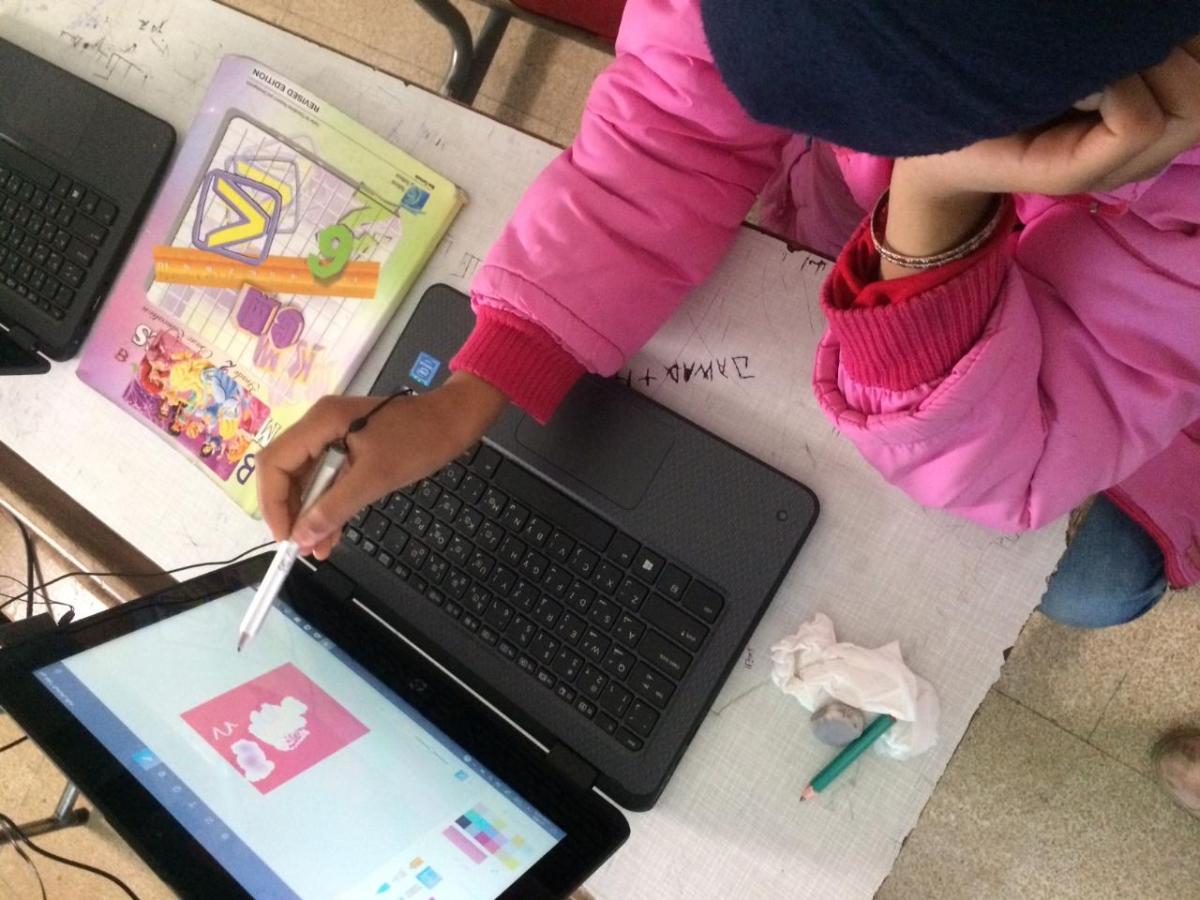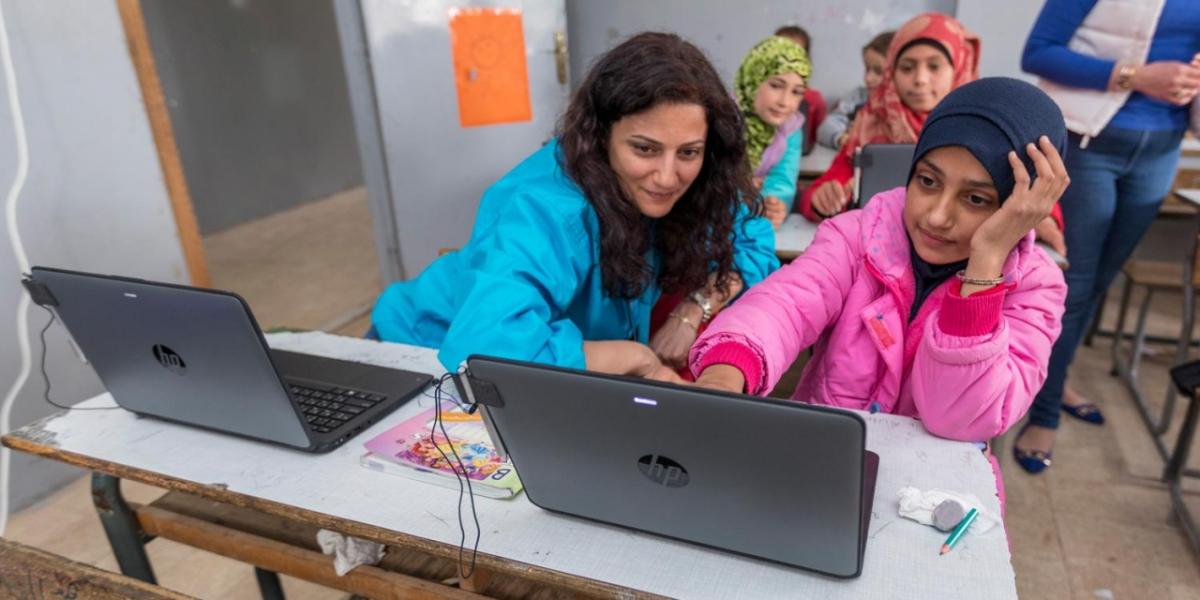 Every day begins the same for Marah, a 12-year-old girl living in Beirut. "At 8 o'clock, I have my breakfast. I spend some time with my family, while they are having their coffee. Then I prepare myself for school and I prepare my bag," she says.
It's a daily schedule typical by school children the world over, and yet to Marah it feels more like a privilege.
Life, interrupted
Four years ago, her family were uprooted by the warfare that has ravaged Syria, sending five million refugees over that country's borders in search of safety and creating one of the largest humanitarian crises on the planet. Nearly one million Syrian refugees now live in neighboring Lebanon — including  the current 130,000 school-aged children with no school to go to or lack the transportation needed to get them to one.
Marah was among a generation of Syrian children whose education was interrupted by war. "I missed going to school so much," she says. "My Lebanese friends were going to school, and I wasn't going. I felt that there was something wrong with my life."
All across the refugee settlements of Lebanon, Syrian parents shared the same worry. It takes many years before those in a major, protracted refugee situations are repatriated to their country of origin, and a generation of young Syrians are at risk of growing up without the basic human right of an education.
"I was worried that she would waste years without education," says Marah's father, Kassam Al-Othman.
But now Marah and thousands of students like her are back in the classroom. Lebanon's Ministry of Education and Higher Education (MEHE), along with the support of institutional donors and foreign governmental aid, extended the school day and last year were able enroll 200,000 non-Lebanese students in both morning and "second" shifts at school. An innovative partnership between HP, Clooney Foundation for Justice (CFJ), UNICEF and Google.org provides additional support for public schools and students across Lebanon, from Beirut to the Beqaa Valley. Currently, HP technology is being used in nine schools and will reach around 3,500 Syrian refugee students, as well as thousands of Lebanese students and teachers in the first year of the program.  
"We at HP believe education is the foundation of a better future, particularly for those in underserved communities," said Alex Cho, president of HP's Personal Systems Business Group. "With this program, we saw children, parents, teachers and families for whom access to education meant not only rediscovering a sense of normalcy in their everyday lives, but also the opportunity to build a brighter future."
"Our goal is to get them back in school and to equip them with the necessary skills," adds Michele Malejki, HP's global head of strategic programs for sustainability and social innovation. "By using a second-shift classroom model, Syrian and Lebanese children and their teachers all benefit from an improved learning experience."
From refugee to student
HP has provided thousands of state-of-the-art Education Edition PC laptops and technology training to the Lebanese schools, while the Clooney Foundation for Justice and UNICEF are supporting the work of the MEHE to extend the schools' second shifts by helping with the enrollment, education fees and transportation of the influx of Syrian students.
"These children have fled violence and their homes seeking some semblance of safety," says Ambassador David Pressman, executive director of the Clooney Foundation for Justice. "It is incumbent upon all of us to do all that we can to enhance and protect their ability to live with dignity. We're committed to advancing justice for the most vulnerable, and we recognize that advancing justice is about more than what happens in courtrooms; it is about giving children like these the stability and skills they need to have a chance to realize their rights."
At the Official First Middle School in rural Riyaq, dozens of Syrian students are now studying math, geography, English and Arabic using HP Education Edition PCs. In many cases, it's the first time the children have ever used a computer — and the first time their teachers have taught with them. For the instructors, the computers open up opportunities for new ways of teaching, and HP offered specialized training and coaching, so that they could make the most of the available technology.  
"Everybody recognized the need that these children should not, as the term goes, be a lost generation, that they should continue to be educated, they should continue to be protected, and they should continue to be given opportunities," says UNICEF Lebanon representative Tanya Chapuisat.
Teaching the next generation
Rawaa, a 12-year-old second grader, was living with her family in the countryside near the southern Syrian city of Aleppo when fighting broke out. "We left our home because of the shelling from the militant opposition and the army. They were bombing each other and we were caught in the middle," says her father, Khleif.
In Lebanon, their home is a tent erected in one of the informal settlements filled with refugees that dot the Beqaa Valley. During the morning, the local public school is open for Lebanese students, who leave after lunch, when the "second shift" for Syrians begins.
"When I first came to school, I saw a computer and I was surprised. I thought it would be a difficult thing but it turned out to be quite easy," Rawaa says. "I learned how to draw and color on it. I learned how to type."
Built for durability, the rugged computers have a long battery life that lasts the entire school day and are equipped with a dual camera system that allows students to Skype and connect with pupils in other countries. As Gus Schmedlen, HP's VP for worldwide education, notes,"It's a PC designed around collaboration and building global competencies that these students are going to need to participate and thrive." 
HP and its partners are providing new ways of learning for not just the second-shift students, but for every student who attends the schools — they are helping support the entire educational ecosystem across Lebanon. "If we can bring in great technology that helps the Lebanese students who use it as well, and empowers their teachers, then all the better," says HP's Malejki.
"The existence of technology in the classroom helps the teacher a lot, to convey the information to the student in a better and faster way," says Dr. Nada Oweijane, president of Lebanon's Center for Educational & Research Development, an organization that develops curricula and training in the country's public schools. "It motivates the student."
It's already happening. Ask fourth-grader Marah in Beirut what tomorrow holds for her and the other members of her generation, and she answers with conviction. "I want to become a doctor when I grow up to help people." And its ambitions like that — and the opportunity to fulfill them — that give hope that Syria's next generation will one day return to their country equipped to rebuild a just and stable society.
Learn more about HP's program in Lebanon.