Driving Inclusive Education Through Blended Learning
Driving Inclusive Education Through Blended Learning
By Michele Malejki, Global Head of Social Impact, HP Inc.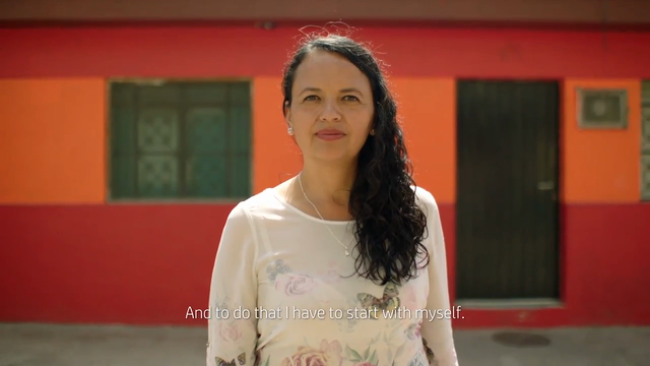 Tuesday, October 20, 2020 - 3:15pm
There isn't a one-size-fits-all approach when it comes to learning and teaching during this challenging academic year. In some parts of the world, students are learning from the classroom, but in other areas, schools are engaging in online learning or adopting a hybrid classroom and remote model.
As we wait for a safe, effective vaccine, the COVID-19 pandemic is forcing all of us to continue adapting to a new normal. It's also revealing the deeply entrenched inequalities in our education system – with students in well-funded schools taking advantage of new technology while many others fall behind. Even prior to the pandemic, 258 million children were out of school and 74 million unemployed youth worldwide lacked access to educational resources.
Quality education is a fundamental human right and holds the power to create a more equitable society. That's why we're committed to enabling better learning outcomes for 100 million people by 2025. We believe the solution to driving inclusive education—during and beyond a pandemic—lies in blended learning. While it isn't a new concept, we're seeing this learning model accelerate and become increasingly relevant due to COVID-19.
Analog Content on the Rise
At the onset of the pandemic, we launched HP Turn to Learn in partnership with NASA, TIME for Kids and Britannica to deliver critical learning materials focused on STEM and environmental topics to Title I school districts. According to Pew Research, 22 percent of students said they don't have a reliable internet connection at home and 21 percent said they don't have access to a computer at home to complete their homework. To bridge the digital divide, or "homework gap," school districts from all over the U.S. (Oakland, Miami-Dade, Austin, Racine, etc.) have ordered more than 230,000 HP Turn to Learn booklets to date. Additionally, we are working with non-profits and grassroots organizations to distribute the booklets to students globally, including in Canada and Haiti.
We're also adding social and emotional learning to the Turn to Learn curriculum, which has become essential to address the impact of COVID-19 on students' wellbeing. A JAMA Pediatrics survey reveals 23 percent of elementary school students in a part of China with the virus outbreak had symptoms of depression and about 19 percent experienced anxiety symptoms after more than two months of lockdown. The new learning topic focuses on helping young students cope with their negative emotions.
Reskilling to Compete in the Digital Economy
HP LIFE is another way we can help address both the opportunity and the lack of offerings in the wider marketplace. It's a free program from HP Foundation that helps people reskill and is accessible online and offline (as well as in class when and where it is safe). According to the HP Workforce Evolution Study, six in 10 office workers in the U.S. and Europe agree that lifelong learning is becoming increasingly important. Also, one in three employees say they're likely to start their own companies due to the skills they're gaining.
Thus far this year, more than 147,000 people from all over the world signed up for HP LIFE – an impressive 282% growth from the same period in 2019. In Romania alone, through our partnership with the local Junior Achievement chapter, more than 66,000 new users signed up and a third of them are taking multiple courses. Countries with the highest number of new users are Egypt, United States, Nigeria, Saudi Arabia and Brazil. Most popular classes are Social Media Marketing, Business Communications and Effective Leadership.
HP LIFE learners range from entrepreneurs who need to develop a stronger digital strategy due to COVID-19, to college students who are looking to learn practical IT or business skillsets to prepare for their career. In fact, we're partnering with The City University of New York (CUNY) to roll out HP LIFE to its 500,000 students across 25 campuses. We're also offering HP LIFE and training webinars to the clients, students and partners at the Technology and Entrepreneurship Clinic of Southern University Law Center and donating more than 200 HP printers to the Clinic's participants. Upskilling is important to meet the demands of the future, but again, we must build inclusivity in our strategy and not leave underserved or marginalized communities behind. 
Impactful Innovation
Innovation will be critical to close learning gaps in communities around the world. HP is expanding remote learning and has recently launched HP Online Teaching Assistant (previously known as "BeOnline") with partners Classera and Mirai to support schools and universities in establishing a fully-fledged virtual learning environment by providing expertise and tools for no cost.
We continue to partner with Girl Rising to deliver justice-based curriculum to students, with the goal to combat inequality and help girls prepare for the future. Girl Rising uses creative storytelling to raise awareness of the challenges girls and ignite actionto address them. Teens Rising Together is the latest, web-based interactive activity by Girl Rising to help students connect with girls around the globe and learn why education is important to each of us, no matter where we live.
The work we're doing is only a piece of what must become a much larger and concerted societal effort to make education accessible to students of all ages, and in all places—not only during COVID-19, but as we confront other mounting economic, social and environmental challenges in our time. Building resiliency and adapting to "unknowns" is essential to surviving in the new normal.
What we've seen over the past few months is a demonstration of the progress that is possible when we all come together to deliver innovation in education, skills development and curriculum assessment. If we can create dynamic, effective and inclusive blended learning environments—through a combination of remote digital and printed learning solutions—we can help put quality education within reach of every child and adult learner in every corner of the globe. That is the true essence of HP's vision - creating technology that makes life better for everyone, everywhere.