Does Your Nonprofit Need a New Fundraising Strategy?
Free webinar on creating a strategic fundraising plan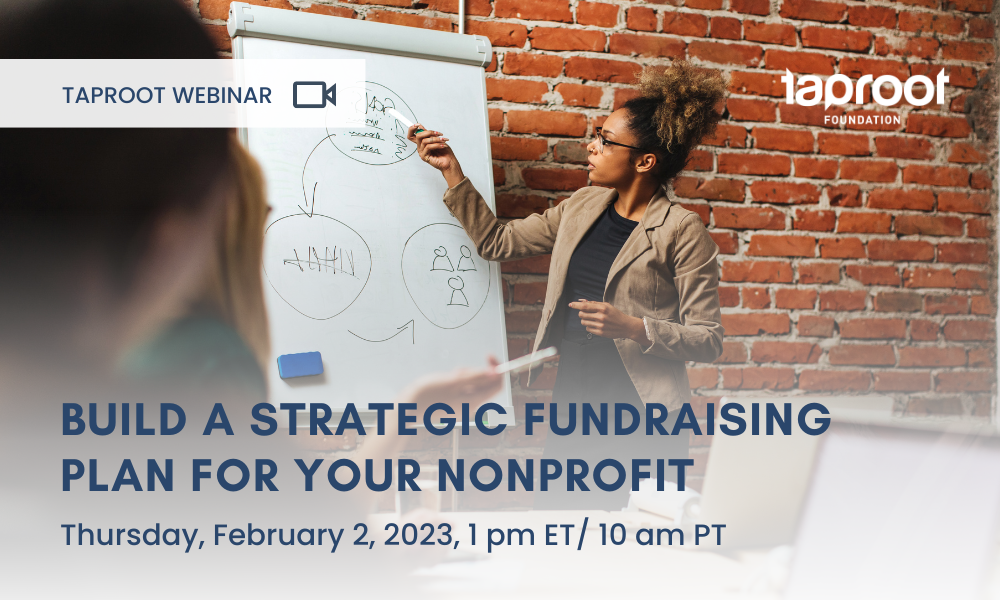 January 26, 2023 /3BL Media/ - 
Thursday, February 2 at 1 pm ET / 12 pm CT / 11 am MT / 10 am PT
Fundraising to sustain your nonprofit's work is always top of mind for development staff. Creating a strategic fundraising plan will help you assess and solidify your organization's financial position and shift your staff's work from being responsive to proactive.
Join Taproot's 30-minute webinar on Thursday, February 2, 2023, at 1 p.m. ET/10 a.m. PT, for new ideas and approaches to your nonprofit's fundraising strategy.
Register now to join this free webinar for nonprofits—and bring a friend! We always appreciate your support in spreading the word that this webinar, and all of Taproot's programs for social change organizations, is completely free.
Thursday, February 2 at 1 pm ET / 12 pm CT / 11 am MT / 10 am PT
Access to this webinar and the Taproot Plus platform are completely free of cost for nonprofits, public schools, and fiscally social good organizations in the US, UK, EU, Canada, and India. Select Taproot Plus services are also accessible to US-based small businesses.