Dell Reports Progress on 2020 Legacy of Good Plan, Including Environmental, Community Engagement and Diversity Initiatives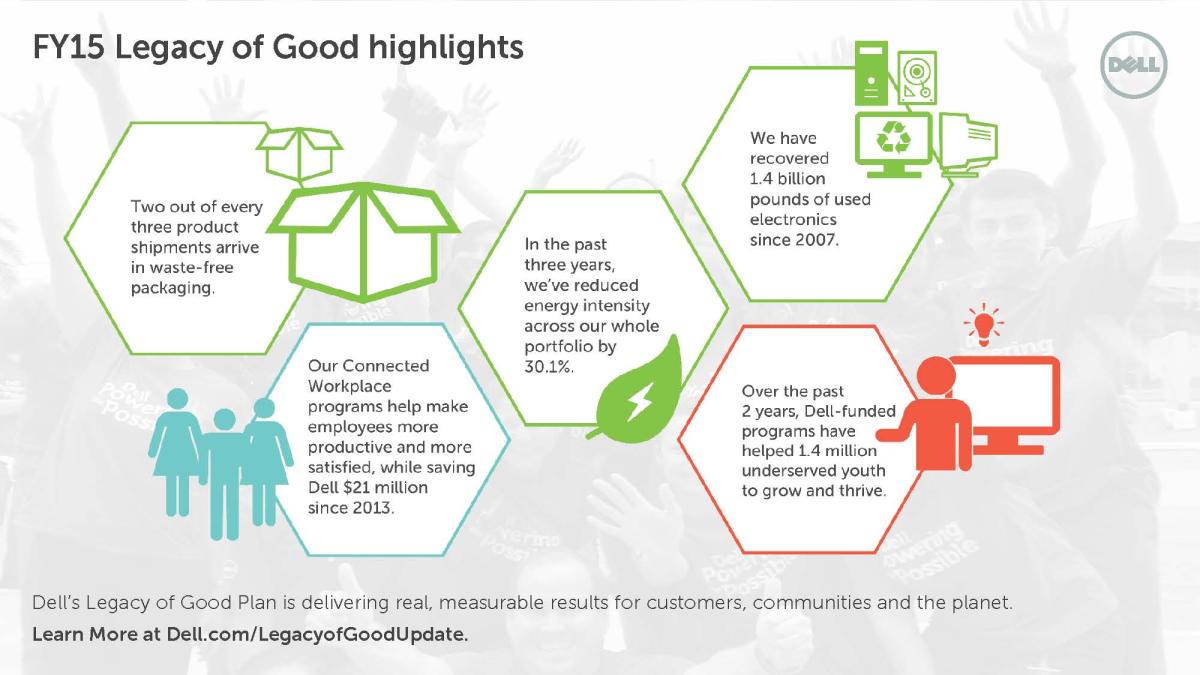 AUSTIN, Texas, June 22, 2015 /3BL Media/ -- Dell today reported significant progress against its 2020 Legacy of Good plan and the company's 21 goals in support of the environment, communities and Dell team members. Dell has a long-term commitment to putting its technology and expertise to work where they can do the most good for people and the planet. The report summarizes its efforts in its Fiscal Year 2015 (February 1, 2014 - January 31, 2015).
"Dell has made great progress across its global business ecosystem in its efforts to use the technology we produce for good," said Trisa Thompson, vice president of Corporate Responsibility at Dell. "We're committed to this ongoing work and share our results to both create and inspire positive change in business practices."
The full interactive report is available at dell.com/legacyofgoodupdate. Report highlights include:
Circular Economy Leadership
Dell is now the world's largest technology recycler with take-back programs in 78 countries. Since FY08, Dell has recovered 1.42 billion pounds of used electronics; 172.6 million pounds in FY15. The company now is 71.4 percent of the way to its ambitious 2 billion pound 2020 goal.
In FY15, Dell shipped the first UL Environment-certified closed-loop PC on the market, the OptiPlex 3030 All-in-One. By the end of FY15, Dell was shipping globally 16 displays and three desktop systems that contained closed-loop recycled plastics, contributing to the 21.9 million pounds of recycled plastics used in its products since FY14.
Advances in children's cancer care continue as Dell built on its four-year partnership with Translational Genomics Research Institute (TGen), funding additional research and advanced High Performance Computing (HPC) to help researchers analyze patients' molecular data more quickly and collaborate with colleagues more effectively – reducing the total time needed for whole genome sequencing from approximately eight weeks to two days.
Dell expanded funding for the KIDS Cloud Initiative, which provides doctors and researchers a secure, cloud-based virtual collaborative portal to analyze and discuss data such as tumor characterizations and seamlessly map those to drug databases in order to develop and agree on personalized treatment plans for individual patients in real time.
New solar-powered Learning Labs in South Africa extended technology access to underserved communities in an innovative way that can be applied globally.
Dell expanded collaboration with 65 Youth Learning partners across 14 countries with grant funding, new technology and team member expertise, helping underserved young people to acquire the information and skills needed to compete in today's global workforce.
In FY15, Dell's strategic giving initiatives directly helped 657,000 youth who enrolled and participated in Dell-funded programs. Since FY14, Dell has helped 1.4 million youth directly and 6.8 million people indirectly, more than 40 percent toward its 2020 goal.
Sustainable Packaging Innovation
Since 2009, Dell has avoided more than 31 million pounds of packaging and saved more than $53 million by reducing materials. Additionally, new palletization design developed in FY15 enabled Dell to fit 20 percent more products on each pallet shipped.
Dell was the first technology company to market with packaging created from all of the following: captured greenhouse gases, wheat straw, mushroom and bamboo. Wheat straw packaging is 100 percent recyclable, uses 40 percent less energy and 90 percent less water in manufacturing than traditional cardboard. Dell increased its usage of wheat straw-based packaging 8-fold over FY14.
At the end of FY15, two-thirds of all Dell packaging was recyclable or compostable. Additionally, 100 percent of tablet shipments and 92 percent of notebook shipments arrived in packaging that was 100 percent recyclable or compostable. The company goal is to achieve waste-free packaging by 2020.
In late 2014, Dell's Lodz, Poland, location became the company's first manufacturing facility to fully utilize renewable electricity. The Lodz facilities are one of 21 sites that purchase 100% of their electricity needs from renewable sources.
Dell qualified 150 products to the various ENERGY STAR specifications, including 43 Dell servers to the ENERGY STAR® 2.0 Computer Servers specification in 2014.
Over the last three years, Dell has reduced the energy intensity of its entire product portfolio by 30.1 percent. Collectively, this will help customers spend $450 million less on electricity with their FY15 purchases than they will spend on their FY12 purchases.
People and Diversity
Dell's employee resource groups (ERGs) build on Dell's culture of inclusion and the company has seen more career engagement from team participation. At the end of 2014, 18 percent of Dell team members were engaged in ERGs — an increase from 14 percent in 2013. Membership in the ERG's, which range from sustainability to women's professional development to LGBT groups, reached more than 17,000 team members, putting Dell on track to engage 40 percent of its global workforce in employee resource groups by 2020.
For the first time in 2014, 47 members of the Dell leadership team participated in Men Advocating Real Change (MARC), an initiative designed to cultivate male leaders' unique potential as diversity change agents and work towards achieving gender equality in the workplace.
About Dell 
Dell Inc. listens to customers and delivers innovative technology and services that give them the power to do more. Powering the Possible is Dell's commitment to put technology and expertise to work where it can do the most good for people and the planet. Dell acts to strengthen communities, preserve the environment, engage a diverse and inclusive workforce, and ensure supply chain responsibility.