De Beers Teams Up to Provide Free Health Screening to Mining Communities
De Beers Teams Up to Provide Free Health Screening to Mining Communities
De Beers Group's Venetia mine in South Africa has hosted free health screening sessions for mining communities as part of a R1.8 million health initiative.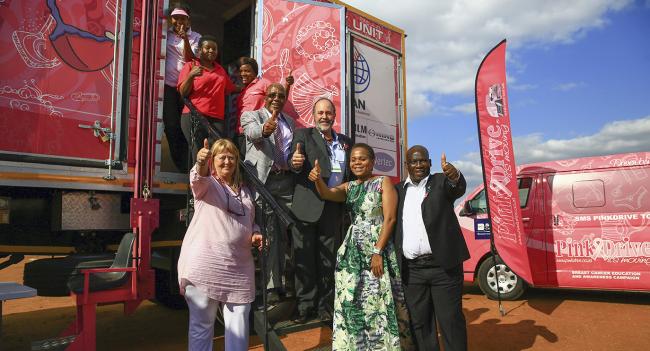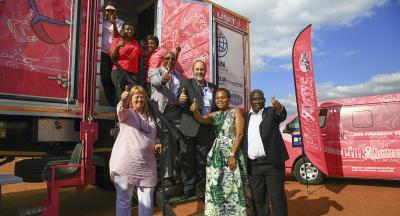 Thursday, October 26, 2017 - 8:30am
Around 1,500 people were screened at the health fair held during the Community Health Week in mid-October in the towns of Musina, Alldays and Blouberg.
The mine teamed up with the South Africa Business Coalition on Health & Aids (SABCOHA) and technology company EOH for the sessions. The screening sought to detect early signs of health risks such as hypertension, diabetes, HIV and tuberculosis, as well as breast and cervical cancer in women.
The Minister of Health, Dr Aaron Motsoaledi, led the week and gave the keynote address to kick it off.
Anna Tharaka, one of the community members tested, said: "I am delighted to be here today to finally take my health into my own hands. As a single mother, the last thing you think about is taking care of your health; your children's daily needs take priority. I want to thank De Beers and the health department for bringing these screenings right to our doorsteps. I have no excuses now. From now on, my health will also be a priority."
Phillip Barton, Chief Executive of De Beers Consolidated Mines (DBCM), said the Community Health and Wellness Programme in the Venetia communities was going well and by the end of October the hope was to have more than 15,000 staff and community members tested.
"I truly believe that being responsible for your own health builds stronger communities," he said. "This is a positive step towards creating sustainable partnerships that will enable us to empower one another towards achieving a strong and healthy society."
De Beers Group pioneered HIV screening, he added. Debswana, the Group's venture in Botswana, led the world's first HIV Disease Management Workplace Programme in 2001, followed by DBCM in 2002.
Now 53 per cent of DBCM's employees know their HIV status, 92 per cent who are living with HIV are linked to treatment, and 90 per cent are suppressing the virus.
"However, there is still a lot to do, and our efforts cannot be limited to our employees only," he added. "We are 'lowering our fences' and are keen to have a positive impact on the health of the communities that are hosting us. A healthy employee cannot exist in the absence of a healthy community."
De Beers Group has invested R1.8 million in the initiative with the aim of achieving
EOH also contributed R1.8 million and provided mobile testing units, test equipment and health advice and referrals where required, while SABCOHA organised the health week. The initiative has already seen 10,000 people receive comprehensive health screening and 100 micro-enterprises from the Musina area given training.
In the run-up to the health week, Josephine Pieters, the mine's Corporate Affairs Manager, appealed on radio to mining communities to come for the screening.
"The best way to safeguard your health and that of your family is through regular testing and screening," she said. "In the case of most diseases, early detection is key and they can be easily treated and managed if picked up early. None of these tests are painful or scary and most take only a few minutes to perform."
She told listeners that the company's stakeholders and communities had spoken of the need for better health screening and basic health education for mining communities – where people often do not undergo routine health checks.
"If you are a disadvantaged, disabled or unemployed member of our society living in a rural or outlying area, it can be more difficult for you to evaluate your health and understand how and where to access treatment," she said. "That is why De Beers is proud to be a strategic partner in this initiative."
About De Beers Group
De Beers Group is a member of the Anglo American plc group. Established in 1888, De Beers Group is the world's leading diamond company with expertise in the exploration, mining and marketing of diamonds. Together with its joint venture partners, De Beers Group employs more than 20,000 people across the diamond pipeline and is the world's largest diamond producer by value, with mining operations in Botswana, Canada, Namibia and South Africa. As part of the company's operating philosophy, the people of De Beers Group are committed to 'Building Forever' by making a lasting contribution to the communities in which they live and work, and transforming natural resources into shared national wealth. For further information about De Beers Group, visit www.debeersgroup.com.
Media Contact 
Press office
Tel +44 (0) 20 7430 3434
pressoffice@debeersgroup.com