De Beers' Group's Senior Ecology Manager Piet Oosthuizen Explains Why He Has the Best Job in the World
Senior Ecology Manager Piet Oosthuizen switched from looking after big money to caring for big game – and he's at his happiest out in the veld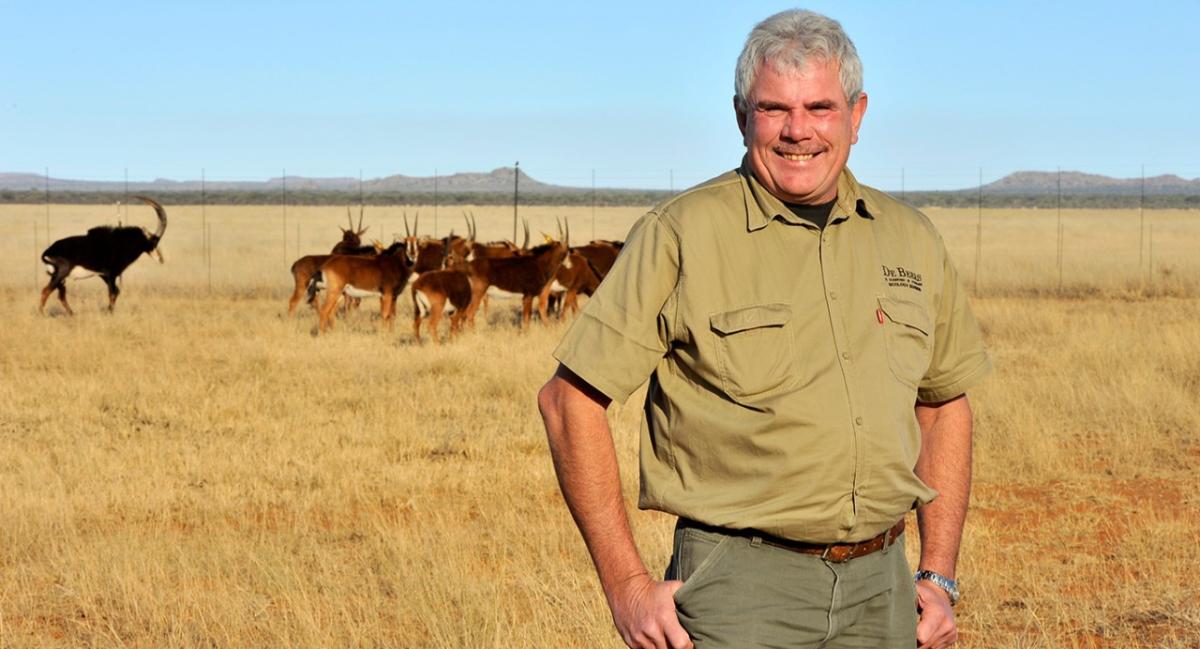 De Beers' Group's Senior Ecology Manager Piet Oosthuizen Explains Why He Has th…
How long have you been with De Beers Group?
Before I joined De Beers Group, I worked for Sanlam, a financial services group with headquarters in Cape Town. By then I had a BCom degree. I started in July 1989 at Finsch mine (now owned by Petra Diamonds) as Assistant Accountant. Various promotions followed and in 1994 I reached the position of Management Accountant. Then, in 1998, I became Administrative Manager at Finsch mine.
In 2001, I moved to Venetia mine as Financial Manager and, four years later, I was moved to Kimberley to set up Financial Shared Services using SAP software. Ecology was added to my portfolio in 2010 and during 2013 I was released from my Financial Shared Service duties and made responsible for the Kimberley head office and properties including the Big Hole, as well as for Ecology. My link to Ecology? Since I started in 1989, I was involved with the mine's wildlife clubs, where I developed a good sense for something that very soon became a passion.
Why did you choose De Beers Group?
At the age of 28, a job was a necessity to enjoy life and I was always intrigued by small mining towns after growing up in Tsumeb, a mining town in northern Namibia. Career aspirations only followed after I managed to do my first job at De Beers Group properly and was recognised for it.
What exactly does your current role involve?
As many people inside and outside De Beers Group believe, I have the best job in the world. I am privileged to have been given the task of turning De Beers Consolidated Mines' Ecology division into a self-sustainable entity. This means the employment of sustainable conservation practices, which include the sustainable use of resources to support the game management plans and contribute to financial sustainability. This is achieved through the effective implementation of management plans governed by a set of standards. My role involves short and long-term planning, which covers the breeding programmes, genetic diversification, animal husbandry, game marketing and sales.
What do you like most about your work?
I am working my passion, living my dream. I rely on a team that is just as passionate as I am. For me, working with such a team is energising and gives me a great deal of satisfaction. I enjoy the variety, planning and execution of activities, especially when we work with the game, but other times just watching them. And I particularly like being out in the veld, especially when it is raining. Highlights are that De Beers Consolidated Mines is now a recognised entity in the game industry as an active role player and contributor. Furthermore, there are game auctions where knowledge and experiences are shared. The game ranching industry in South Africa is a big family with a lot of positive energy.
What are the main challenges you face?
As we say, conservation without money is just conversation. Ecology is a business in its own right covering the same operating aspects as any business, with market and economic exposures. This requires a wide set of skills supported by good networks. Conservation is a hard core activity and not for the faint-hearted. There are realities that you do not see on the Discovery Channel. Among our biggest immediate challenges are drought conditions, supply and demand challenges, local and global economic pressures, water supply for the animals, poaching and even sabotage (for example, veld fires normally originate from public roads and in some cases are deliberately started). 
How do you like to spend your spare time?
Working my dream, spending time out on the company's properties. I enjoy the outdoors and the adventure of outdoor activities or just being in the veld. I also do some fishing (tiger fish) and off-road driving. I play a bit of golf and used to watch rugby. 
About De Beers Group
De Beers Group is a member of the Anglo American plc group. Established in 1888, De Beers Group is the world's leading diamond company with expertise in the exploration, mining and marketing of diamonds. Together with its joint venture partners, De Beers Group employs more than 20,000 people across the diamond pipeline and is the world's largest diamond producer by value, with mining operations in Botswana, Canada, Namibia and South Africa. As part of the company's operating philosophy, the people of De Beers Group are committed to 'Building Forever' by making a lasting contribution to the communities in which they live and work, and transforming natural resources into shared national wealth. For further information about De Beers Group, visit www.debeersgroup.com.
Media Contact 
Press office
Tel +44 (0) 20 7430 3434
pressoffice@debeersgroup.com