De Beers and BIUST Sign Deal on Skills
Debswana and Botswana International University of Science and Technology (BIUST) have joined forces to develop skills in sciences, engineering, technology and innovation.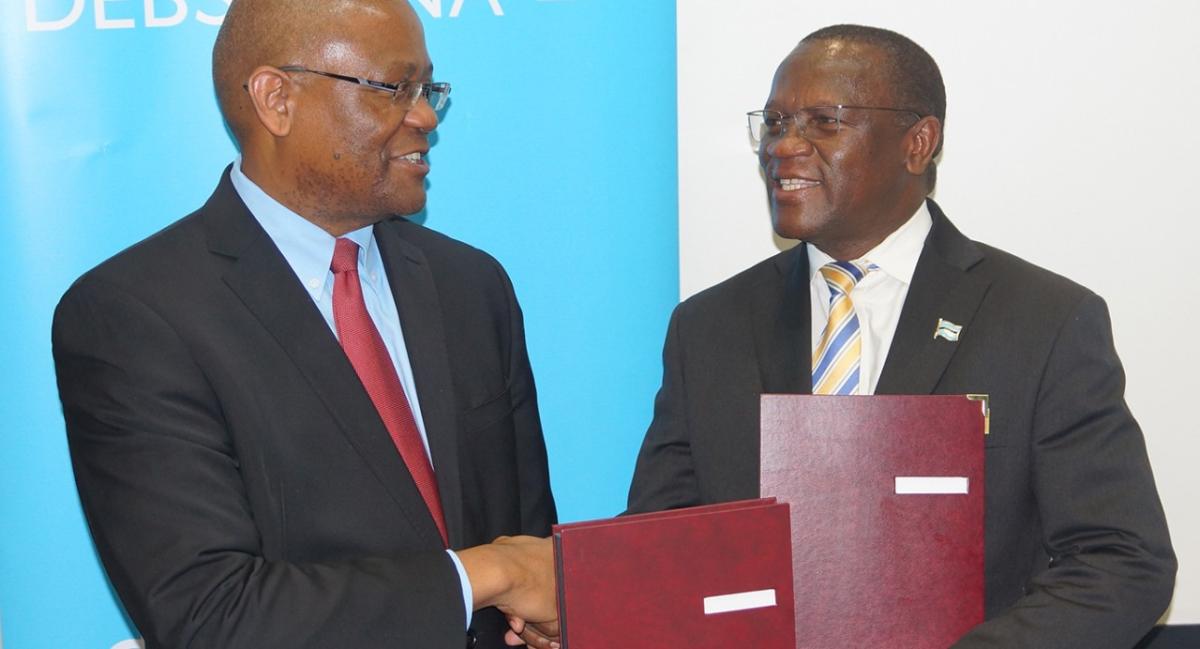 They have signed a memorandum of understanding (MOU) aimed at meeting the skills demands of a changing world.
Debswana Managing Director Balisi Bonyongo (pictured, left) described the MOU as an historic moment because it was the first the company had signed with a university.
He said that, even though Debswana employed a total of 11,000 people (including 6,000 contractors), it still faced a shortage of critical skills. So the company had reintroduced its Debswana Scholarship Programme to help fill the gap. The partnership between the company and the university would complement the company's efforts on skills development.
"One of our key expectations," he said, "is that BIUST will put in place robust infrastructure, both physical and human capital, to ensure high standards of training and development to deliver globally competitive individuals."
Through the MoU, signed at Debswana's headquarters in Gaborone, the two partners will specifically collaborate on areas such as coarse tailings and fine residue depositories, geochemical studies, water and slurry/slimes testing, mining and metallurgical processes, and diamond recovery systems.
University Vice-Chancellor Professor Otlogetswe Totolo (pictured, right) said the MOU was a milestone in its journey of skills development. BIUST and Debswana intended to help Botswana leapfrog to a knowledge-based nation with products and services that made life better for Batswana and contributed to the nation's wealth and well-being.
He added: "BUIST and Debswana complement one another. Our synergies are our strengths, and our collaboration is our reason for the huge investment that our people have made in us. The MoU cements the collaboration that both BIUST and Debswana seek to have."
About De Beers Group
De Beers Group is a member of the Anglo American plc group. Established in 1888, De Beers Group is the world's leading diamond company with expertise in the exploration, mining and marketing of diamonds. Together with its joint venture partners, De Beers Group employs more than 20,000 people across the diamond pipeline and is the world's largest diamond producer by value, with mining operations in Botswana, Canada, Namibia and South Africa. As part of the company's operating philosophy, the people of De Beers Group are committed to 'Building Forever' by making a lasting contribution to the communities in which they live and work, and transforming natural resources into shared national wealth. For further information about De Beers Group, visit www.debeersgroup.com.
Media Contact 
Press office
Tel +44 (0) 20 7430 3434
pressoffice@debeersgroup.com