Cox Automotive Presents Heather Pullen of Porsche Cars North America With Community Impact Award
Award recognizes remarketing leader for outstanding community service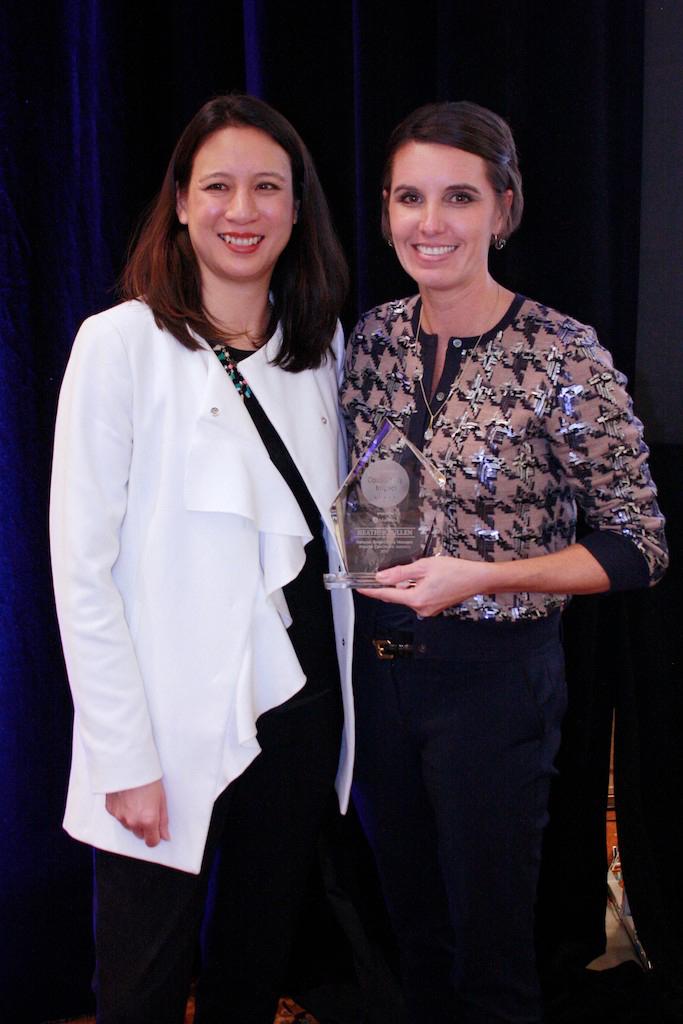 Grace Huang presents Heather Pullen 2017 Cox Automotive Community Impact Award.
November 17, 2017 /3BL Media/ - Cox Automotive presented its 2017 Community Impact Award to Heather Pullen, national remarketing manager, Porsche Cars North America, at the 2017 National Remarketing Conference/NAAA Convention during an awards luncheon on November 16.
Presented by Grace Huang, president of Cox Automotive Inventory Solutions, this award, sponsored by Manheim, a Cox Automotive brand, recognizes a remarketing industry leader for their outstanding contributions to the community and the innovative ways they collaborate with community partners to help further their missions.
"Heather's enthusiasm and passion for community service exemplifies the spirit of the Cox Automotive Community Impact Award," said Huang. "Community service is a guiding value for how Cox Automotive operates its businesses, and we congratulate Heather on her inspirational work."
While Pullen is passionate about performance cars and has worked at Porsche for more than six years, her real passion starts with horses. She is an avid polo player, and she and her husband, Randy Pullen, formed a charity in 2016 named Pony Up For A Cause. This charity was designed to give back to local charities in the Atlanta area by raising money through an annual polo event produced by Pony Up For A Cause.
Pony Up For A Cause partners with Atlanta Ronald McDonald House (ARMHC) to support its mission in the local community. ARMHC provides temporary housing and support services to families who travel far from home to get treatment for their children facing a medical crisis. Since its inception, Pony Up For A Cause has raised more than $30,000 for ARMHC. 
For her leadership and commitment to making a difference through community service, Pullen's charity Pony Up For A Cause will receive a $10,000 donation from Cox Automotive to further its work in the Atlanta area.
"Giving back to the community is simply part of the culture at Cox Automotive," said Pullen. "It is a sincere honor to be recognized, and I am humbled by the generosity of Cox Automotive."
About Cox Automotive
Cox Automotive Inc. is transforming the way the world buys, sells and owns cars with industry-leading digital marketing, financial, retail and wholesale solutions for consumers, dealers, manufacturers and the overall automotive ecosystem worldwide. Committed to open choice and dedicated to strong partnerships, the Cox Automotive family includes Autotrader®, Dealer.com®, Dealertrack®, Kelley Blue Book®, Manheim®, NextGear Capital®, vAuto®, Xtime® and a host of other brands. The global company has 32,000-plus team members in more than 200 locations and is partner to more than 40,000 auto dealers, as well as most major automobile manufacturers, while engaging U.S. consumer car buyers with the most recognized media brands in the industry. Cox Automotive is a subsidiary of Cox Enterprises Inc., an Atlanta-based company with revenues exceeding $20 billion and approximately 60,000 employees. Cox Enterprises' other major operating subsidiaries include Cox Communications and Cox Media Group. For more information about Cox Automotive, visit www.coxautoinc.com.