BlueTriton Brands Joins The Water Council's WAVE Program
WAVE will help BlueTriton improve and credibly report water stewardship performance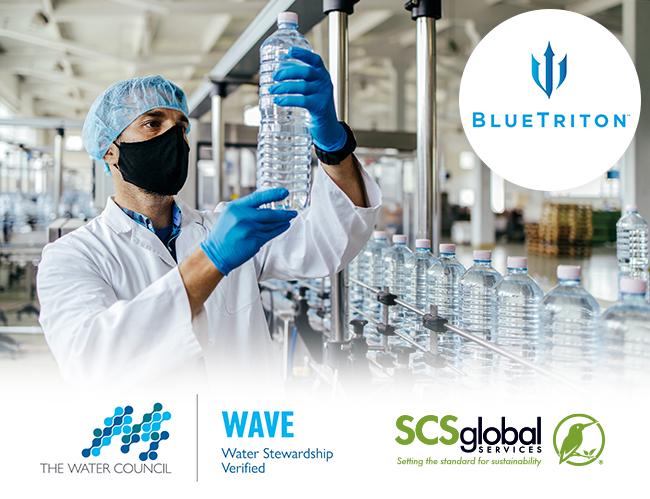 MILWAUKEE, July 14, 2022 /3BL Media/ - The Water Council is pleased to announce BlueTriton Brands has signed onto The Water Council's WAVE program, becoming the first company in the beverage industry to participate.
BlueTriton is a North American provider of bottled water brands including Poland Spring®, Ice Mountain® and Pure Life®. WAVE will help BlueTriton improve its enterprise-level water stewardship performance and public reporting, concluding with independent verification of its progress.
"At BlueTriton, water stewardship is at the core of our business," said Ed Ferguson, Chief Sustainability Officer. "A healthy planet, resilient water cycle and responsible water management are paramount for long-term access to safe drinking water. We look forward to working with The Water Council and are proud to be an early adopter of WAVE to improve our environmental stewardship activities, create awareness around responsible water practices and to have our efforts independently verified."
The Water Council, an internationally acclaimed nonprofit dedicated to freshwater innovation, has helped companies of all sizes and industries improve water stewardship. It launched the WAVE program in February to help businesses anywhere in the world address water on an enterprise level, moving beyond non-contextual water management targets to develop meaningful strategies, goals and actions.
Through WAVE, participating companies learn about their water uses, impacts and risks; approve a corporate water stewardship policy; prioritize sites where water-related risks can be mitigated; and communicate a corporate action plan, goals and timeline. Their efforts are then independently verified by SCS Global Services, an international leader in third-party sustainability verification. Verified companies can confidently state they are credibly and strategically addressing water challenges and opportunities where it matters most.
"We are enthusiastic to work with a company as committed to freshwater resources as BlueTriton and its strong and extensive portfolio of water brands," said Dean Amhaus, The Water Council President and CEO. "The WAVE is well suited to help BlueTriton further its water stewardship goals and tell its stewardship story."
BlueTriton is the second company to sign onto WAVE since its launch earlier this year, in addition to four companies that pilot tested the program in 2021.
About The Water Council
The Water Council (TWC) is a global hub dedicated to solving critical water challenges by driving innovation in freshwater technology and advancing water stewardship. Built on more than a century of innovation, TWC has coalesced one of the most concentrated and mature water technology clusters in the world from its headquarters at the Global Water Center in Milwaukee, Wisconsin, USA. Recognizing the need for smarter and more sustainable use of water worldwide, TWC also promotes water stewardship as a natural complement to water innovation in the effort to preserve freshwater resources in the Midwest and around the world. Today, The Water Council has established itself as a global leader in the water industry and one of America's premier economic development clusters as recognized by government agencies, Brookings and the Harvard Business School.
About BlueTriton Brands
BlueTriton Brands offers an extensive portfolio of highly recognizable, responsibly sourced, and sustainably packaged spring water and other water brands including Poland Spring® Brand, Deer Park® Brand, Ozarka® Brand, Ice Mountain® Brand, Zephyrhills® Brand, Arrowhead® Brand, Origin™ Natural Spring Water, Saratoga® Spring Water, AC+ION™ Alkaline Water, Pure Life®, Splash Blast™ Flavored Water Beverage and Splash Fizz™ Fruit Flavored Sparkling Water Beverage. BlueTriton Brands also owns and operates ReadyRefresh®, a customizable water and beverage delivery service that has been certified as a CarbonNeutral® business.
Based in Stamford, Connecticut, BlueTriton Brands and its affiliates in the United States and Canada employ approximately 6,600 associates. BlueTriton Brands manages resources for long-term sustainability, and conserves more than 20,000 acres of watershed area. The Company has 28 production facilities across the United States, 16 of which are Alliance for Water Stewardship ("AWS") certified across 15 sites, with five of the certified facilities being AWS Platinum, the highest-level certification.
About SCS Global Services
SCS Global Services is a global leader in third-party environmental and sustainability verification, certification, auditing, testing, and standards development. Its programs span a cross-section of industries, recognizing achievements in climate mitigation, green building, product manufacturing, food and agriculture, forestry, consumer products, and more. Headquartered in Emeryville, California, SCS Global Services has representatives and affiliate offices throughout the Americas, Asia/Pacific, Europe and Africa. Its broad network of auditors are experts in their fields, and the company is a trusted partner to companies, agencies and advocacy organizations due to its dedication to quality and professionalism. SCS Global Services is a chartered Benefit Corporation, reflecting its commitment to socially and environmentally responsible business practices. For more information, visit www.scsglobalservices.com. Learn more about SCS Responsible Water Practices.
Media Contacts:
Stacy Vogel Davis
(414) 988-8754
sdavis@thewatercouncil.com
Nikki Helms
(510) 295-0667
nhelms@scsglobalservices.com