Alexion 5th Annual Global Week of Service Goes 100% Virtual
Alexion 5th Annual Global Week of Service Goes 100% Virtual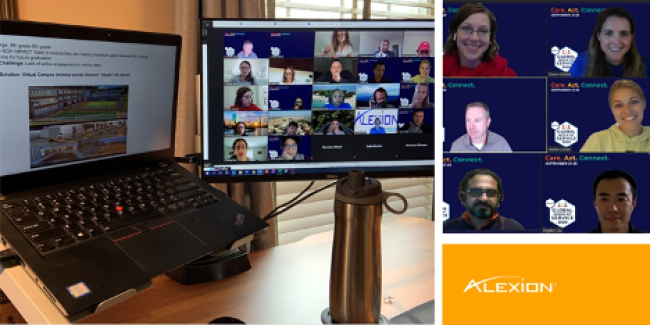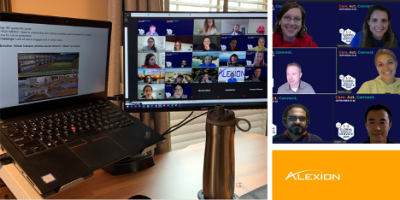 Tuesday, November 3, 2020 - 3:40pm
Every day, we strive to meet the expectations of our stakeholders, our communities and ourselves. We know the importance of this responsibility, and we take it seriously. Global Week of Service (GWS) is an annual opportunity for us to carry out this ambition across the globe by making an impact in our local communities. For the first time, GWS went 100% virtual, allowing our volunteers to participate in meaningful, fun, and impactful community-focused initiatives within the safety of their own homes.
We are thrilled to report that throughout Virtual GWS 2020, 1480+ Alexion employees contributed 3,440+ volunteer hours in support of 85 projects across 20+ countries.  
All of Alexion's Virtual GWS 2020 activities aligned with our three philanthropic areas of focus: Emotional Wellbeing, Diversity & Inclusion (D&I), and Educational Opportunities.  The following offers a glimpse into the types of dynamic virtual activities offered during this year's GWS.
In Australia, Alexion volunteers partnered with the Helping Hands Program to build prosthetic hands for amputee landmine victims. Similarly, volunteers throughout Canada knit slippers and created personal belonging bags for hospice patients.
Alexion volunteers in Colombia took children fighting cancer on a Virtual World Tour.  The team partnered with Fundacion Sol de los Andes, a non-profit that supports children in Bogota battling cancer by providing them a comfortable home during their treatment.
In Japan, volunteers independently created much needed handcrafted items like masks and personal protective equipment (PPE) gowns for front-line workers.
Alexion Spain's Letters Against Loneliness writing campaign resulted in dozens of letters for residents of a nearby senior center.  Similarly, in the UK, Alexion volunteers hosted a Virtual Tea Party for senior care facility residents.  Both GWS activities provided a much-needed source of diversion for seniors living in isolation because of COVID-19. 
In Boston, Alexion volunteers coached students in a Virtual Business Competition. By the end of the event, students were able to see the corporate world as part of "their world" and had a better grasp of the responsibilities of a CEO, VP of Marketing, and Business Development Manager.
Teams of 5-7 volunteers from Alexion's College Park site in Ireland worked to virtually to advise and guide local non-profits on a variety of business needs.
In France, Alexion volunteers produced a series of environmentally focused promotional videos for three benefiting organizations. All videos were produced by volunteers using their smartphones.
 
The success of Alexion's Virtual GWS 2020 demonstrates our commitment to delivering results to our communities through positive, immediate, and transformative impact. 
To learn more about how Alexion is advancing our communities, visit CSR.Alexion.com.